Sextortion crimes are on the rise and teens are being targeted. What is sextortion? It may look something like this.
Your teen will get a text that looks like it's coming from a peer who may be romantically interested in them.
They'll send a sexually explicit photo and flirtatiously encourage your teen to return the favor.
But here is where it gets sinister; when your teen sends a sexually explicit photo back, the scammer on the other end immediately demands a ransom. If your teen doesn't fork over the cash, the scammer threatens to send the pictures to friends and family in a public way.
One family is sharing their story about their son, Ryan, who took his own life after being threatened with sextortion.
17-year-old Ryan Last's story is heartbreaking.
On a typical school night, Ryan's mom said goodnight around 10 pm. She had no idea he was fending off texts by malicious scammers. By two am he was no longer alive.
"Somebody reached out to him pretending to be a girl, and they started a conversation," his mother, Pauline Stuart, told CNN in an interview.
The sextortion began with a demand for $5,000 but when Last couldn't pay that much, the scammers settled on a mere $150, which the teen paid from his college fund.
But soon, the scammers who hounding him for more money and that's when Last couldn't take it anymore.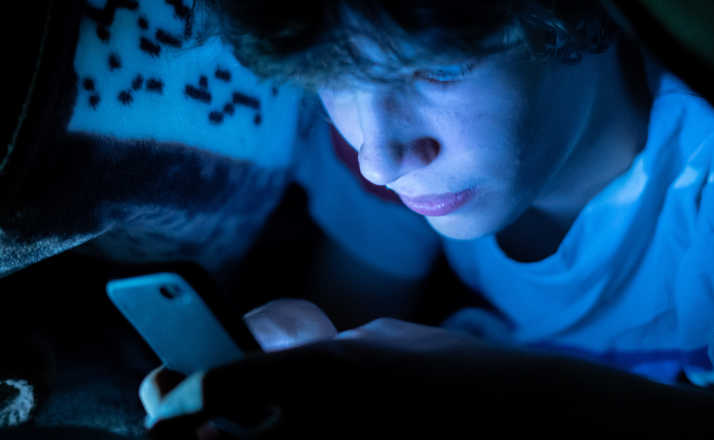 Investigators pieced together the events of that horrible evening and discovered the trail of texts between Last and the scammers. His mother had no idea what was going on and wasn't able to step in and help.
"He really, truly thought in that time that there wasn't a way to get by if those pictures were actually posted online," Stuart told CNN.

"His note showed he was absolutely terrified. No child should have to be that scared."
But before you think to yourself that this is a weird and probably rare case, think again.
According to the FBI, there were more than 18,000 sextortion complaints in 2021, which amounted to the loss of more than $13 million dollars. What's more, these criminals are using child pornography to ensnare kids in their fraud.
We don't have to tell you that child pornography is a serious crime.
"To be a criminal that specifically targets children — it's one of the more deeper violations of trust I think in society," FBI Supervisory Special Agent Dan Costin, told CNN.
Costin told CNN that most of the criminals that his team sees are from African countries or Southeast Asia.
These ruthless criminals know that shame is a hugely motivating factor to get kids to pay them cash.
When you mix the embarrassment of nude photos with intense feelings of guilt then you create shame. This is why many teens are reluctant to report the crime.
But here's the thing; they really need to get someone to help them in order to make this stop.
"The embarrassment piece of this is probably one of the bigger hurdles that the victims have to overcome," Costin told CNN. "It can be a lot, especially in that moment."
So, what can parents do? Here are a few steps that can help prevent your teen from being a victim of sextortion:
Monitor all of the apps your teen is using. You don't need to be spying on them, but have a good handle on what apps they use the most and how they interact with others.
Talk to your kids about appropriate behavior online and that whatever they text or post lives forever on the internet. We don't need to scare our kids, but they should know that posting online comes with consequences.
Specifically, talk to your kids about what sextortion is, and what to do if they receive such a text.
Keep the conversation about safety, responsibility, and appropriate behavior online open. This isn't the kind of convo you have once and forget. Keep talking to your kids about their online lives.
What to do if your teen receives a sextortion text:
Hopefully, you can talk to your teen before it happens so they know what to do.
Tell your child not to respond to that text.
Do not click on any links in the text.
Take screenshots and then block the number before calling the FBI.
The number one important thing to tell your kid is that they will not be in trouble.
According to the FBI Sextortion information site, no matter how far into a conversation your child goes, even if they share explicit pictures of themselves, they are not in trouble.
"This situation can be really confusing," the FBI states on their sextortion website, "and the criminals count on you feeling too unsure, scared, or embarrassed to tell someone.

Even if you felt ok about making some of the content. Even if you accepted money, game credit, or something else, you are not the one who is in trouble.

Sextortion is a crime because it is illegal and wrong for an adult to ask for, pay for, or demand graphic images from a minor."
The story of Ryan Last is a tragic and sad reminder that as parents, we need to be aware of the dangers that our kids can run into online.
Criminals do not care about our kids and they will stop at nothing to get what they want. But with information, good communication with our kids, and the willingness to reach out for help, we can keep our kids safe.
If you or someone you know is being exploited, contact your local FBI field office, call 1-800-CALL-FBI, or report it online at tips.fbi.gov.