For children on the autism spectrum, it can be challenging to find safe, comforting spaces, even at home. That's why it's so important for parents to take the time to create areas where their children on the spectrum can thrive. But this can be an expensive endeavor.
Making design changes and creating features that will not only help your child feel safe but will also encourage them to learn and play can be tricky. But there are ways to do it without breaking the bank.
Here are some tips to help you get started:
Create Comfy Spaces
Many individuals on the autism spectrum have trouble getting comfortable due to an aversion to certain fabrics or textures. This makes soft, relaxing spaces so important.
Look for tagless items, bed sheets that have a soft microfiber feel, weighted blankets, and plain cotton bedding without a lot of seams or textured designs.
Keep in mind that tactile items are still important for children on the spectrum, as they develop sensory skills. It's simply important to create areas where they can relax.
You don't have to spend a fortune gathering the things you need. Look for online deals, local marketplace sales, or gently used items from friends or secondhand shops.
Use Visual Cues
Some children on the spectrum have a hard time understanding or processing verbal cues because they are visual learners.
Help your child thrive at home by creating signs that can help him learn boundaries or a daily routine.
You can also label everyday items with a picture and the word that describes it. These are easy and free to print at home, or you can use brightly colored construction paper and create them yourself.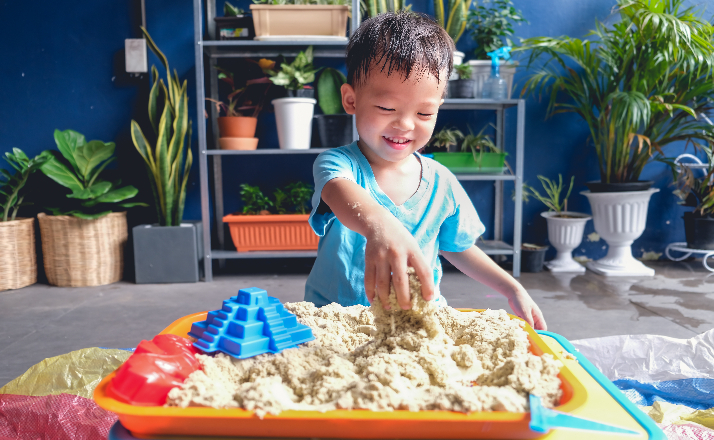 Create a Sensory Area
Every child on the autism spectrum is different and has unique needs. One common thread that parents often find is the need for sensory time. Using all the senses can help a child on the spectrum ease anxiety while learning, and you can create a budget-friendly area at home pretty easily.
First, take into consideration what your child's specific needs are. Some kids do well with active sensory play, such as on a swing or trampoline, while others prefer quieter activities, like finger painting.
Areas inside the home can be created using dollar store items like buckets, bins, and stickers.
Inexpensive strings of colored lights, bubbles, and sand are some other great tools your child can use for sensory exploration.
Make It Safe
There are several simple things you can do to make your home safer for a child on the autism spectrum, depending on their needs. If your child tends to wander, installing out-of-reach locks or motion-sensor alarms can be extremely helpful.
It will also be important to stay organized and reduce clutter, and this is a good way to help reduce anxiety for your child. Keep medicine and cleaning supplies separate from food items to avoid confusion. And secure heavy items like dressers, TV stands, or bookshelves to the wall, especially if your child likes to climb or explore.
If your child has a severe form of autism or Asperger's, you may qualify for financial assistance to make larger modifications to your home, such as using sound-reducing materials on the walls or changing the lighting in each room. Look online for information in your state.
Transforming your home so it's a safer, more comfortable place for your child to learn and grow is essential — and it doesn't have to be stressful or a financial hardship.
Utilizing these simple tips can help you and your child create a space that's just right for their needs.