Who among us doesn't feel a little glad when the kids grab screens and quiet down for a few minutes? I work 50 hours a week (from home) and can't think straight in the constant din of chaos that swirls around my family.
I am no stranger to Peppa Pig videos for one kiddo and Minecraft for another.
Because it became apparent from the report that more and more kids as young as eight are using sites like Snapchat, Facebook, and Instagram.
The report comes from the trusted media center, Common Sense Media, which rates media like TV shows, books, websites, and video games, and more based on expert reviews.
Remember when everyone was freaking out over Squid Games?
A quick hop and a click over to Common Sense Media would have told you everything you needed to know about the gore and violence.
That way, you could easily decide for yourself what you think your kid can (or cannot) handle.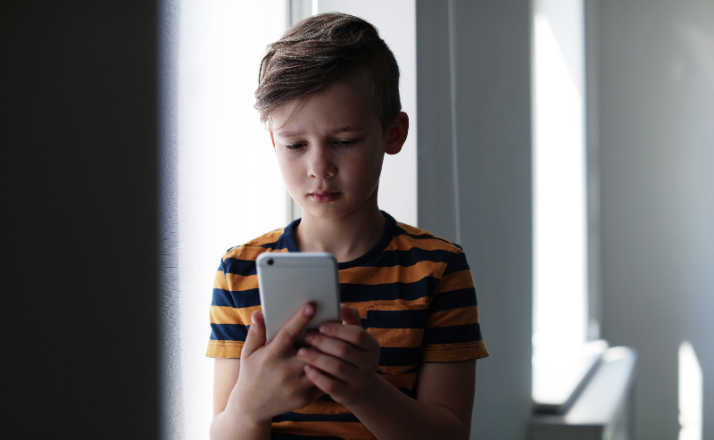 Common Sense Media is a trusted source for parents and educators.
It can help determine which kinds of media are safe and which ones may need some parental guidance before allowing kids to view them.
So, what is included in this report? Here are some highlights on the data that represents the years 2019 – 2021:
Screen use is up by 17% among tweens and teens .
Kids between the ages of 8 and 12 spend an average of 5 hours and 33 minutes on screens each day.
Kids between the ages of 13 and 18 are on screens an average of 8 hours and 39 minutes per day.
18% of tweens are using social media every day.
Kids spend an average of 3 hours and 16 minutes a day watching videos.
Kids spend an average of 1 hour and 46 minutes a day playing video games.
Kids spend an average of 1 hour and 57 minutes on social media apps.
The use of social media apps, which are not designed for children, has experts very concerned.
Social media sites are legally not allowed to accept kids younger than 13 on them due to private data collection laws.
Talking to the New York Times, Dr. Heitner, an expert on kids and media use, pointed out that while it's one thing to be worried about the content kids are consuming, there is another important issue that is often overlooked.
"You worry if it's replacing activities, like sleep, family time, reading, chores — other things that are positive for kids," Dr. Heitner told the New York Times.

"That's definitely a real concern."
The report shows that while screen time is up for tweens and teens, it's not just because of social media.
Instead, kids are watching a ton of TV shows or playing video games.
As a parent, I can't help but wonder how that is any different from my childhood when the living room TV was constantly on.
I'm sure I spent endless afternoons watching cartoons.
And while I wasn't likely to accidentally see live war footage (looking at you TikTok) or pornographic images (I see you Instagram), there is something to be said for parental controls that can prevent that from happening at all.
Many parents are aware of the dangers of the internet and are doing their best.
One aspect of the debate over kids and screen time that gets lost is that most parents aren't handing over their iPhones and letting their kids just go wild on the internet.
My kid isn't on the dark web or looking to get into crypto or join a hacker group.
There are plenty of apps that parents can use to monitor screen time, limit content, and even block and ban websites, apps, and games.
Sure, some kids do use screens excessively, and that can cause a lot of damage, but it doesn't mean we should give up on the convenience or even the plus side of having the world at our fingertips.
Common Sense Media has a fantastic parental resource guide that includes tons of great information on how parents can keep their kids safe online.
They also include specific scenarios like cyberbullying, setting controls on Roblox, Nintendo Switch (or others), and how to install and use safety features on your child cell phone and more.
It's worth bookmarking.