Every mother has a birth plan. This plan helps you feel comfortable with the fact that you are about to give birth to your bundle of joy that you have been waiting for. This plan helps you feel more in control with the uncontrollable thing called 'giving birth'.
Sometimes it doesn't go exactly the way you planned.
Even after every doctor appointment, when they tell you "Everything looks great! You are good to give birth perfectly". Even after checking off your list of ways to make sure you have a smooth birth.
For me that is exactly what happened. My kids were born happy and healthy, but I feel robbed. I feel robbed from a 'Normal birth'. I feel like my body failed me. I feel like I never got to fully experience birth the way it was intended.
The morning before giving birth to my beautiful daughter, I woke up with a stomach ache. It felt like I haven't pooped in months.
I remember telling my daughter's father that something was not right.
He told me to try and have a bath to see if that would help and off to work he went. The pain got worse. So I called him and said "Nope we are going in"
Fast forward to waiting in the hospital for hours with zero answers as to why we were still in there and haven't given birth yet. The nurse came in and we asked her what was going on, why are we still here? She told us every time that I had a contraction my daughters heart rate would go down.They are going to have to break my water for me and get the ball rolling.
They broke my water, which let me tell you was a weird feeling. I felt like I was peeing myself and couldn't control it.
What felt like several hours later I was ready to push.
Mind you this whole time I kept trying to cover myself, I would always have a blanket over so no one could see my hoohaw. At this point I let it all hang out, I was done. I was tired and just wanted to get the baby out.
I kept pushing and pushing, nothing was happening. That's when I heard the doctor say, "We need to do an emergency c-section" The whole room fell silent. At least that is what it felt like. Everyone's mouths were moving.
Everyone was rushing around the room. I had no clue what was even happening.
They started rolling me through the hallway down to a different room, they threw scrubs at my daughter's father. Everything was just a blur.
The cord was wrapped around her neck twice. You could see the red marks around her neck.
That was the reason I was robbed of a "normal" birth.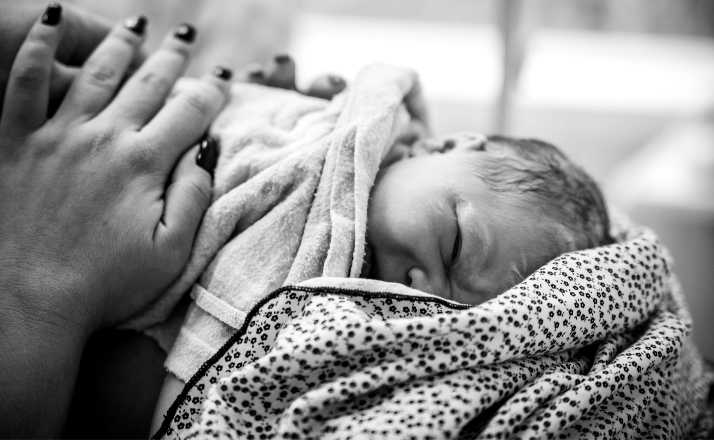 Following my daughters birth, my second born and my third born were both scheduled c-sections. I didn't get a VBAC, I didn't get to have a 'Normal birth'
You feel numb, Powerless and broken.
You feel like you are not even a mom because you didn't ACTUALLY give birth. Your friends who did give birth vaginally were up and walking around after and you were stuck in your bed.
Having people hand you your baby and change your baby because you can't yet.
You feel like you were robbed from ever getting your body back to normal, because you will have a permanent scar.
A scar that yes, will remind you of your beautiful bundle of joy but it will also remind you that your body failed.
Sometimes your jealousy and somewhat hatred towards women who have given birth vaginally will happen.
I promise you, you are NOT alone. I felt robbed. I never knew it was possible that a birth could be stolen from you.
Congratulations on your "Belly birth" and "Abdominal birth" I get people mean well, but it is not the same. My body was not able to do the one thing that female bodies were meant to do.
My medical records will always and forever say "Failure to progress" during the birth of my children, that alone makes you feel like a failure.
Having a C-section is hard. It is hard physically and emotionally.
We don't want to hear, "be happy and grateful that our baby is healthy and alive" because we know and we are. Validate our pain because those feelings matter too.
We don't want to hear "You can try for a natural birth later" by saying this means that for us C-section moms our child's birth was unnatural. This alone adds salt to our wounds.
We don't want to hear "You're lucky your vagina didn't get mangled" no you are right, but I was ripped open, insides pulled out and a huge scar for life.
We don't want to hear "You had it easy".
Okay so being strapped to the hospital bed for the first 24 hours and walking around in so much pain hunched over, trying to care for your newborn baby, yes that was SO easy.
Everyone means well when they say these things, but please be careful. What you feel is you trying to make someone feel better is in fact harming them.
If you see a mom that has had or will have a C-section to ask her if she is okay. Ask her to talk about it.
Make sure that she is being taken care of physically, because after a C-section the recovery is long and painful, but also make sure she is being taken care of emotionally because that is also a long and painful recovery for the mom that is trying to reconcile not having a "normal birth" on top of learning how to become a mother.