People taking the antidepressant Trazodone may be getting a bit more of a "lift" than they bargained for.
Trazodone is used to treat major depressive disorder. It can help to improve your mood, appetite, and energy level as well as decrease anxiety and insomnia related to depression. It can also be used as a sleep aid.
And now, thanks to a mix-up at a pharmaceutical distribution center, Trazodone won't just raise your spirits, it'll raise your…well…other bits as well.
That's right my friends, a package of Trazodone now contains all you need to give your life a boost, your SEX life that is.
According to CNN, the pharmaceutical healthcare company AvKare has voluntarily recalled 100mg sildenafil tablets and 100mg trazodone tablets due to a "product mix-up."
The tablets were unintentionally packaged together during bottling at a 3rd party facility.
Sildenafil is the active ingredient in Viagra.
Oops.
The pills were inadvertently swapped when they were bottled, so the boxes that are supposed to contain only one of these drugs actually now contain both. Surprise! It's like your very own pill version of a game of chance.
The affected lots of Sildenafil 100 mg Tablet and Trazodone Hydrochloride 100 mg Tablet were distributed to AvKare's distributors and wholesalers, and then further distributed nationwide.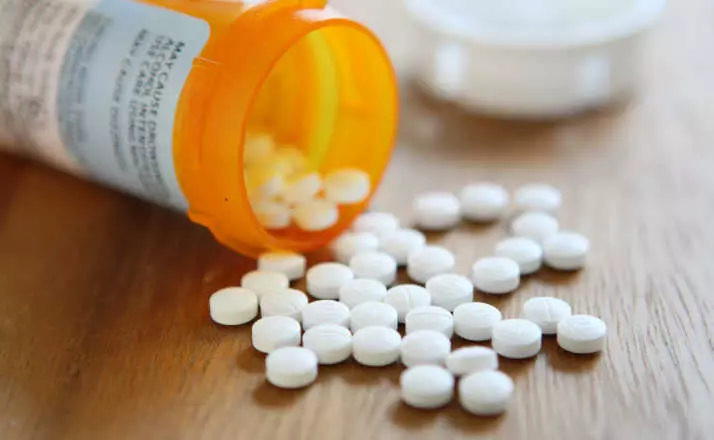 The company issued the recall on Wednesday and shared an announcement on the U.S. Food and Drug Administration website.
AvKare has notified its distributors and customers and is currently arranging for the return of all recalled products.
Trazodone. It's not just for depression anymore.
It'll jingle your dingle. Brighten your baloney pony. Delight your dingus. Liven your lingam. Gladden your gherkin.
It'll bring the happy to your hairy canary and perk up your pizzle.
I mean, scientifically speaking sex IS known to come with a myriad of health benefits. So there's that.
Web MD states that sex:
Helps Keep Your Immune System Humming
Boosts Your Libido

Improves Women's Bladder Control

Lowers Your Blood Pressure

Counts as Exercise

Lowers Heart Attack Risk

Lessens Pain

May Make Prostate Cancer Less Likely

Improves Sleep

Eases Stress and Anxiety
And while it doesn't list that sex boosts our mood, per se, we all know GOOD sex can be a great mood enhancer. Bad sex, not so much.
So the fact that they have mixed together Viagra with an antidepressant maybe isn't the worst pairing ever.
Although for those patients primed for a wild night of nookie who end up getting a peaceful night's sleep instead, it could be a bit "deflating." On the flip side they did take an antidepressant so their FOMO would be replaced with JOMO (or at the very least just J – minus the OMO – because hellooooo happy pill.)
Of course, Twitter had a lot to say about the mix-up and as usual, doesn't disappoint.
They are quick to answer the question: What happens when you mix an erectile dysfunction med with an anti-depressant?
Happy wife equals happy life??
This Pharma co mixed up its boner ???with its happy ???. Possible Results: depressed husbands with happy wives. Very happy husbands with confused wives.

— ?Urban Avocado Textiles ? (@LifeScientista) December 10, 2020
Could this be the cure-all we've been looking for? One Twitter user thinks it's possible.
So…does a 4 hr woody cure depression? Maybe…

— Patti Leary (@kinky2) December 10, 2020
Maybe…maybe not.
Okay, probably not. Because like with so many things in life, there are no "hard and fast" answers. It's complicated:
So that's a "pick me up" and a "get me up" in one bottle? No easy solutions there – only hard ones.???

— Michael Coop (@PeskyPhinsFan) December 11, 2020
As for how this happened, it's anyone's guess:
How do you mix happy pills with "Mr happy pills"?

— Mr Noodles (@PhoKingUgly) December 10, 2020
But there are a few theories:
I don't think they got mixed up I suspect an employee had a cheating husband and he was on one of these ??

— Christina (@christi86265762) December 10, 2020
In all seriousness, AvKare does warn that patients who wrongly take either medication could face severe health risks.
They state:
Sildenafil may interact with nitrates found in some prescription drugs (such as nitroglycerin) lowering blood pressure to dangerous levels. Consumers with diabetes, high blood pressure, or heart disease often take nitrates.
And for people who unknowingly take Trazodone, they go on to say:
Unintended intake of trazodone may result in adverse health consequences such as somnolence/sedation, dizziness, constipation, and blurred vision. These adverse events may be more concerning in elderly patients due to a subsequent increased risk for falls and driving impairment
As for anyone affected by the mix-up, no one seems to be complaining. To date, AvKare has not received any reports of adverse events related to this recall.
Please contact AvKare at 1-855-361-3993 Monday- Friday (8am – 4pm CST) or your physician if you feel you may have been affected by the recall.
The affected lot numbers are:
Sildenafil 100 mg Tablet Lot 36884 with an expiration date of 03/2022
Trazodone Hydrochloride 100 mg Tablet Lot 36783 with an expiration date of 06/2022