Christmas is right around the corner and people are HERE FOR IT. I don't know if it's the fact that we've all been living in the joyless shadow of corona for the past few months, but almost everyone I know put up their Christmas decorations weeks ago.
And they are going ALL OUT in the decorating department.
It's as if Clark Griswold himself sneezed out twinkling lights and they scattered everywhere. My neighborhood? Is lit up brighter than the Las Vegas Strip.
I get it. We all just need some freaking joy.
But if you happen to live in an HOA there are certain rules and regulations that must be obeyed. You can't just go decking the halls and spreading Merry little ho-ho-hos all over the place. Decorations, if allowed at all, must be HOA-approved.
And apparently? Gargoyles are NOT HOA Christmas-approved. At least according to one nosy neighbor who is here to suck the merry right out of Christmas.
One person is facing the wrath of the neighborhood "Karen" for having a gargoyle statue on her front porch. And it is neither "appropriate" nor "in keeping with the Christmas spirit."
Frank's owner received a note about her wildly offensive non-Christmasy gargoyle in which the author (Karen) "firmly suggested" that she "rectify the situation immediately."
So that's exactly what she did.
And Christmas has just come a little early folks.
In a Facebook post that has gone viral with thousands of likes, comments, and shares, Frank's owner posts the following photographic evidence of her now Christmas-compliant gargoyle decked out as Jolly Old St.Nick (& I don't know what could possibly be more in keeping with the Christmas spirit than this):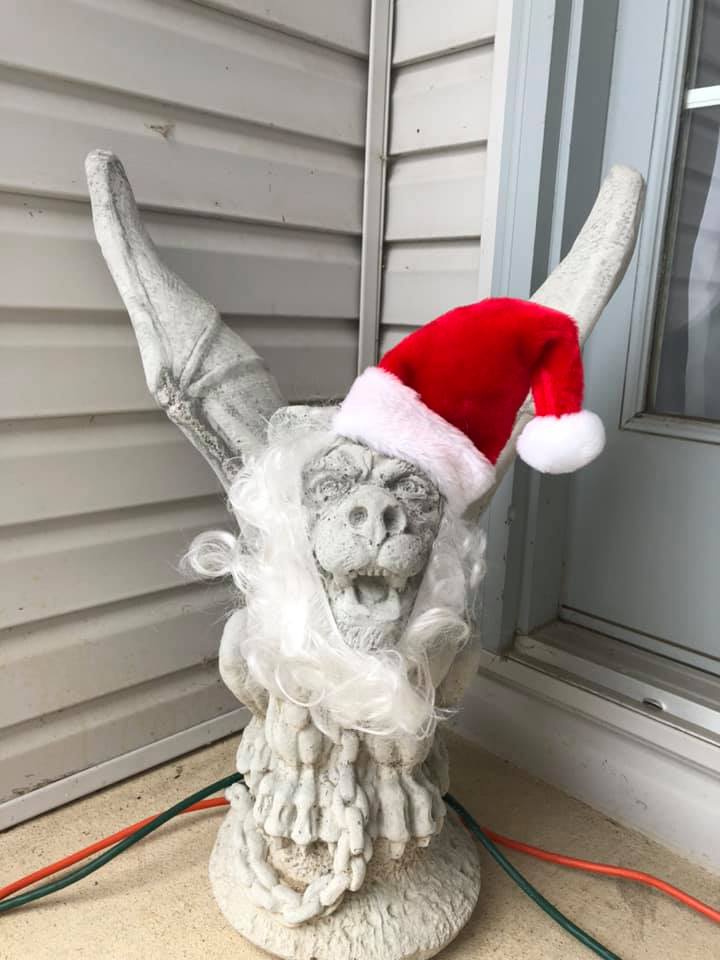 She accompanies the post with the following caveat:
I'm pretty sure that this is not what they had in mind and I look forward to the future note stating as much, but 1. Frank is very heavy and he doesn't get moved and 2. I like him even if he's not so great at warding off evil Karens
Evil spirits, maybe. Evil Karens, apparently not.
Lucky for us this is the gift that keeps on giving. Because just as predicted, Karen left another note.
Got a new note wanting to know if I think I'm funny. Why yes, yes I do.

I decided to add an elf on the shelf and leave a note back that the elf is always watching.

I may add one item a day now like an advent calendar. Too bad my porch is so small, I could really deck it out.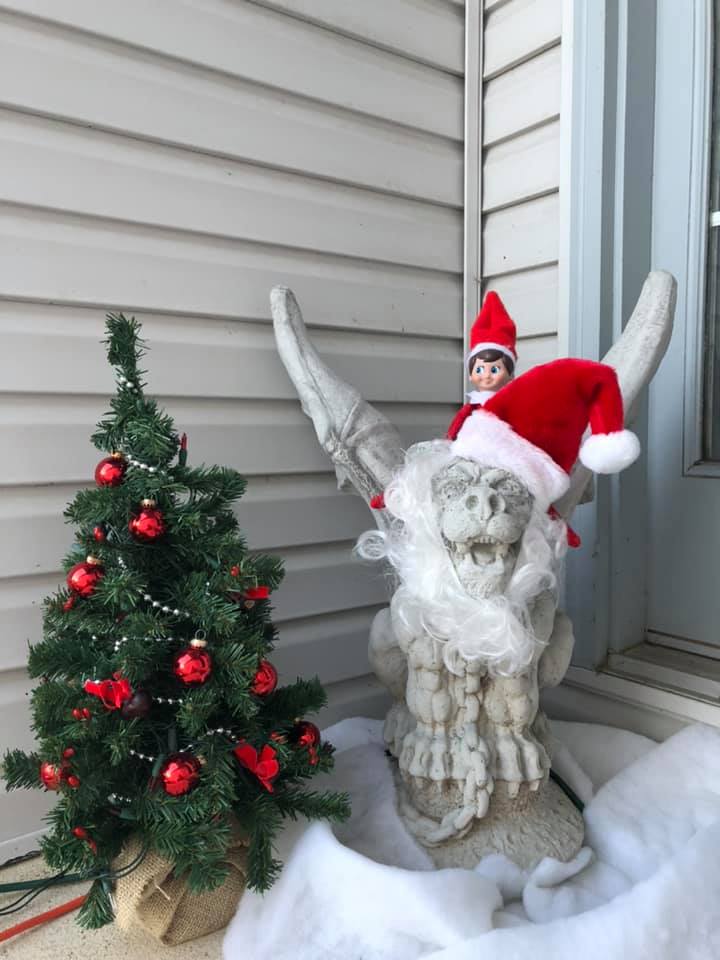 We think you're funny too. You better watch out "Karen." You better not cry.
Better not pout. I'm telling you why. The Elf is watching you. And we're pretty sure we all know which list he's putting you on, and it isn't the Nice one. Under his eye.
Our Christmas savior kept true to her word and started adding one Christmas-themed item per day.
First up, Frosty the Snowman. Which clearly wasn't offensive enough to warrant a new note but which was seen by "Karen" as evidenced by our savior's own note being left "crumpled up and in my flower bed so "Karen" knows it's on."
On the second day of Christmas, my true love gave to me, a picture of Bruce Willis in Diehard the mooo-vie. Yippee Ki Yay.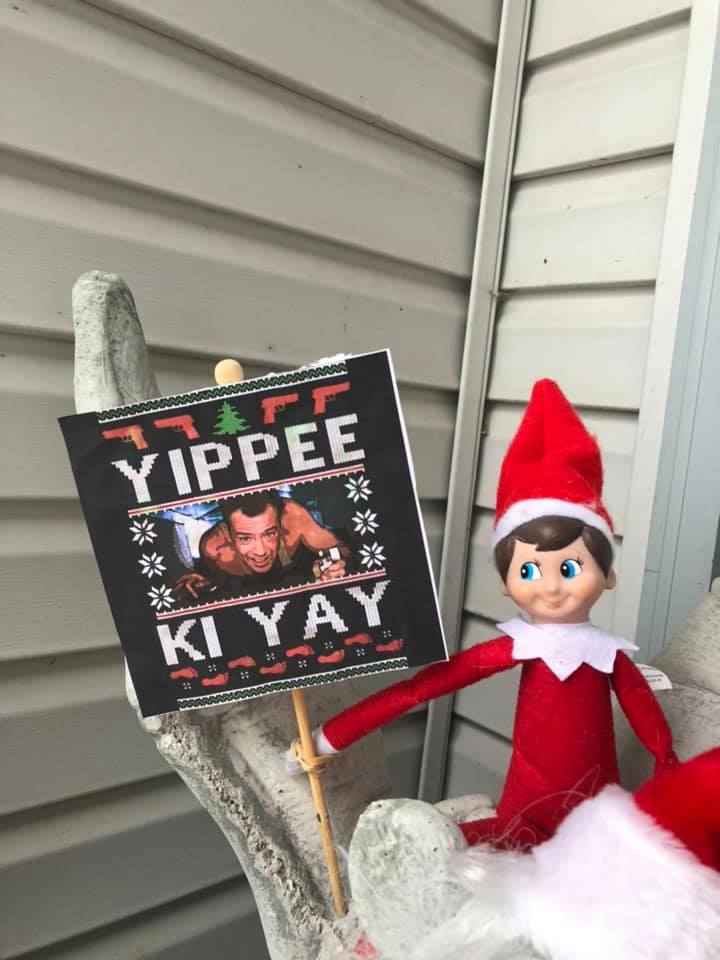 Because yes all you non-believers, Die Hard IS a Christmas movie.
Wanting to add a little more of a "reason for the season" touch to her Christmas display for her next addition, the owner decided to attempt a living nativity.
But it turned out to be more of a non-living one instead.
Photo Credit: Facebook/FranktheGargoyle
Apparently, this was a step too far. There was another note.
This one informing our protagonist that she was "beyond childish" and her "behavior is ridiculous."
She also called me out for "celebrating death" which I assume means she does not like my festive cat skeleton and said that it is "unbelievable that I would mock the homeless in such a manner."

I'm assuming she's talking about the Die Hard picture and doesn't know that's Bruce Willis, but I'm not fluent in crazy so who knows.
To top it off "Karen" also complained about the inflatable Christmas Fiona in the front yard (and OMG I love Frank's owner) and threatened to report her to the HOA. Again.
Rather than back down, the owner decided to add a little "fleas navidog" skeleton complete with a Christmas sweater, Santa hat, and dog collar and tags. It also just so happened to be noise activated with a set of fresh batteries.
Karen's response? "Go to hell."
I'm starting to feel like she's the one "not in keeping with the Christmas spirit," and that she might want to have her heart checked. I think it's two sizes too small.
Next up? A trio of stuffed hippos. Because obviously this woman has an issue with hippopotamuses and has never heard the song, "I Want A Hippopotamus For Christmas"
This became abundantly clear in the note she left screaming:
"HIPPOS HAVE NOTHING TO DO WITH CHRISTMAS!!!!!!!!!!" Written just like that in all caps and a full ten exclamation points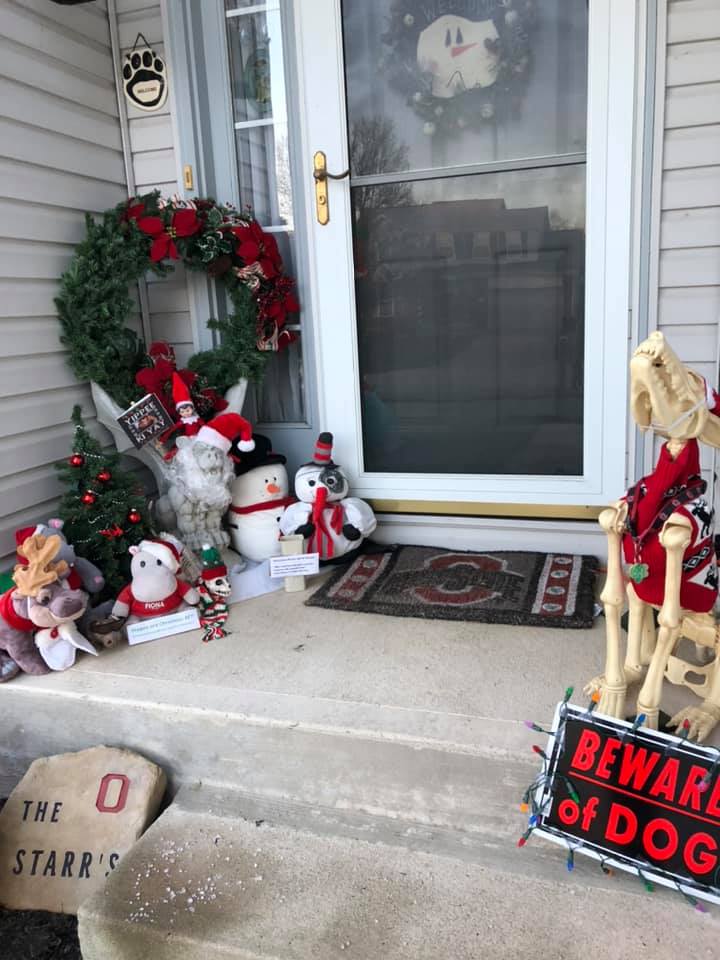 Speaking of notes, the owner thought it would be best to add a place for "Karen" to put her notes so "she wouldn't waste so much tape" putting them on her front door. She made her "a note box complete with a Phantom and lyrics from the musical." In the spirit of giving of course.
And Karen put it to good use.
We have a note!!! And she put it in the trash can!!
Today, Karen wanted me to know that

1. I'm stupid and immature,

2. If I keep it up, I'll be sorry,

3. She's friends with the mayor, and

4. Her name is NOT Karen!—–ROFLMAO!!!
She's friends with the mayor, you guys. Who just so happens to live in the same neighborhood. And who has, up to this point, remained silent on the whole matter.
The owner is hoping that he will consider her for the Spirit of the City award that they give out to "the best-landscaped house or something like that."
She should totally win.
The festive display continued to grow, this time with a corona twist. It IS 2020 after all. The owner added a Covid-19 stuffie, a plague doctor, and some rats, all dressed up in holiday finery, because IT'S CHRISTMAS.
This was the straw that broke the Karen's back. Frank's owner left for three hours and came home to discover this: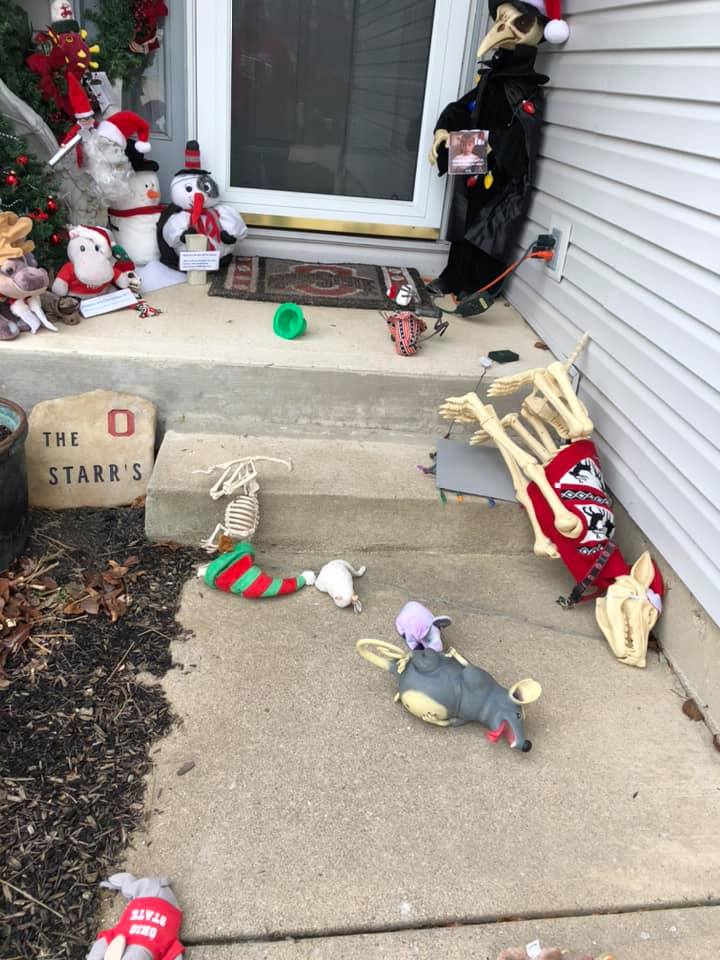 With yet, another note:
Karen's note today indicated that she is most unappreciative "that I would choose to put VERMIN on my porch." My display is "horrid," and my parents "must be so proud to have raised such a completely disrespectful and spiteful daughter."
To which our protagonist responded that while her parents are no longer with us, she is "absolutely positive they would be proud and loving this whole thing."
Just as much as we all are.
As for the Christmas carnage? Fear not, for behold, Frank's owner brings us tidings of great joy (& a little Michigan Wolverines smack).
Okay we've patched up the wounded and vaccinated them all against Karen cooties. The doc got a new face shield to protect him as well. We are Buckeyes we don't throw in the towel like Michigan Wolverines do.
Over the past two days, another gargoyle by the name of Fred has been added. As well as a small flock of flamingos.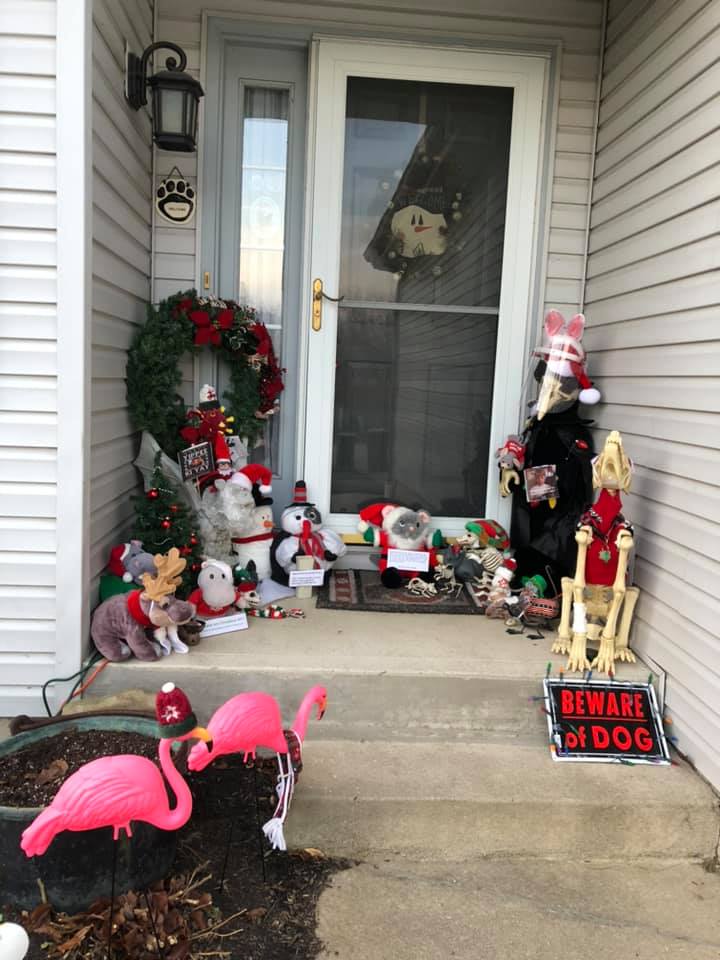 Christmas is officially 9 days away. Plenty of time to still add some Geese-a-Laying, Swans-a-Swimming, Maids-a-Milking, Lords-a-Leaping, Pipers Piping, Drummers Drumming, and even a Karen or two dancing.
And who knows?
Maybe, just like the Grinch, "Karen" will finally learn the true meaning of Christmas (but probably not).
As for Frank's owner? It's obvious that her heart isn't in need of growing three sizes. She sent a special shout-out to all of the frontline workers working tirelessly to combat COVID.
I wanted to give a special shout out to all the nurses, docs, EMTs, PAs, RTs, and all you other frontline badasses for all of your comments.

It's so cool to know this silly page can provide even a moment of relief from all the stress you guys are under right now.

You guys are the true heroes of 2020! Frank and friends salute you! Everyone stay safe and remember—Hippos are Christmas AF!!
They totally are.
You can check out the latest updates on the Frank The Gargoyle Facebook page
here
.