Ford doesn't mess around when it comes to its truck line. The proof is in the legacy; the brand's F-150 has been the number-one selling truck for the last 40+ years.
Sure, SUVs are great, and the thousands of Explorers, Expeditions, and Escapes from the manufacturer are kicking butt in the market with parents.
But if you haven't looked at a truck lately, they're starting to meld with SUVs in ways you're going to appreciate. We're talking about functional space inside, motion-detected running boards to help you hop inside, and the latest driver-assist technology to keep you safe on the road.
And really, wouldn't you look great in a truck? Everyone gets out of your way. And instead of piling all of your luggage in the back of the SUV and squishing your passengers, you can throw everything in the truck bed, get a decent locking cover that skims right over your goods without ruining the profile of the truck, and you're good to go.
Whether you have a truck, have truck envy, or think trucks are ridiculous, there are few things you need to know about the all-new 2021 Ford F-150, revealed on June 25.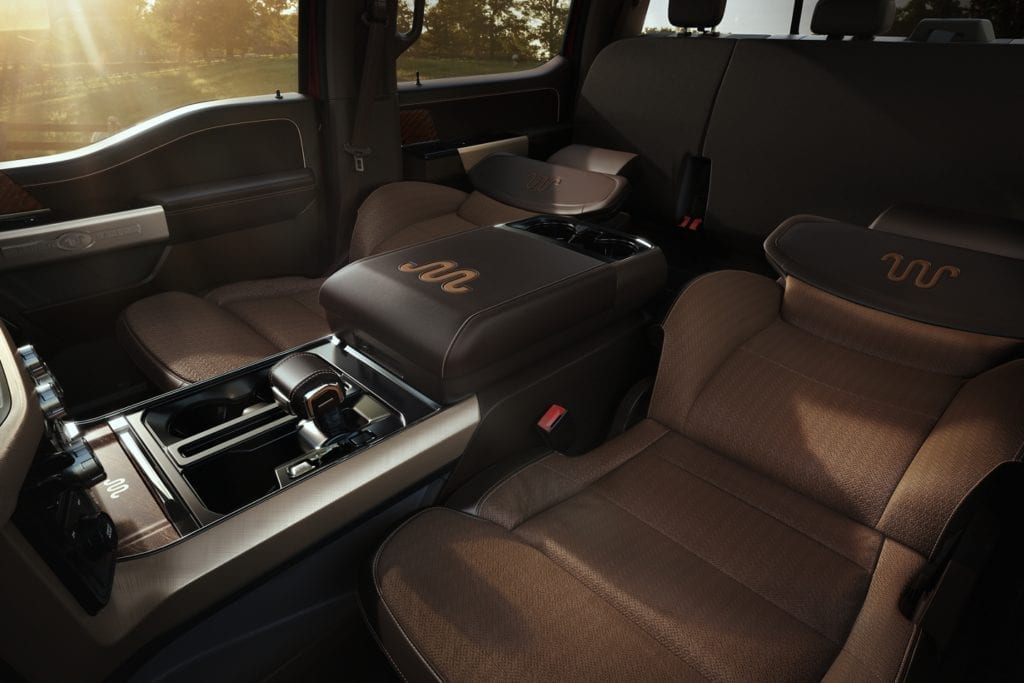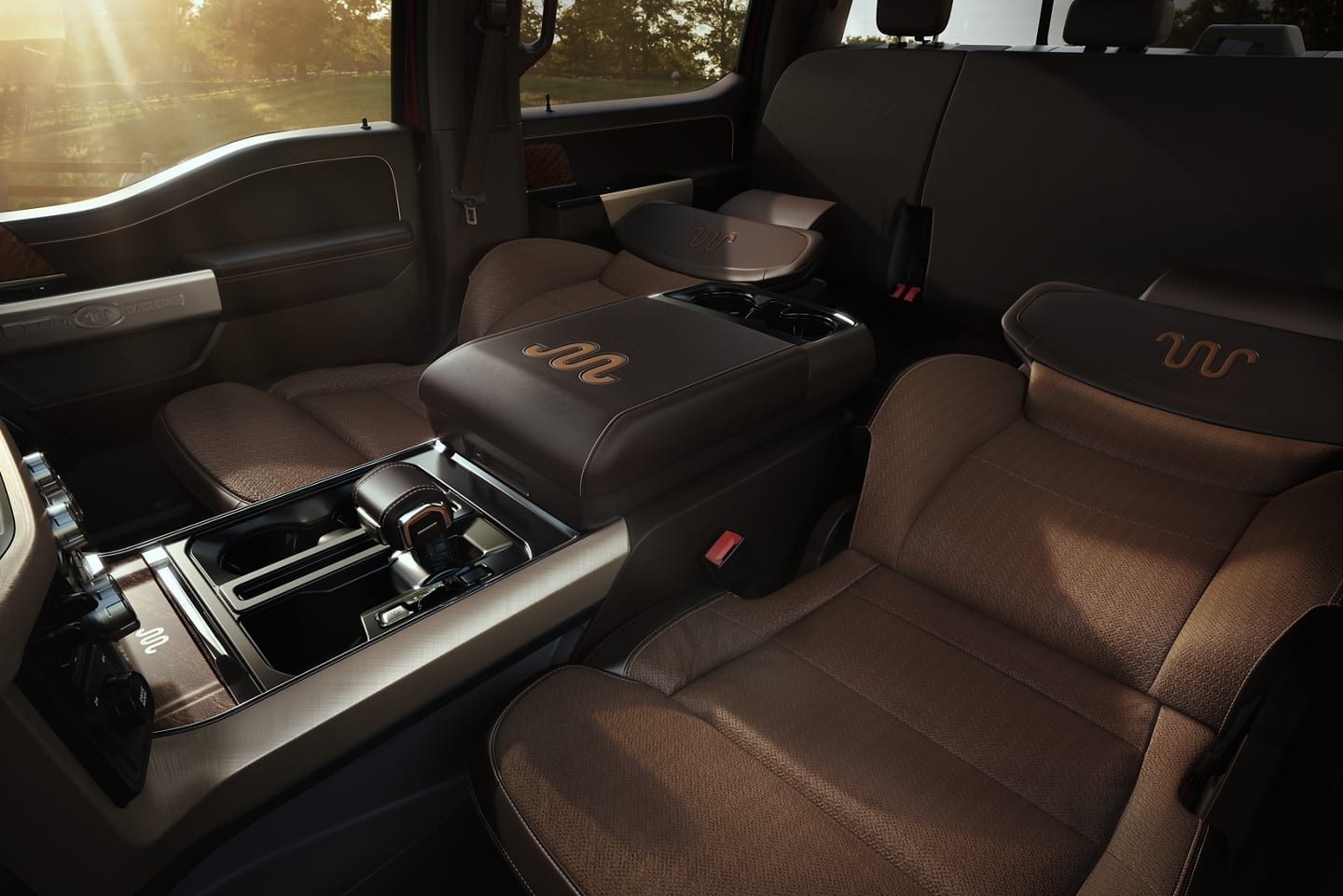 1) Lie-Flat front seats:
You know when you have to bring your kid to some activity on the other side of town and it takes too long to get back home so you might as well sit in the parking lot? The 2021 F-150 has you covered with new front seats that lie flat for your afternoon nap.
Yawn… doesn't a nap sound delicious right about now? Borrow your kid's blankie and snuggle up for some shut-eye. If anyone asks, you can say "I'm just resting my eyes."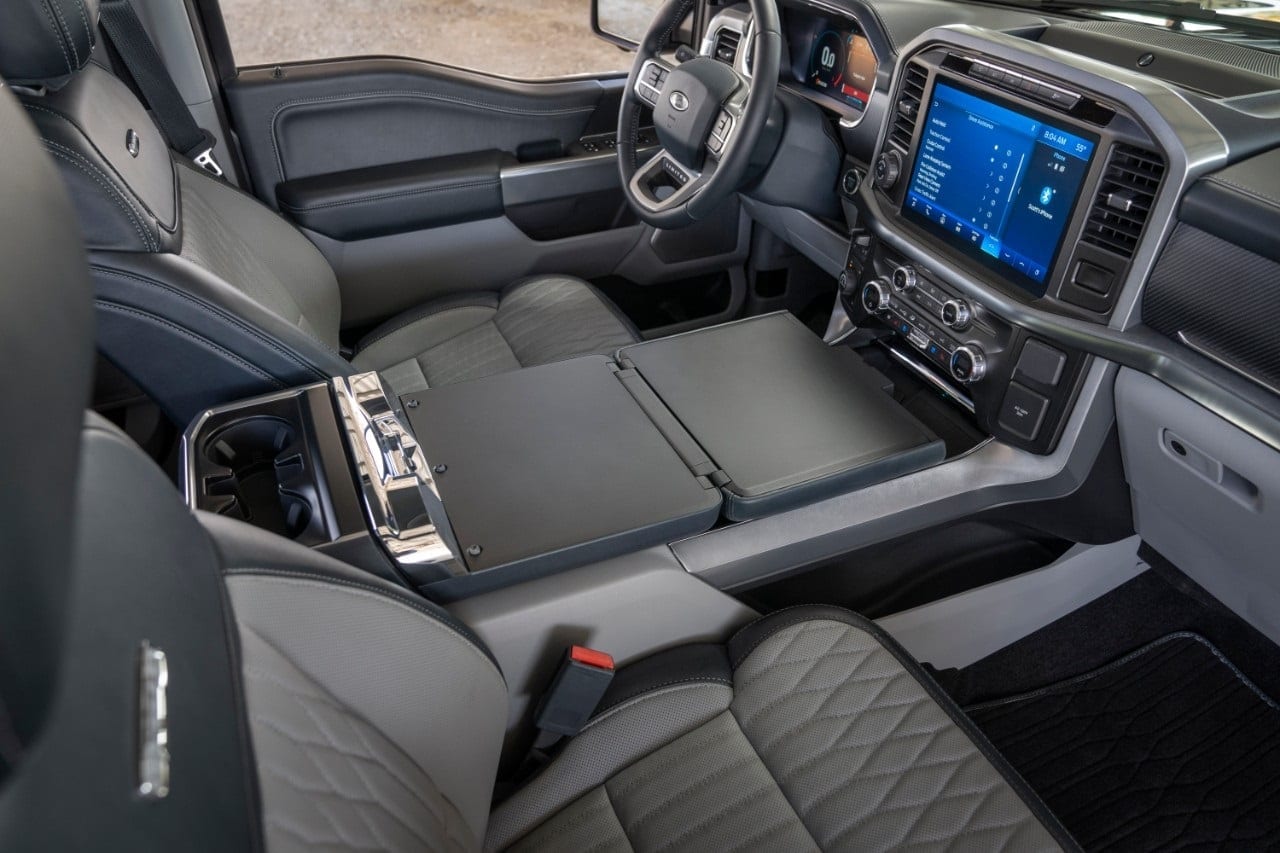 2) Work space in the console:
Sometimes you need to take a conference call in your vehicle. Or record a podcast because the acoustics in the cabin are incredible. Or get some work done while you're waiting in the school pickup line.
Ford added a smart feature that transforms the center console between the driver's seat and passenger seat into a flat area that works as a desk or table.
It's kind of like having a fold-down tray on an airplane but a thousand times cleaner (assuming you can keep the kids from spilling Gatorade and Cheetos dust all over it).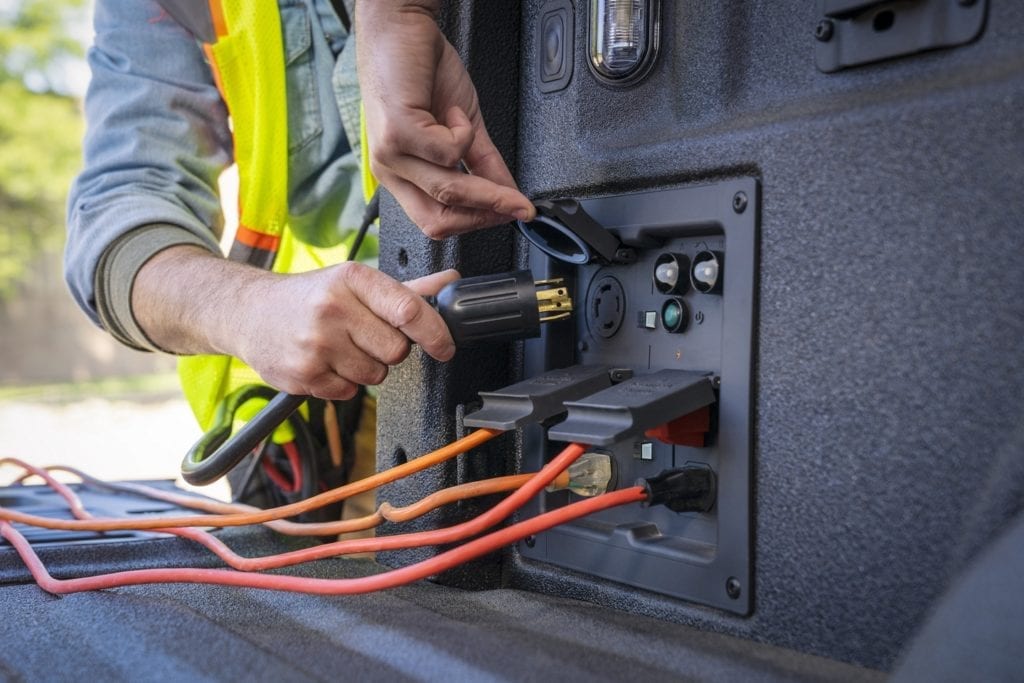 3) No generator required:
If you like to take the family camping, to the beach, or even to a local park for a picnic, you'll like the available Pro Power Onboard. Think portable refrigerator, compressor to blow up your air mattresses, audio system, and more.
You could even get fancy and bring your Keurig or Nespresso machine to get you going in the morning like a real human being.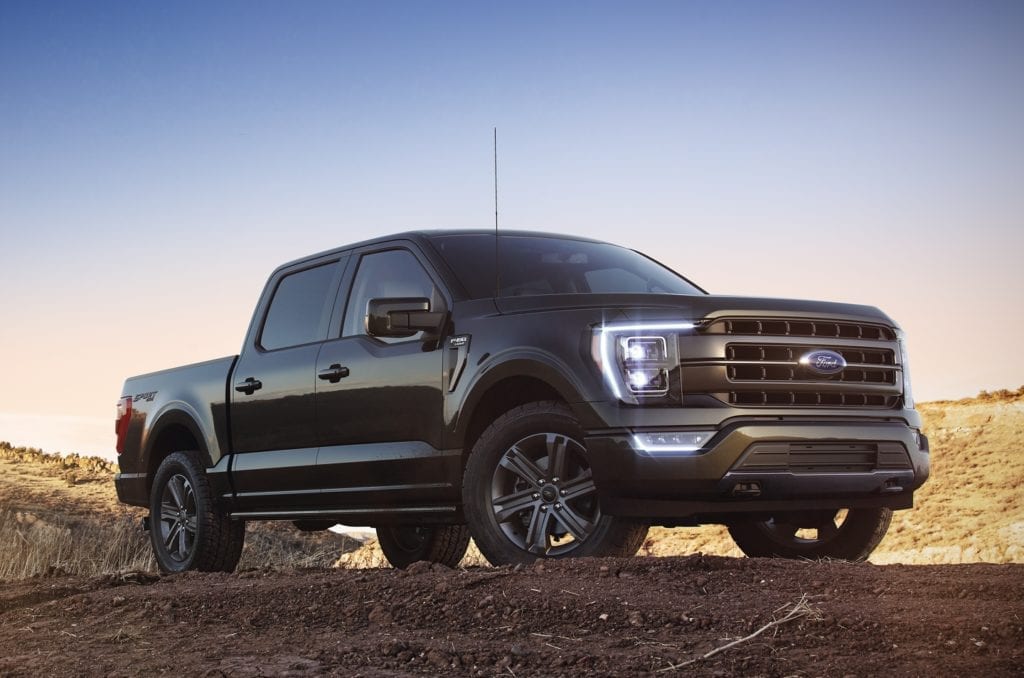 4) Road trip ready:
The 2021 Ford F-150 is the only light-duty full-size pickup to offer a full hybrid option. With the 3.5L EcoBoost engine, Ford's saying you'll get seven hundred miles of range before you have to stop to fill it up. That's roughly the distance between Boston and Detroit!
Who says trucks can't be fuel efficient too?
On top of that, your truck can tow up to 12,000 pounds. That's a camper, a horse trailer, a boat, a few Jet Skis… let your adventurous imagination run wild. Ford says 12,000 pounds is about 43 NFL linebackers so if you want to haul a bunch of football players, that's your business.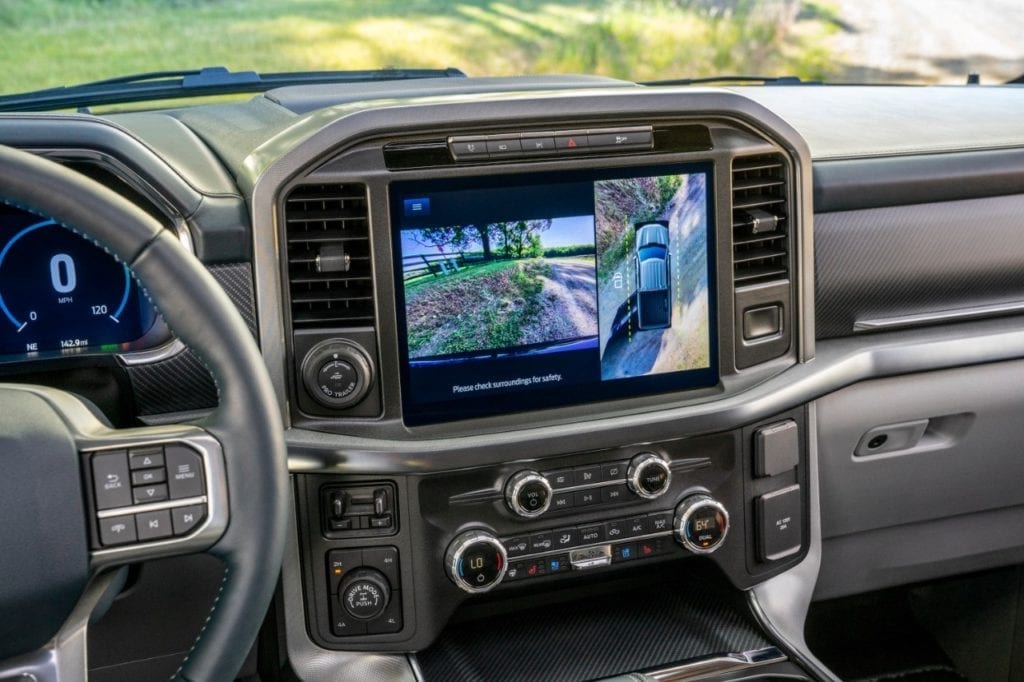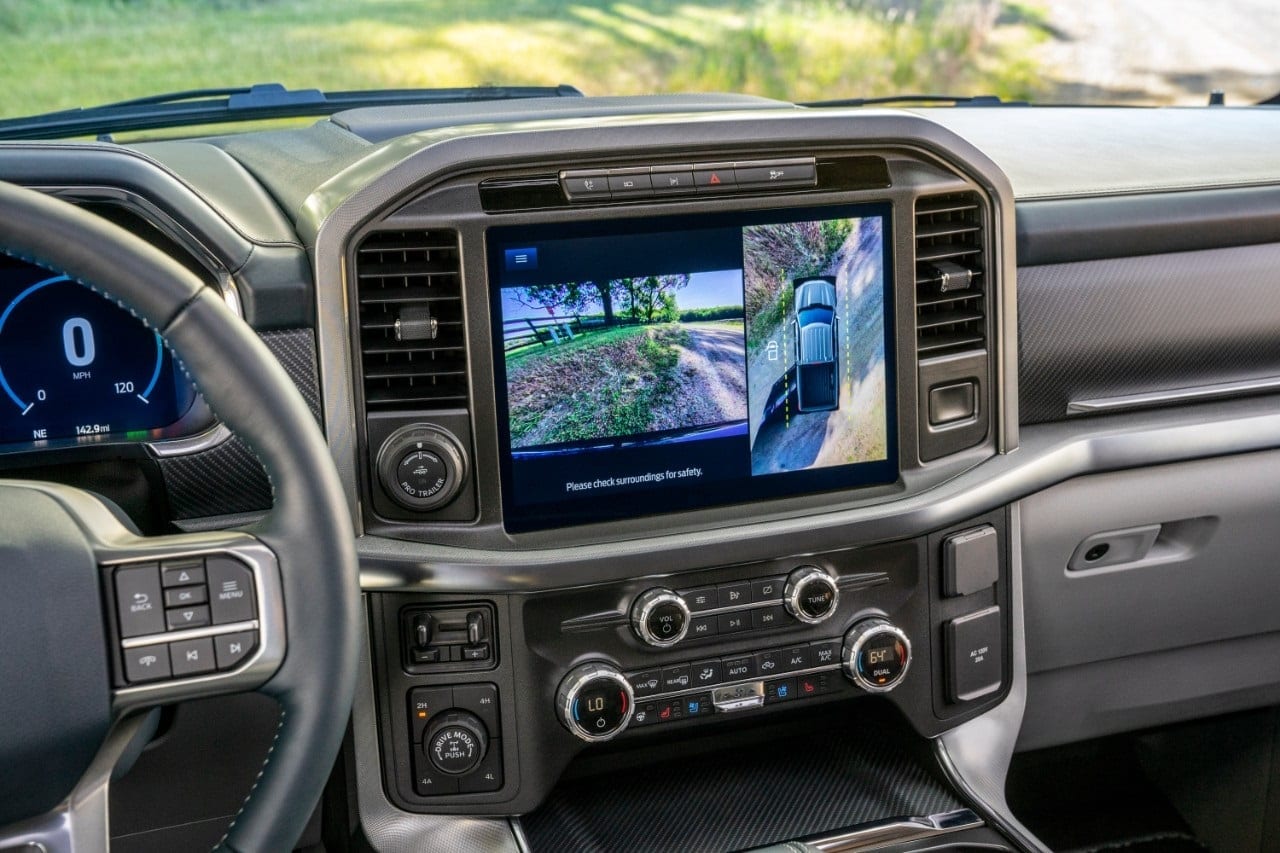 5) Safety features give you an extra set of eyes on the road:
For the 2021 model, Ford is including pre-collision assist with automatic emergency braking and pedestrian detection to help avoid a possible collision with another vehicle or a person.
It also comes with a rearview camera, auto high-beam headlamps and auto on/off headlamps.
The F-150 has 10 new driver-assist features and is as of right now the only pickup to offer active drive assist, which gives you an additional level of confidence especially on long drives.
The driver-facing camera tracks your head position and eye gaze while you're driving and if you lose focus briefly, the truck has your back if you're driving on certain sections of pre-mapped, divided highways across the US and in Canada.
Hate to park? Ford has you covered with a system that handles all steering, shifting, braking and accelerator controls during a parallel or perpendicular parking maneuver by holding down a button.
Are you feeling ready for a truck yet? Giddy up (cowboy boots not included).