I don't think there is a single mom in the world who doesn't often, likely daily, feel invisible. When you spend your days and nights caring for humans who need you for survival, your needs take a backseat.
For days, months and years at a time we put the people in our household first.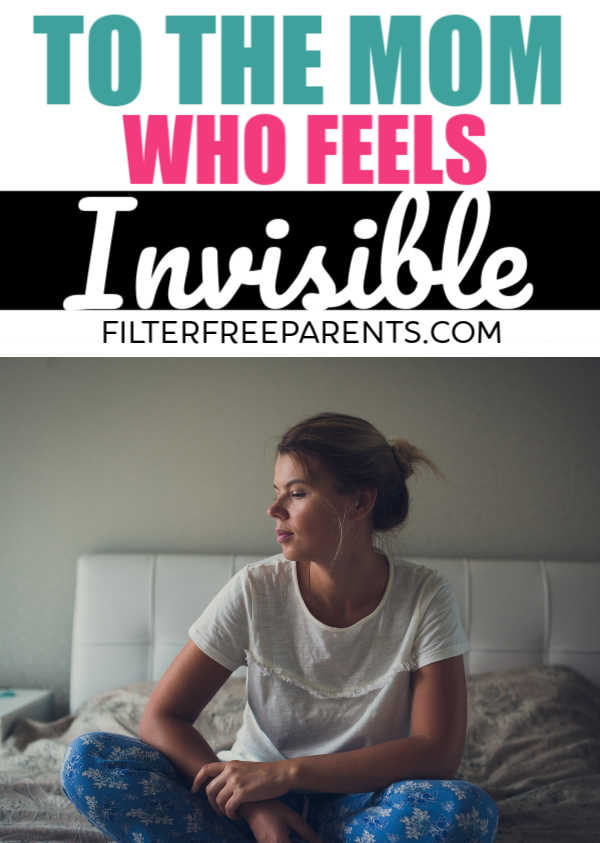 As our children grow, it doesn't change. Their needs change, but they still need us just as much. And we continue to strap ourselves in that backseat, and then disappear into a fog of wants.
Not that long ago, I was feeling totally exhausted. All of the kids were home for the day and I had been on my feet running our kitchen like a twenty four hour diner for what felt like forever. Not to mention the additional strain of running the taxi service, full time cleaning and laundry service, disaster restoration service and mediation service.
And of course the constant FBI level negotiation services required to manage a certain volatile four year old.
I felt tired, a bit helpless, and completely invisible.
I felt like a service more than a mom. A machine where they could each put a coin in, push a button and immediately be rewarded with their option of choice.
Out of nowhere, as I stood at the kitchen sink fighting back tears, my thirteen year old son came up for air from his Xbox. He walked into the kitchen and wrapped his arms around me, folding me into a big, long bear hug. Then he looked at me and said, "I love you mom. You are the best. Thank you." And as quickly as he had walked in, he walked out again.
And the tears came. Like a torrential summer downpour that I couldn't stop.
He saw me. This teenager of mine, who never notices anything.
This boy who can't ever remember to bring his things home from school. This boy who never appears to have the slightest clue what's going on in our home, and has even left the house without shoes on, he noticed me. He saw that I was struggling. He saw that I needed reassurance that my work meant something. He saw me.
I started to realize that they all saw me. In little ways, each and every day they were showing me that I am not invisible. I am needed and wanted, of course. But I am also loved. Deeply and honestly.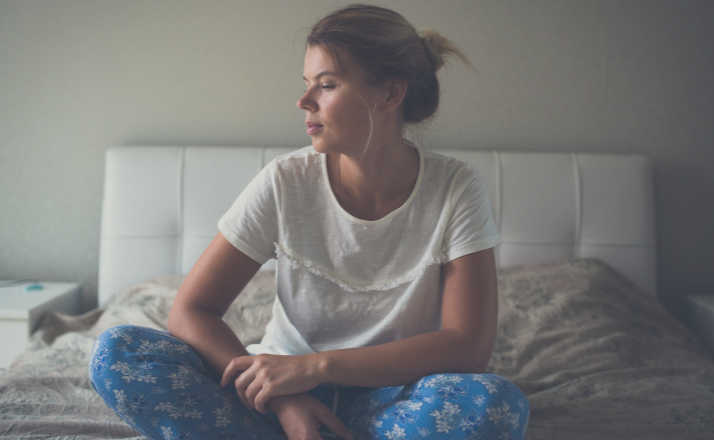 And for my fellow moms who also feel like nothing more than a service provider, let me explain how they see you:
When they fall down and "mommy" is the first word that crosses their lips, they see you.
When monsters threaten in the dead of night, and you are the one who is called upon the fight them. They see you.
When a sparkly stone or a colorful flower becomes a precious treasure and they cannot wait to give it to you, they see you.
When they are sad, or tired or overwhelmed by the world and only your arms will fix it, they see you.
When their bellies are full because you filled them, and their clothes are warm because you dressed them, and they feel content and happy, they see you.
When they are filled with pride because their latest masterpiece is displayed on the fridge, they see you.
When the teen that has been locked in their room for what feels like forever comes to you about their failed math test, they see you.
When they are struggling because a friend is no longer a friend and you are their chosen listener, they see you.
When their crush doesn't feel the same way and they are certain their hearts are forever broken, and they come to you to help put them back together, they see you.
Every milestone. Every sporting event. Every recital or school play. When they look into the crowd. When they take that bow. When they accept that award and one day that diploma, they will see you.
They will see the person who has supported them from the very beginning. They will see the love and pride that you have for them.
The days can be long and frustrating. You may feel like you don't matter. You may feel that your work goes unnoticed and unappreciated. You may feel invisible.
Lost in that never ending fog of wants. But one day, when this is all done. When your children have grown and they look back on these years, the one person they will see in every part of their lives, is you. They will see you. Just like they do now.