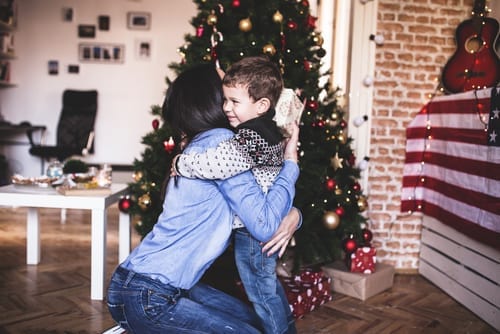 If you you would rather hike through the woods than sip a latte at Starbucks, your wardrobe contains several camo shirts and pants, and you can't wait to go camping with your family again, you are officially an outdoorsy mom.
Now that the holiday season is upon us, your family is probably asking for gift ideas for your nature-loving self. In case you could use a little inspiration for what to ask for this year, consider the following suggestions:
Stocking Stuffers
It's hard to attach bait to a hook or set up a tent when your hands are freezing. A great and inexpensive way to warm up your digits is with some single-use hand warmers by Grabber. This amazing product will work for up to 12 hours and can be placed inside your gloves or pockets. Other stocking stuffer ideas that you might consider include warm, waterproof socks that are usually available for $10 or so a pair, protein-rich fruit and nut bars, small packages of trail mix and packets of hot cocoa that you can enjoy by the campfire.
Budget-Friendly Present Ideas
If you are enjoying teaching your kids all about the great outdoors, ask for some gear that you can all enjoy together. For example, put a few affordable fishing poles on your list, along with a new tackle kit and plenty of lures.
Moms who adore hiking, camping and hunting can ask for gloves that are tablet and smartphone friendly—for example, JC Penney sells a nice selection including the Isotoner SmarTouch Stretch Gloves for $23 that will keep your hands warm while allowing you to stay in touch with your loved ones. Other reasonably-priced-but-useful gift ideas for moms who love Mother Nature include books on bird watching or local hiking trails, foldable binoculars, or a compass.
Big-Ticket Items
If you have been an especially good outdoorsy mom this year — and chances are you have been — ask for some spendier items that are perfect for your next outdoor adventure. For instance, request some new boots that look great while keeping your piggies warm in the snow. Cabela's has a terrific selection of winter boots like the UGG Women's Bailey Button Boots made from genuine twin-face sheepskin and feature insoles covered with moisture-wicking sheepskin. The boots will be just as home on the snow-covered hiking trail as in the supermarket, and will keep your feet comfortable and warm.
Another cool bigger ticket idea is the Fugoo Tough Bluetooth Speaker that runs around $170 on Amazon; this innovative device allows you to bring good-quality sound into the great outdoors. The speaker is water-, dust- and sand-proof and includes tweeters, mids and subs that project tunes throughout your tent. If you like to relax at night with some music or your kids are having a hard time settling down, playing some calming music on your Fugoo speakers may do the trick.
If your backpack has seen better days, considering asking for a new one that is functional, rugged and stylish. Kelty makes a great line of backpacks that look great and will last forever. The Redwing backpack runs around $120 and is lightweight, easy to carry and has plenty of room for your equipment.