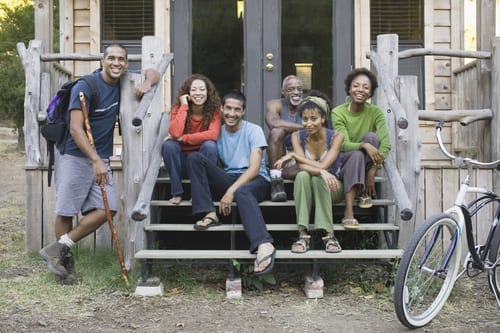 A tight-knit community can provide a safe haven for your children, a reliable network and countless personal connections. With busy, transient lives — kids at school, parents at work, dinner on the table, in bed by 10 — we often don't prioritize fostering a strong sense of community. However, our sense of community affects our brain chemistry, our general well-being and our social identities. Regardless of location, there are many ways to find and create communal settings and social opportunities. Here are a few ideas:
Check Out Parks & Recs
You haven't played basketball since high school — so what? Get your cardio and your socializing in simultaneously with community sports. Use the RecCheck app to find pick-up games (for many different sports) happening in your area.
Urban and suburban areas often have parks and recreation departments which offer classes, sports and workshops for the community they're located within. Participate in everything from guitar lessons to a writing workshop. Play in a weekend flag football league or enroll the kids in a photography course. You'll learn something new and you'll meet members of your community at the same time.
Apartment Complex Activities
Apartment complexes are some of the best places to find a community. Many complexes or buildings have a common entrance area or shared space for socializing. Talk to your property manager about using this space for community get-togethers. You may be able to hang a flyer in this common area to broadcast your social events to other tenants.
If your complex has amenities like a pool or barbeque area, host a block party. Make it a potluck where everyone can bring a dish and join in. Play lawn games, let the kids run around and just laugh together!
Rather be inside where it's warm and cozy? Consider hosting a supper club where interested neighbors take turns hosting a dinner and movie night once a month.
Get to Know Other Parents
Some of the best communities for parents spur from your kids' friends. You might meet at a birthday party or a school sports game. Reach out. You both have kids at the same school or on the same sports team, so start with that common thread. You just might have more in common than you think.
Having a network of parents is a crucial key to your sanity. Carpool, emergencies that pop up or even local referrals to doctors, salons and pet sitters — having go-to people who are in the same boat as you is convenient and comforting.
Volunteer
No matter where you live, volunteer work is a tried-and-true method of cultivating community. Create a volunteer committee in your neighborhood where everyone can contribute toward a local cause. Consider a food drive for the local food bank, trash patrol for clean neighborhood streets or plant a community garden plot.
If you'd like to join a project someone else has organized, check out MeetUp.com for opportunities, or use VolunteerMatch.org to find a project right for you.