As a person with back problems, I'm constantly looking for something that will relieve the pressure off of my spine while I'm sitting or standing. Especially when I'm working.
I work from my computer A LOT, parked on my behind. So finding comfortable chair options are difficult. I tend to move from one seat to the next throughout my time working just to maintain some comfortability or to keep my leg or bum from going completely numb.
That's why I was so excited to try out the Vivora Luno ball, the best balance ball chair for me.

I received my package on the promised delivery day. I couldn't wait to open it up, but like all things, my kids had already torn it open and splayed it out on the floor before I even had a chance to check the label.
Vivora Luno Ball Setup
Inside the box were directions on how to inflate, a pump, and extra plugs for the inflation hole and visual examples of what the finished product should look like. The support team even has a YouTube video walking you through the setup process.
The Luno ball and the encasement come already pieced inside of each other (which I wondered about before it came) which made inflating the ball much easier than I anticipated.
When I started to push the pump and get the air inside, I wondered if I should have waited until after dinner before taking on this feat because I was concerned it would take a while and I don't have the best upper body strength. But I was pleasantly surprised to find I had finished inflating it in about 5 minutes.
I have had back issues for many years.
There are times that by the end of the day I am only able to find relief by laying down because I don't want to move anymore and it's the only way to get comfortable after a long day.
Sitting on the Vivora Luno ball allowed me to easily relieve pressure as I worked by moving around in little circles or slightly bouncing to redistribute my weight. I found I could sit longer than usual without numbness starting to kick into my lower extremities because of the softness and flexibility of the ball and smoothness in changing my positioning.
Stylish and Versatile Vivora Luno ball
This is such a versatile piece. I could use it as a chair at my desk while working, in front of the TV while relaxing, and as an ottoman to put my feet up while sitting on my couch drinking a cup of coffee in the morning. It's easy to move around the house because it's lightweight and has a built in handle.
As an added bonus, it was helpful when I felt the need to stretch because I could lean over it and use it to stretch out or roll on which I normally wouldn't be able to do without having to track down a roller somewhere in my house! Because the Vivora Luno balance ball chair is sleek and stylish, I didn't feel the need to hide it away when I was not using it because it compliments my existing furniture and adds to my decor.
Even my kids have enjoyed playing with it or using it to rest their feet or stretch. And the BEST part is, I don't mind if my kids use it too because it's so durable, they can't break it. I am looking to get them their very own kids design and sized Vivora Niko Ball.
Vivora Niko Ball for Kids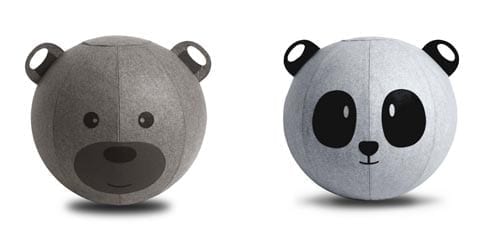 So if you're like me and are looking for ways to live a healthier lifestyle I can't recommend this ball enough. It's perfect for anyone that loves style, comfort, and loves doing something for their health.