While we moms think we're so unique in our own right, there are some stereotypical things that we ALL say & do, simply because, well, we're moms and someone has to make sure civilization keeps churning out decent & responsible people, right??
It takes a lot to keep a family running well, so there are very typical threads that run through most of our mothering approach, whether we want to admit it or not. But when those similarities are emphasized on-screen, they're pretty damn funny!
Internet comedian Trey Kennedy's newest video, "Moms. Part 2" is a hilarious depiction of what moms are (really!) like that is quickly going viral since being posted to his Facebook page on Wednesday.
The 3-minute clip features a variety of all-too-common mom reactions and responses to their children, and already boasts over 1.8 million views.
This is Trey's second foray into the mom-humor genre; his first video "Moms" also went viral, with over 9.7 millions views since it was released five months ago.
Apparently we moms are an endless source of comedic material, huh? There's a reason Trey's mom videos are so popular: they're funny because they're TRUE.
The video consists of Trey, aka "Mom/Karen" engaging her children in a variety of everyday parent scenarios: discussing music in the car, lecturing kids about grades, trying to choose a movie to watch together, and forgoing cooking dinner in favor of picking up the teen's favorite fast food : "is it Chipotle? Chipolley? Chipootly?"
The genius aspect of Trey's realistic portrayal isn't his words, although they are both realistic & funny. Trey's subtle (and not-so-subtle) mom mannerisms are what make this video so damn fun & relatable.
The magic is in the facial expressions. It's the widening of the eyes for emphasis when he's telling his kid exactly how things are going to go down. And the eyebrows that arch to let the child know "I mean business, kid. Best get with my program."
If you're anything like me, your eyes and eyebrows inform your kid exactly what you're thinking, for better or for worse.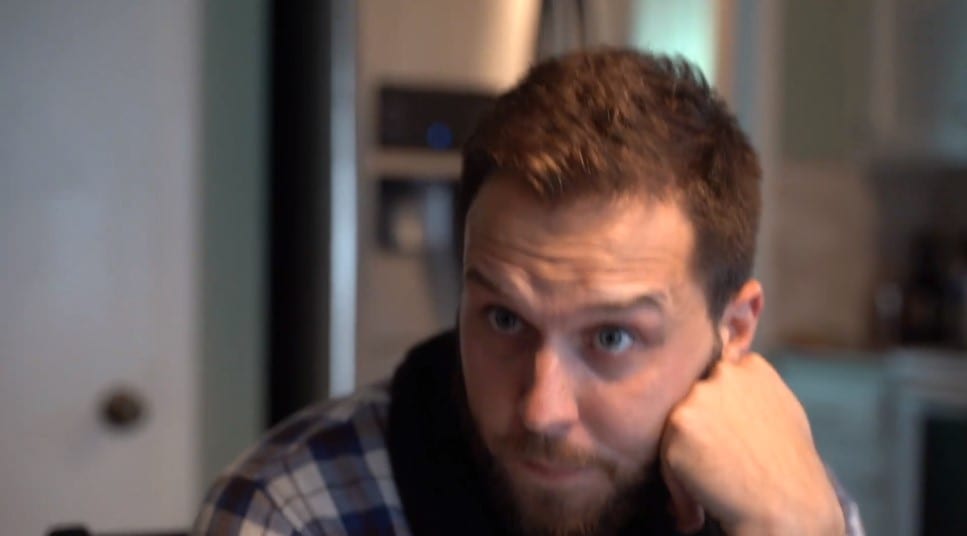 (Note the "WTF??" forehead wrinkles, which are a standard mom accessory.)
While many of Trey's lines are part and parcel of #momlife, there are a few that rang particularly true:
Hi, how was Barkley's house- did you have fun??
I'm guilty of asking my kids some version of this question each time I pick them up, no matter where they were. They know it's coming. Trey's next line hits home, too:
Was their house cleaner than ours?
Now granted, I don't actually ask this- but I THINK it. And I bet it is; damn Barkley's mom and her cleaner, more fun house!
You can each get one thing- do you understand me?? One thing… No, not THAT.
I say this, verbatim, every.single.time I'm in a Dollar Tree store with my kids. Every single TIME. I let them choose any one item that they want- unless it's got chemicals in it. Or too much sugar. Or is too loud. Or has a weird smell… find something, kiddo. Just not THAT thing.
The best cliche moment is Trey staring pointedly into his rear-view mirror, issuing the threat of:
Kids- hey, hey! I will turn this car around! Do you hear me? Behave.

Photo Credit: Trey Kennedy "Moms. Part 2" (Facebook)
Who hasn't been here before, am I right?? And desperately hoping your kids don't call your bluff, because the last flipping thing you want to do is follow through on it & actually TURN THE CAR AROUND. We feel you, Trey.
When it comes to kids & peer pressure, Trey knows our deal. There's only one thing to say when your child is asking to do something foolish because "everyone else is doing it, Mom!". C'mon, say it with me and Trey:
So if all your friends jumped off a cliff, you would too?

Photo Credit: Trey Kennedy/"Moms. Part 2″ (Facebook)
How about when your kid tries to bond with you over a bit of technology that they simply adore, but you just…don't…get?
It's a meme? What's a meme? Ok- I don't have my glasses on. Which of your friends is this? What do you mean its not one of your- I don't know what a meme is! Who's friend is this??

Photo Credit: Trey Kennedy "Moms. Part 2" (Facebook)
I totally relate to this one; my 13-year-old son tried in vain to explain to me what a dank meme is. I still don't know what it is, and he gave up trying.
Do it. I don't ask you to do much- do it.
If I got a nickel for every time I say this to my kids, I could pay someone to do the things that my kids don't do much of. We'd all be happier.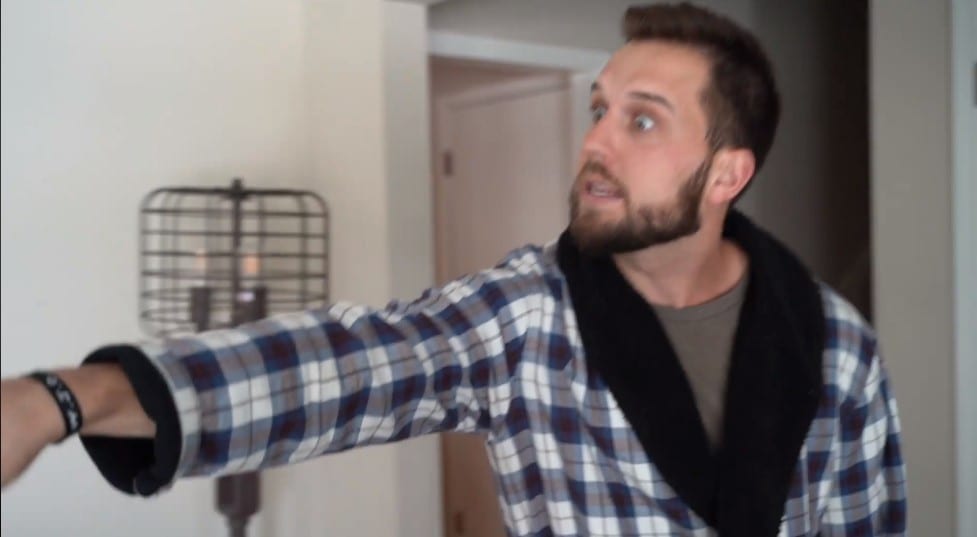 But of course if they DO actually do it, it's often followed by this line:
Not like that! Ugh, I'll just do it.
Get out of our heads, Trey Kennedy.
The video is 3:02 minutes of amusing mom-truth-bombing, and it reminds us that no matter how each of us handles motherhood as an individual, we're all tackling the responsibility with an uncannily (and hilariously) similar style.
Moms. (Part 2)

Posted by Trey Kennedy on Thursday, May 23, 2019