This post contains Amazon affiliate links. If you click on a link, Filter Free Parents may receive a commission. See our full disclosure policy here.
I can't tell you how many times I have found myself feeling stressed out and claustrophobic while in line at a packed store or shopping mall trying to score the best Black Friday toy deals.
I haven't had to do that in a while and that's because of the beauty that is online shopping.
Sure, it kind of takes away from the "Black Friday Shopping Experience." But, as it turns out, I am okay with that.
Online shopping is great. You navigate around the virtual store with your phone or on your computer, choose what you want, then click "check out." You literally never even have to leave your couch. Plus, you don't need to find a babysitter to get your shopping done!
That's a win-win.
Another great benefit? You don't even have to do your shopping on Black Friday.
While there will always be some added deals on Black Friday and Cyber Monday, the deals really do start early and they go late, so you can buy anytime you want.
If you are ready to beat the rush and get your shopping list accomplished, check out these awesome Black Friday toy deals that you can order now.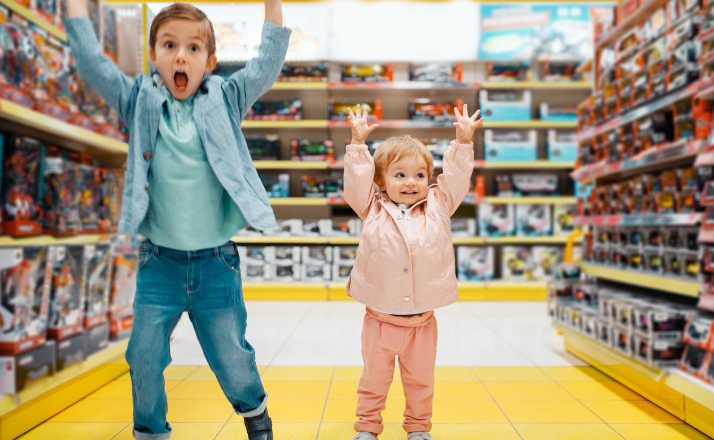 Hot Black Friday Toy Deals on Amazon
Sphero Mini Activity Kit: App-Enabled Programmable Robot Ball with 55 Piece Construction Set
Now, here we have a toy that us parents can feel good about buying for our kids! This is a STEM educational toy for kids five and over, that is also a ton of fun.
If your child's wish list includes a new tablet, the Fire 7 Tablet has dropped to a ridiculously low price as of the time of this posting ($29.99), and rumor has it that this price will be sticking around for a while. Don't wait though, because Amazon can and will change prices quickly.
If your kids are little and you are planning on buying them a tablet, you might consider the Fire 7 Kids Edition. This tablet comes with a 2 year, no questions asked warranty, plus a year of Kindle Freetime Unlimited for free.
Nintendo Switch with Neon Blue and Neon Red Joy?Con
If a Nintendo Switch is on your list this year, make sure to book mark this link! The price keeps changing on this one so I imagine we will see a price drop during Black Friday/Cyber Monday week. Keep in mind that it is unlikely that the price will drop too much, but on big ticket items like this any price drop is nice!
Oculus Quest All-in-one VR Gaming Headset
Okay, one more gaming link because I know that this one is making a lot of Christmas wish lists this year.
As a matter of fact, I got a call from my 34 year old brother a couple of weeks ago telling me that we needed to get one for the kids because in his area they were selling out. Have your kids asked for the Occulus Quest yet?
VTech KidiZoom Smartwatch DX2 Black
Kids want to be just like their mom and dad! If mom and dad have a smartphone, you can bet that they want one too. There are huge discounts on the Kidizoom Smartwatch right now at Amazon.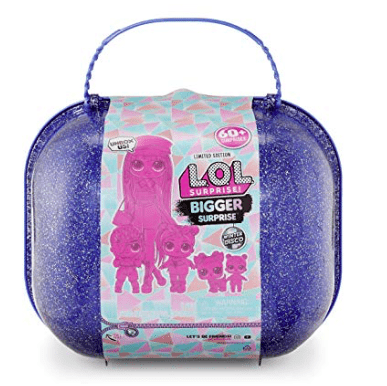 L.O.L. Surprise! Winter Disco Bigger Surprise includes O.M.G. Fashion Doll
This is a new, limited edition of the LOL dolls and you can bet that it will be on some Christmas lists this year.
Watch Ya' Mouth Ultimate Edition
Game night has never been more fun! This game is awesome for the entire family to play and will bring hours of giggles.
Retro Wooden Play Kitchen with Refrigerator
Play kitchens have been on the hot list for the holidays for years now, and I love that retro kitchens are making a big splash. They are so cute! You can find prices at close to 50% off with these Black Friday deals too!
Dollhouses are great for the imagination. There is a reason why they have so popular with kids for hundreds of years.
Cabbage Patch Kids 12.5″ Naptime Babies
While we may not be at the 1983 Cabbage Patch state of frenzy, Cabbage Patch Dolls are a hot item this year! Plus, you can save big money during Black Friday and Cyber Monday deals.
Baby Alive Step 'N Giggle Baby
Baby Alive dolls are hot hot hot this year! Be sure and snag your doll at these low Black Friday prices.
Crayola Color Wonder Light Up Stamper with Scented Inks
Encourage your children's creativity with toys such as this Crayola Color Wonder Light Up Stamper! It will bring them hours of fun at a great price!
LINCOLN LOGS – Oak Creek Lodge – 137 Pieces
Lincoln Logs recently celebrated their 100th birthday and kids still love playing with them! You can bet they will still be a hit under the Christmas tree.
LEGO Classic Medium Creative Brick Box
It's just not Christmas without a LEGO kit under the tree. Truth be told it is hard to find LEGO kits on sale, but we are already seeing discounts up to 20%!
With the popularity of Stranger Things and other similar shows, lots of kids are asking for Walkie Talkies this year! These ones are rechargeable, have great reviews and they are on a great Black Friday deal!
Double-Sided Remote Control Stunt Car
Would your kids love to find this double sided Remote Control Stunt Car under the tree on Christmas morning? I am betting the answer to that is yes.
Radio Flyer All-Terrain Balance Bike
Radio Flyers have made Christmas Wish Lists for millions of kids for years, this hasn't changed! If you have a little one at home that is trying to learn how to ride a bike, this Radio Flyer All-Terrain Balance Bike will be a hit!
Fisher-Price Linkimals Smooth Moves Sloth
Sloths are a kid favorite these days and now you can get this super fun Fisher Price Linkimals Smooth Moves sloth. It's current Black Friday Price discount is at 25%!
Backyard Discovery Somerset All Cedar Wood Playset Swing Set
If you are looking for a Christmas gift that will last years and years, you might want to check out this awesome cedar playset. It is currently almost $200 off of its regular price.