Do the holidays make you feel a little crazy sometimes? Well, you aren't alone.
Every single year from Black Friday through the new year, women everywhere are uttering, questioning, declaring and yelling the same damn things like:
Why am I addressing 158 effing holiday cards when they will just find their way to everyone's kitchen trash?
How do I know that's where they will end up? Because that is where (and I'm talking to you: Sally, Mary, Leslie, Kathy, Nicole, Sarah, Meredith, and Michele) all of yours end up when you guys send them to me every freakin' year.
I get it, ladies; I do. You do it for the same reason, I do it — 'cause of this non-existent and ridiculous "good mom" code we all break our backs trying desperately to adhere too.
Here's a pact — you stop sending them and so will I and we won't think any less of each other. Let's take one picture on our smartphones — capture all the smiles or the crazy (who the flip cares) — post it on our favorite social media site with the caption "Happy Holidays" and CALL. IT. A. DAY.
Then pour ourselves a cocktail or a warm cup of tea, kick our legs back for like the .8888 seconds that the kids and husband will allow us to and smile that we have done our holiday duty.
"We don't eat tinsel!"
This is apparently something else I say because ya know, KIDS. And, seriously, what the f*ck is tinsel and why does it exist in my life? It's like damn glitter; it's pretty and I kind of like it, but it deserves no flippin' spot in my home — not at Holiday time, not for birthdays, not ever.
Tinsel, glitter and confetti, you can take a hike, and I won't be mad at you if you never make your way back to my house.
"You need to eat more than just bread and dessert"
I tell myself as I look in the mirror prepping for all of the family to arrive. Ironically, this is also the same phrase I scream at my children (yes I scream in front of company) when little Johnny sticks his jam hands (who the hell knows why they are jammy) into the bread basket for the umpteenth time and then smirks at me with his chocolate-stained lips.
Thanks so much for this noisemaking gift, so sweet of you.
Do you think that was too passive aggressive? Like I just don't get it, you complain that my kids are too noisy, judge me for not containing their noise and then you give presents that make noise. Seriously, make up your damn mind!
Is it time to go?
It's the question of the season, isn't it?
Kids: Is it time to go to the party, Mom? Is it time to eat? Is it time for dessert? Is it time for presents? Is it time for Santa?
Husbands: Is it time to leave? (asked when we are anywhere/everywhere)
Moms: Is it time for everyone to find some freakin' patience? Is it time for Mommy to have some wine? Is it time for me to lock myself in the bathroom with my dinner plate? Is it time for everyone to go home? Is it time for me to go home? Oh wait, this is my home.
"Who drank all the wine?"
No, seriously who drank all the wine. If it was me and I don't remember, well then sh*t, I took things too far. However, typically, there's that one couple or few family members that just can't seem to guzzle down the fancy grape juice fast enough. Let's all remember this little code of being a good holiday houseguest: If you drink the wine, bring some wine. And, if you happen to be headed to my house, I prefer a Red Blend.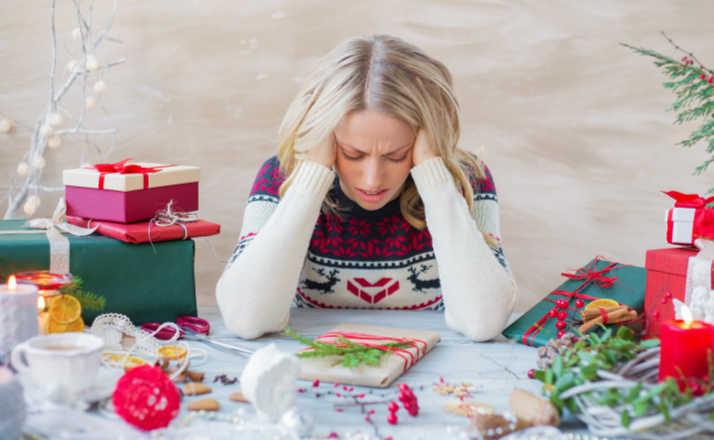 Is it time for bed?
For me? For you? For all of the freakin' leeches who I love, but who have yet to leave my home. Doesn't everybody know that when no one is yet in bed, mama's in her head?? And this head people, it's a dangerous place to reside. This Momma needs a rest, and that means you must go home.
Why did I eat so much?
I mean, for real why? I just asked myself that question on Thursday, Friday, and Saturday and here we are on this glorious day, and I'm wondering the same once again.
What is it about holiday food that has me feigning? I mean if I only looked at my husband the way I look at turkey leg or a giant bowl of stuffing, we might be a quick nine months away from a becoming a family of six.
Seriously though, my anthem for the holidays: Watch me eat, eat, Watch me lay, lay. (On the couch, not the hubs. Sorry, hunny).
I wish we could celebrate the holidays all year-round!
I do! Well, sort of. The good parts of the holidays, at least, like the excited children, relaxed husbands, a work break, an overabundance of yummy food options, matching pajamas, the Macy's parade, and good company. Ain't nothing better.
Why did the holidays have to go by so fast?
Oh, wait — I know why — because you freakin' meditated on it and wished, prayed that it would be over so that you could switch back to regular psycho mom instead of holiday psycho mom. Your family is so lucky to have you.
Well, there you have it; things I say every year and I'm pretty sure you're likely spewing some of the same.
Here's hoping you find comfort knowing that all us mothers are in the same boat this holiday season and just like you, we too, though happy, secretly wish it that boat were an all-girl booze cruise with our like-minded mom friends.