We all know that motherhood is one of the hardest responsibilities we will ever take on. Most of us also struggle with self-doubt at times, wondering if we're doing a "good enough" job of being a wife and a mother.
Well, according to a delusional post written by the ultimate sanctimommy that was featured on The Transformed Wife's Facebook page- you're likely doing it wrong.
The intention of the post is to visually illustrate WHY MOTHERS SHOULD NOT HAVE CAREERS. It breaks down the typical day of both a stay-at-home-mom and a working mom, in several steps.
The post intends to make it clear how working mothers are not only failing in virtually every area of their existence, but why mothers working at all is ruining pretty much EVERYTHING.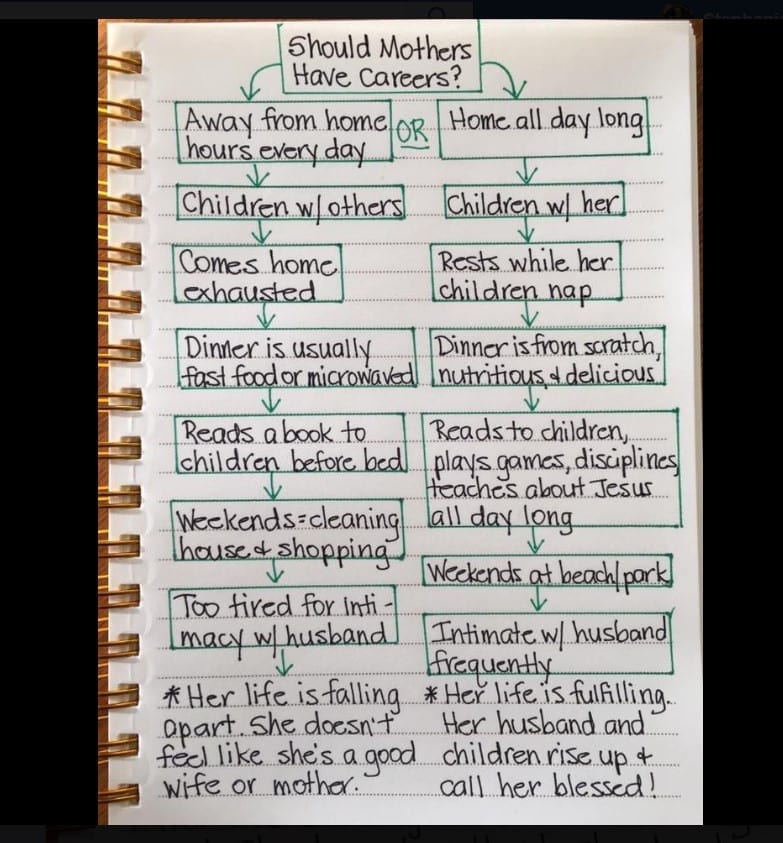 Granted, we've seen this battle play out many times on social media as our less enlightened mom peers attempt to imply one lifestyle is superior to the other. But if you're already gritting your teeth in rage, just wait until you actually read her list; it gets so.much.better (Or worse??).
There's so much insanity to discuss here that I'm practically giddy; let's break this Twilight Zone trip of a list down, shall we?
Home Vs. Away
The working mom is away from home for hours each day. And that's supposed to be a "bad" thing, apparently, since the STAY-AT-HOME MOM has the supposed benefit of being home all day. Exactly. She's home ALL DAY LONG.
As someone who has been a stay-at-home mom for 16 years now, I can tell you that there were countless days where a trip to the grocery store felt like a damn vacation because it was anywhere but home. We moms may love our homes, but sometimes getting out of it is a very good thing.
Who's got the Kids?
Mom being home with the kids all day isn't necessarily the best thing- for several reasons. Maybe Mom makes more money than her partner. Maybe Mom has an awesome career that she loves. Maybe Mom just doesn't want to be home all day with her kids and has someone equally loving & nurturing there with them, and who the hell has the right to say otherwise??
Make sure to check out what our own Meredith Masony has to say about this chart too.
Stay-At-Home Moms Get More Rest
The author claims that while poor working moms are eternally exhausted, a stay-at-home mom:
Rests while her children nap.
BAHAHA!! Nope. Moms have to multitask so much that I don't know a single one -not ONE- that is not tired. Working or home, all moms are always tired. Period.
Working Moms Can't Cook
Apparently working moms can't cook. Or won't, according to the author. But apparently us stay-at-home moms need to up our cooking game, because:
Dinner is from scratch, nutritious and delicious.
Uh, no, it's not. Sometimes dinner in any house is a fantastic home cooked meal. Sometimes it's DinoNuggets, or McDonald's. Again, in ANY house. It's called reality. The author needs a dose of it, apparently.
Working Moms Don't Engage Kids Enough
If you're "only" reading a book at bedtime to your kids, working moms, well, you're just not trying hard enough. Moms who stay home play with their kids ALL day, apparently, when they're not in the kitchen whipping up those healthy, gourmet meals from scratch…
Weekends Are WORK For Working Moms
According to our list, poor working moms are slaving away all weekend while stay-at-home moms are frolicking on the beach. Really?? I'm pretty sure weekends are work for ALL moms, because we live with people who create endless work for every one of us. Weekends should be for Dads to take kids to the parks & beaches so we moms can catch up on the rest that none of us ever get.
More Sex If You Stay Home
FALSE. Any Dad knows that if he snatches a teething baby away from his wife & sends her out with her friends while he cleans up dinner, he's going to get more sex. The amount of sex a couple has does not depend on if Mom is working or not. It depends on how helpful Dad is when she's not working or taking care of the kids. It's SCIENCE.
It's hard to read, isn't it? But the bottom of the list is the clincher; the author really goes for the jugular when speaking of working moms:
Her life is falling apart. She doesn't feel like a good wife or mother.
There's finally a grain of truth to her words, but not just when applied to working moms.
Many mothers feel like their lives are a mess, and many feel like they are not a "good enough" wife or mother.
One of the major reasons women feel like failures is exactly this type of judgy, sanctimommy criticism. The message is: if you're not doing motherhood this way, then you're doing it wrong. We are constantly bombarded with messages telling us what we're not doing right, what we should be doing that we aren't, and why what we ARE doing isn't good enough.
We feel guilty if we work. We feel guilty if we don't.
We're supposed to feel guilty if we DON'T feel guilty. This list is not only grossly stereotypical and unrealistic, but a symptom of a more pervasive problem: mom judgment.
This kind of ridiculous nonsense that this woman frequently uses her platform to spread is straight up damaging – to all women.
Virtually none of us measure up to the standards set in the list, regardless of which side of the list we're on. And that's a good thing, because it means that we're real people, with real struggles, doing the best we can.
And, don't let this judgmental sanctimommy (or anyone else) tell you otherwise.