One of the biggest stereotypes of women is our love of Target. And let's face it, it's common because it's true. WE LOVE YOU TARGET!
Target, where you can feed your coffee addiction with a Venti Vanilla Latte with extra espresso from Starbucks.
Where you can lose yourself for hours in its endless aisles of home goods, and clothes, and household essentials. The hallowed place where you can fill your cart to overflowing with items you never even knew you needed. BUT TARGET DID!
Target isn't just a store. It's a sanctuary of solitude. A haven of happiness. A place of peace and restoration.
And while our love for Target is STRONG, it's possible that our husbands don't feel quite the same way. Crazy, I know.
In a video, entitled 'Husbands of Target,' we get a glimpse into what life is like for the men on the other side of the Bullseye doors.
Dude Dad, Taylor Camus teamed up with Penn Holderness of The Holderness Family, Charlie Berens of Manitowoc Minute, and Myles Montplaisir of You Betcha to create a hilarious depiction of Target from a husband's view.
Warning: This may cause extreme laughter.
With over 35.7 million views, it parodies the interminable amount of time that a group of husbands spends waiting for their wives in the Target parking lot.
It also shares their journey to forming friendships that will surely last. At least, as long as their wives are shopping anyway.
The video opens with the stars of the show, 4 husbands, having a tailgate party in the back of a minivan. And make no mistake, they're not some boys club or social club. They're just regular Joes in waiting.
"we're just a group of husbands collectively waiting for our wives in the Target parking lot."
They go on to reminisce about life BEFORE the group. The loneliness, the frustration, the boredom, the endless waiting.
Myles starts it off by saying:
"I used to get so bored. I thought it would be a good idea to go in with the wife. Thought I could maybe scout out some camping gear, or something like that.

I Just ended up holding her purse."
Oh Myles, such a rookie mistake. And while poor, poor Myles laments his fate as the dreaded purse holder, Penn and Taylor talk about all that they have accomplished being on the outside.
Things like Penn earning an online doctorate degree between 2015 and 2018, while waiting in the Target parking lot. And Taylor being offered a part-time job as a cart collector after management noticed him returning abandoned carts "just to stay busy, get a little exercise."
"They said I could work whenever my wife was shopping. Last week I clocked 12 hours."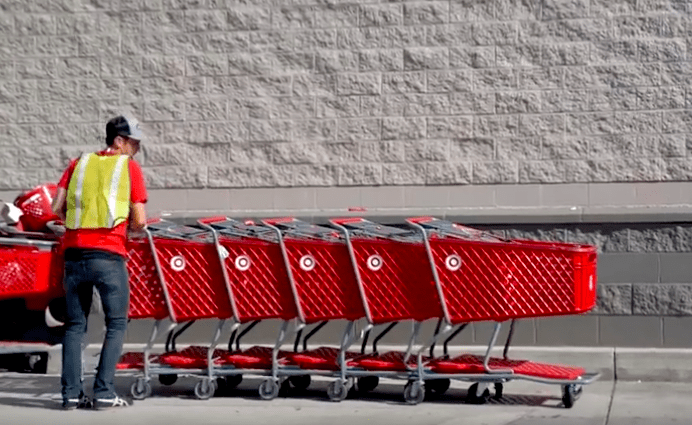 Eventually the men noticed that they weren't alone. There were others. Just like them. Waiting. And one day? Everything changed. Thanks to one little piece of Charlie's beef jerky.
The husbands bonded over their shared plight. And the bromance known as 'Husbands of Target'? Was born.
And cue all of the MALE stereotypes…Because these guys? are all DUDE.
"What do we do here? Well, we toss the ball around, play some cards, a little gambling. We have supper if it's late enough."
Now? Now the husbands are living their best lives. From BBQ'ing 'brats on the grill, to playing poker, to watching sports games on the big screen T.V.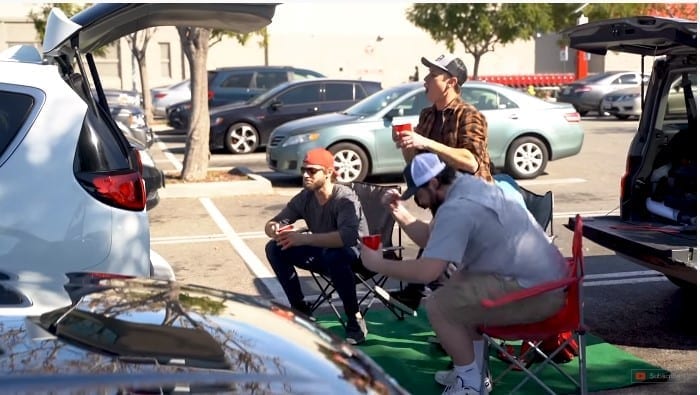 And while having kids initially put a bit of a damper on their adult play dates, it didn't last long.
They quickly figured out a system to look after the kids while their wives enjoy some much-needed therapy shopping time. Well, sort of. If you call leaving all of the kids in a separate "daycare" van with a video monitor "watching."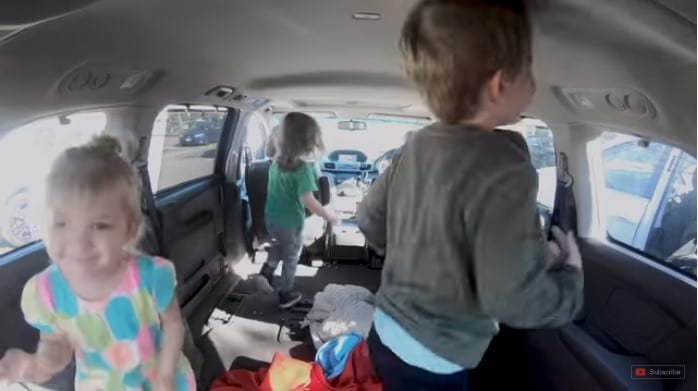 But it's not all fun and games. There's a serious side to the group as well. Penn even credits them with saving his marriage. And Myles? He clips coupons for his wife now just so he can "see his boys." They have found their best friends. And become the biggest enablers of their wives Target addictions.
And if that isn't a win-win? I don't know what is.
They end the video with a wish that all men, waiting in Target parking lots around the world, could find their own Target tribe. After all,
"There's no reason for any husband to have to endure a Red Tag Sale alone."
And possibly the best part of the video? Isn't the video at all (although it is pretty awesome).
While husbands everywhere are watching and nodding their heads in agreement, they are also secretly wishing they were living their own Target bestie life.
And the masterminds behind the video? Are doing everything they can to make it happen. They've created an official Husbands of Target Facebook page so that the "7.6 million husbands who are left unattended in parking lots" no longer have to feel alone.
This group is a place for husbands to connect enjoy fellowship and swap jerky recipes. Use this group to find other guys that may be sitting just three cars away in your own neighborhood target. Swap stories of ways you've passed the time or crazy things your wife has spent money on. We're all in this together…
Target. Where we are ALL living our best lives.