Like most moms, I consider Target to be a place of possibilities. After all, where else can you head, intending to buy toothpaste and toilet paper, and emerge two hours and $148 later?
And Starbucks? Starbucks is a place of aromatic magic. As a hardcore coffee addict, I adore Starbucks- the stronger the better (its coffee is better than Dunkin Donuts. Fight me.)!
The day that Target finally partnered with Starbucks was more exciting than most birthdays I've had.
Plenty of moms are right with me on this; it can be a glorious thing to idle away some time browsing through your local Target store with a steaming cup of Starbucks peppermint mocha in hand.
And don't think our kids haven't caught on; many of them love Target, too.
One mom created the playroom of her daughter's (and ours!) dreams by installing her own handmade Target and Starbucks branches, & it's beyond adorable.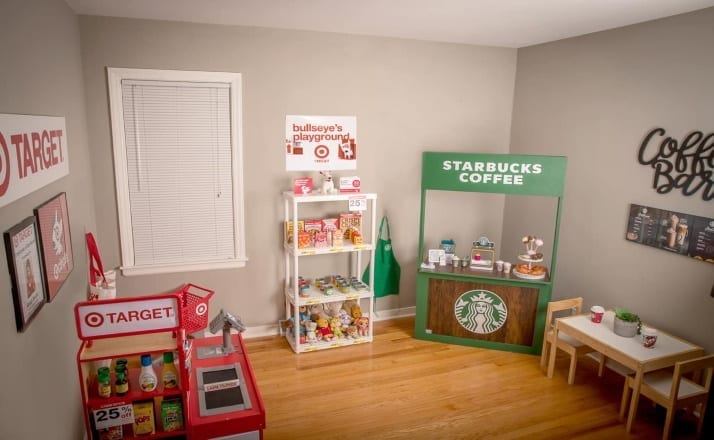 I can't even look away….
Mom Renee Doby-Brecht of Milwaukee, Wisconsin wanted to come up with "something different for Christmas" this year for her 3-year-old daughter Ariah.
Her idea? Let's talk SHOP.
Ariah's favorite store is Target and of course Starbucks are in most Target stores.
And it was on- Renee wanted to build Ariah her very own Target! And since most Target stores also have a Starbucks branch inside, why not create her own Starbucks, too?
Relying on the assistance of family friend Robert Mueller and her sister Brigette Doby, they began to assemble the coolest playroom ever.
The Target station was created by using a toy shopping center created by the toy company Melissa & Doug.
Once the framework was completed, sister Brigette (a professional graphic designer) put her skills to good use and created all of the intricate tags, signs, and labels.
And they are 100% realistic; take a look!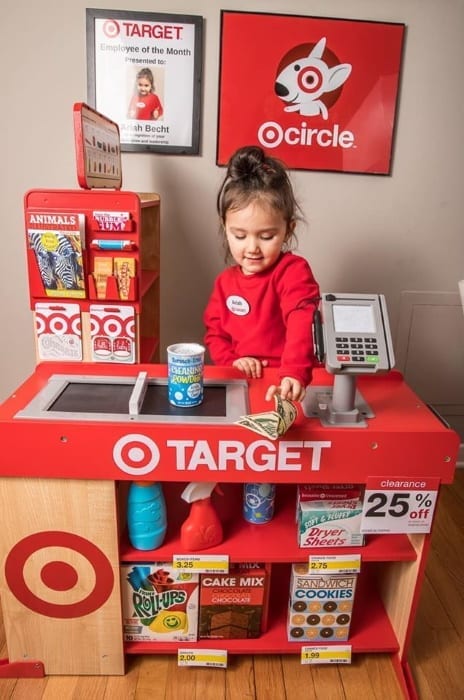 They really hit the bullseye on those bullseyes! Look at those perfect yellow price tags, and can we acknowledge that the realistic "Employee Of The Month" poster is the cutest.thing.ever????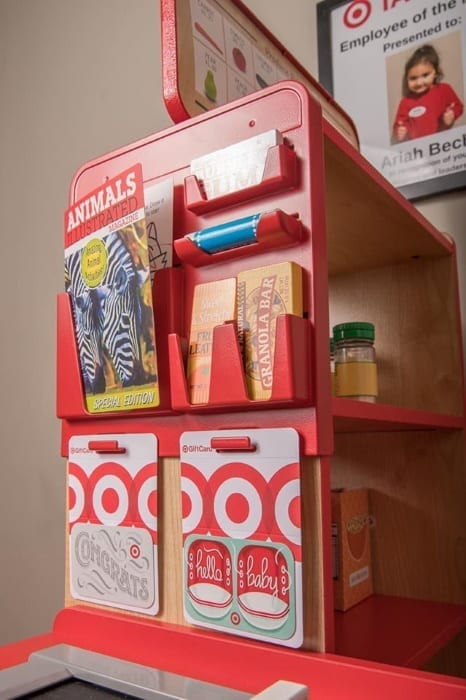 But every great Target has a crucial ingredient: caffeine. Coffee. Java.
To create the Starbucks stand, Renee used:
Ariah's cube storage unit in her playroom. Robby added wood and cheap flooring to the storage unit and I painted the rest.
That is some paint job, too; the colors are impeccable.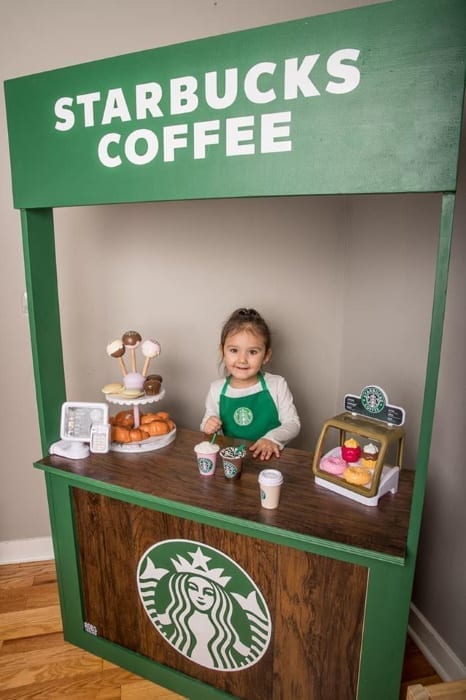 I want this in my house. Why isn't this in my house??
The Starbucks frappucino cups were painted by Renee to look like the real thing, and she nailed that, too.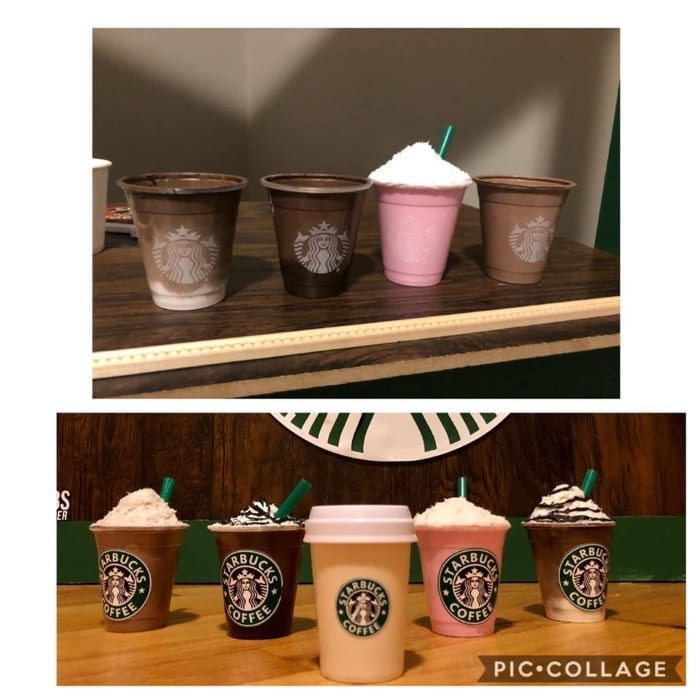 Ariah even has a Starbucks apron, compliments of one of Renee's former teachers, who offered to hand-stitch the item.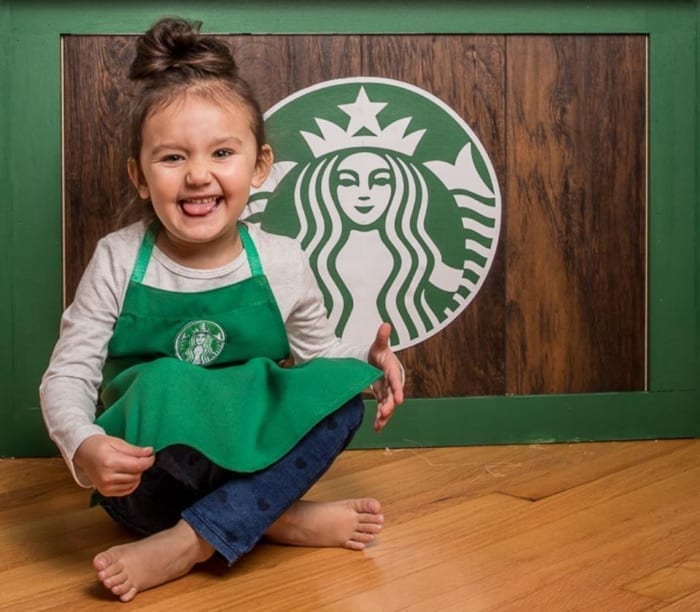 While the Target & Starbucks stations are amazing, the additional room decor makes this one of the most realistic & adorable pretend play areas imaginable.
Just check out this sweet little nook: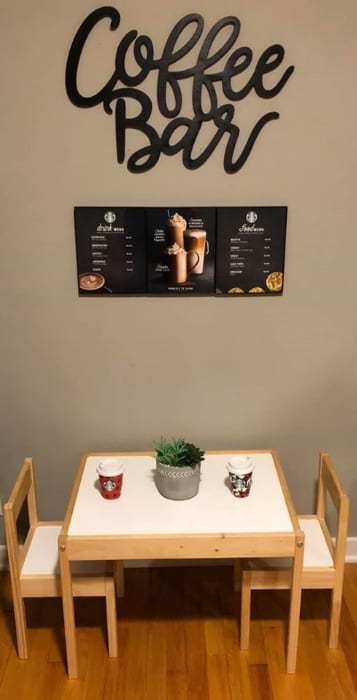 You can almost hear the sounds of contemporary jazz playing in the background…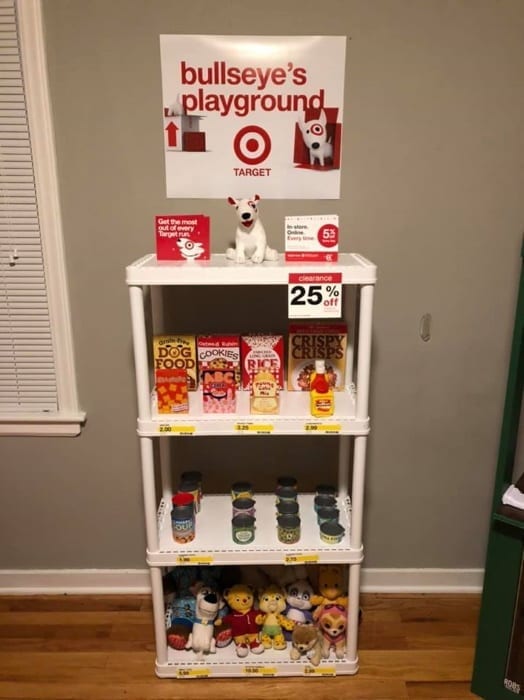 Impressively well-stocked Target shelves! Now this is a game I'd want to play with my kids!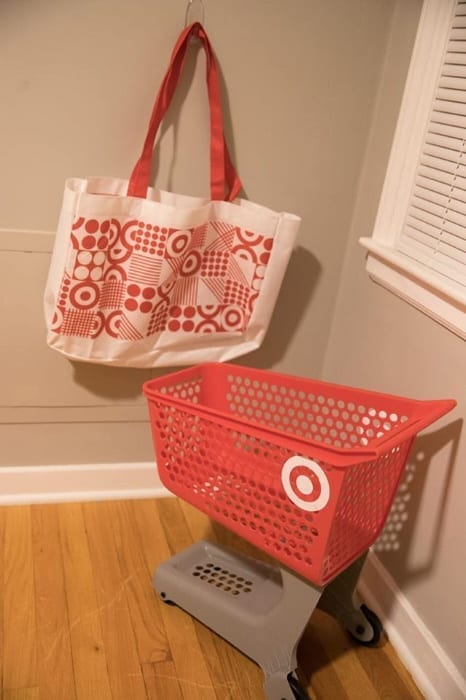 Confession: I'm a 44-year-old woman, and I want a toy Target shopping cart.
It's obvious that the creation of this playroom of dreams required a tremendous amount of planning & effort, but that was just was Renee needed.
As she explained when interviewed on Good Morning America, she had recently gone through a divorce. The project turned out to be a joyous, invigorating experience:
It was just a bad time in my life … I just felt amazing doing something for her – and that gave me joy.
After sharing her playroom pics on Facebook, the post quickly earned thousands of supportive and admiring comments from fellow parents.
Gifts from the heart are often the best gifts, especially when they involve our time and our love. Renee didn't just give Ariah a gorgeous, fun playroom- she gave her a memory that will last for a lifetime.
(And it probably will last for a lifetime, because despite being an adult, I'D want to play in there 24/7!)
For more pictures of the playroom, click the post below: