Remember when 50 Shades of Grey was the hottest book series? It seemed like everyone & their mother was reading them, which often made for awkward conversation with your mother about it's more, um, titillating scenes.
Even worse: imagine hearing your mother-in-law gush about Christian Grey's way with zip ties. No, don't imagine it- I LIVED IT. And will never look at my father-in-law's neckties the same way again.
The books were definitely… educational about the whole BDSM (bondage & discipline, sadism & masochism) lifestyle. But if you're looking for a real-life example of Mr. Christian Grey's type of lair, head on over to Maple Glen, PA. You can BE Christian Grey in the (not-so-very) privacy of your own new home!
At 1612 Norristown Road, whips, chains, and a good flogging now & then are not only welcome, but expected.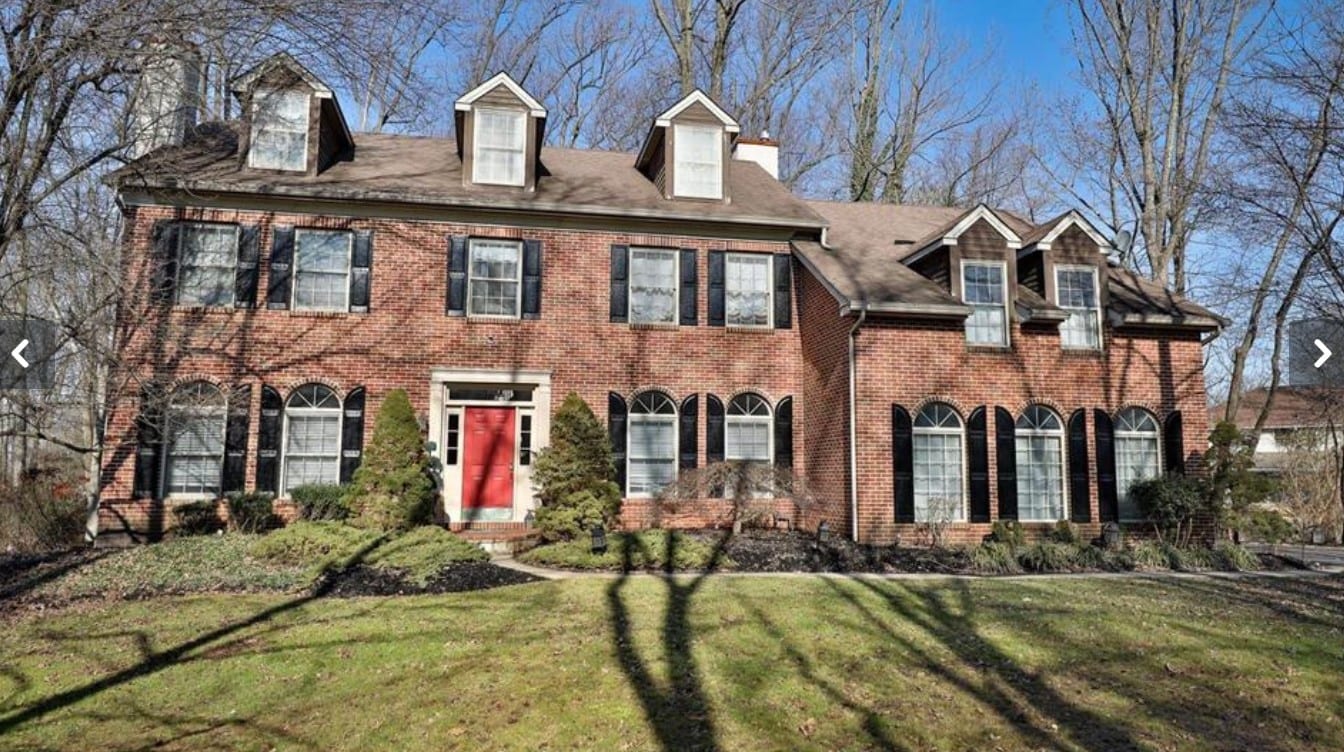 Yup, this gorgeous house is for sale for $750K. While it boasts numerous attractive features and is being sold fully furnished, the most "unique" selling point about it is its basement. It's a fully finished basement, which is always appealing.
But in this basement, you'll get to finish too, because it's described in the listing as, "a private adult sexual oasis".
The property listing has quickly gone viral due to its unusual… "features"; in her interview with Slate, Coldwell Banker realtor Melissa Leonard explained how this unusual house sale came about:
The seller called me, saying, "I need a Realtor who's outside the box, who can work with something different."
Now to most, "different" might mean, "The cabinets are from 1932", or "There might be asbestos in the bathroom ceiling". But in this case, "different" means: "We've got a fully furnished sex palace in our basement."
It's a 5 bedroom, 2 1/2 bathroom house, which is perfect for a family, as long as the kids in the family don't accidentally sneak down into the basement and start flogging the family dog.
The house definitely has enough selling points on its own merit: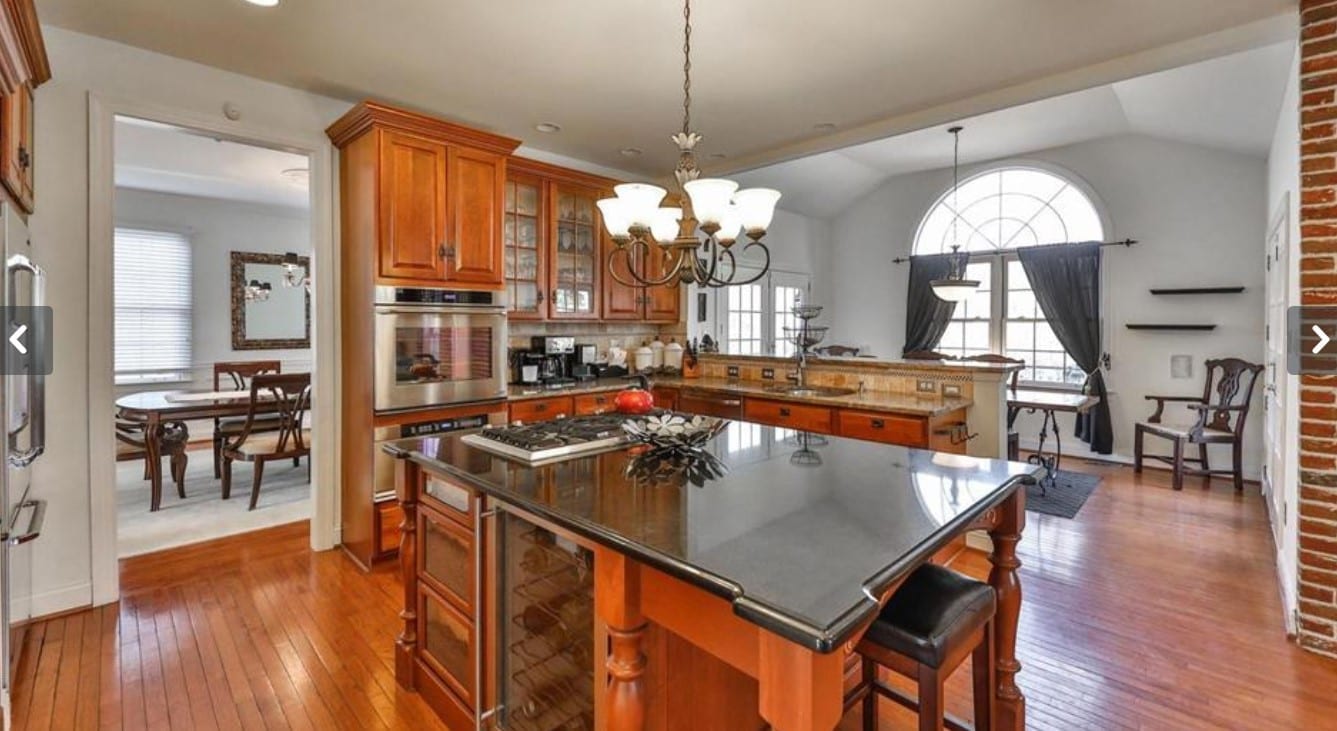 A beautiful, modern kitchen with stainless steel appliances & wine fridge. Nice!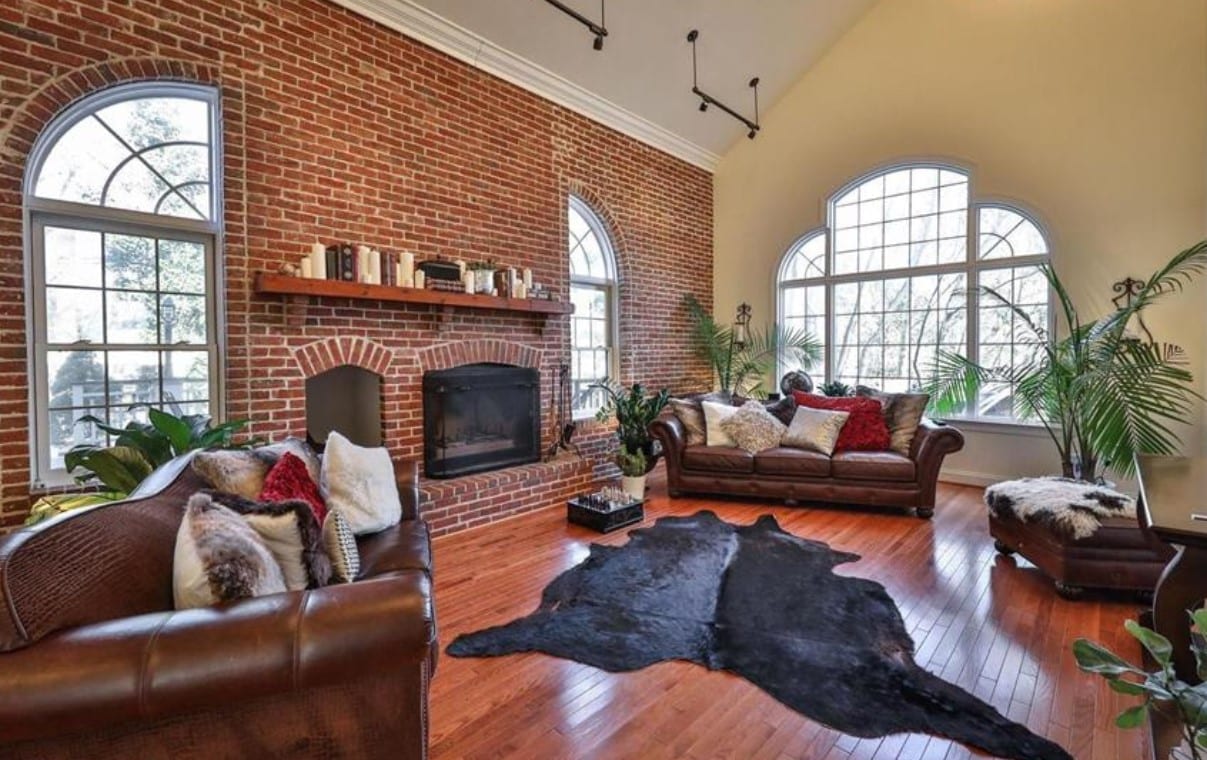 Living room with beautiful hardwood floors, fireplace, & vaulted ceilings. Love it!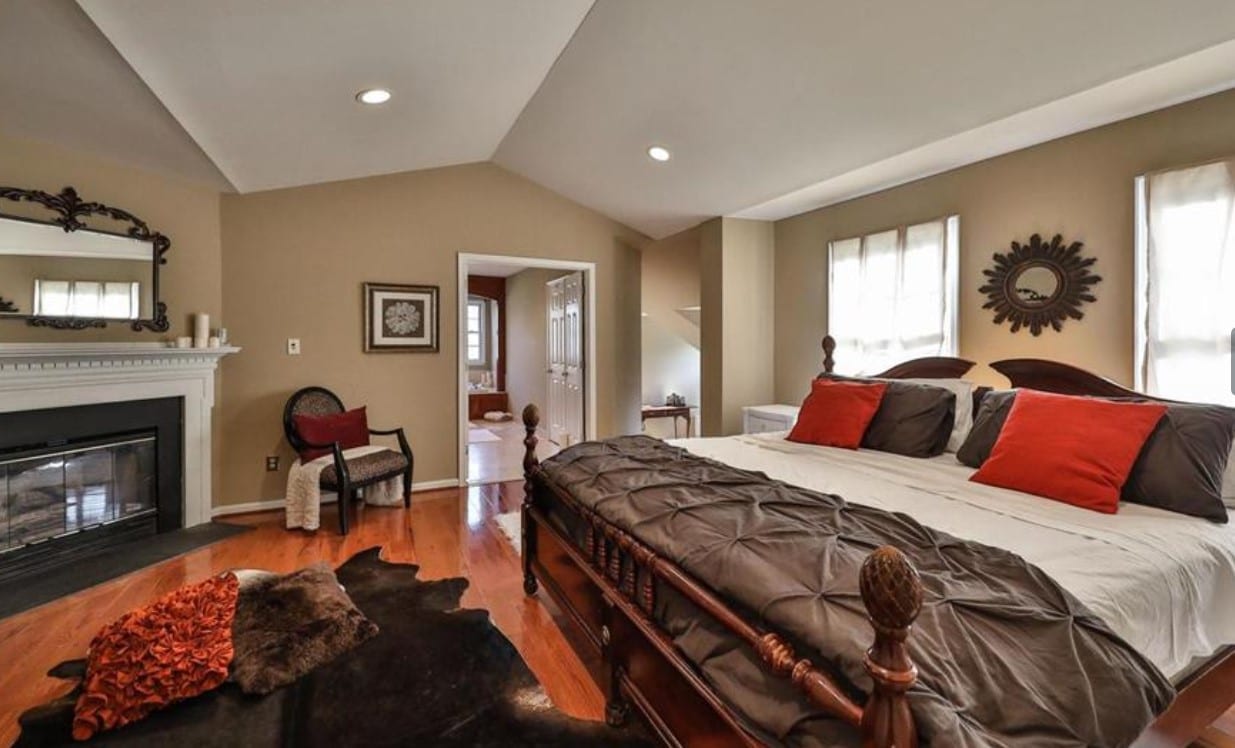 Spacious master bedroom with it's own fireplace- I'm in love! Yes, please!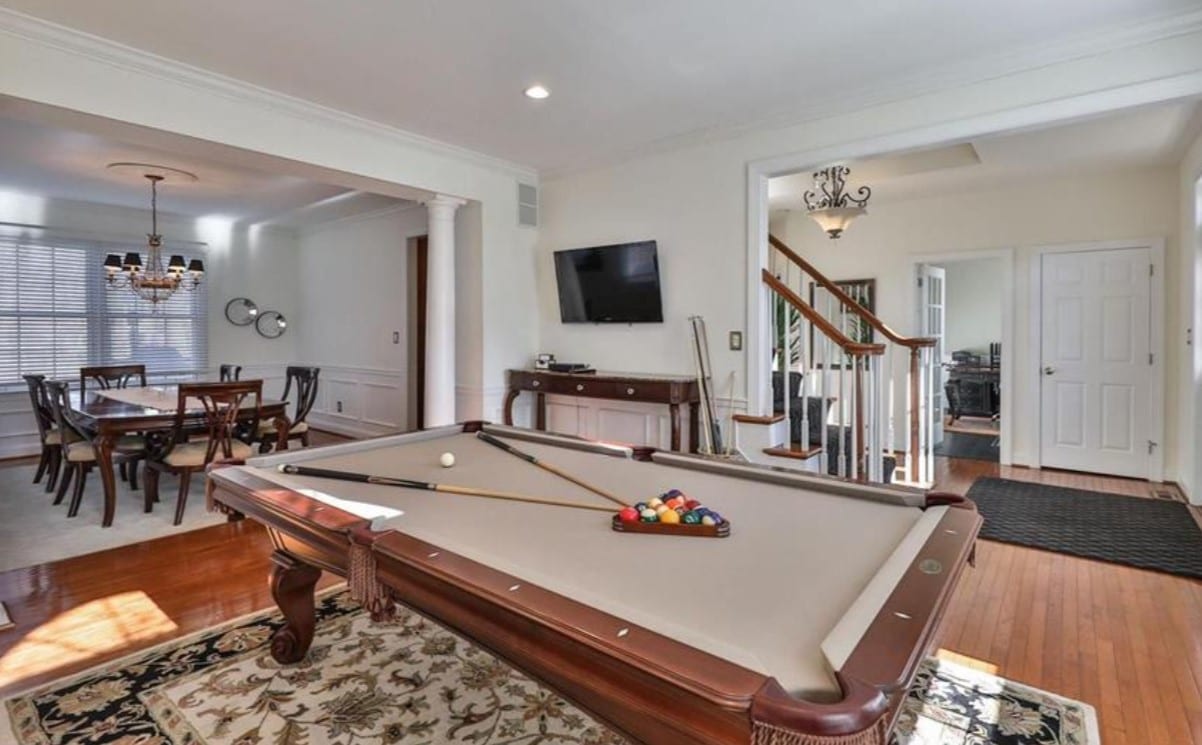 Lots of space is perfect for entertaining guests, and the house includes a pool table, outdoor grilling patio, gazebo, and even a full exercise gym!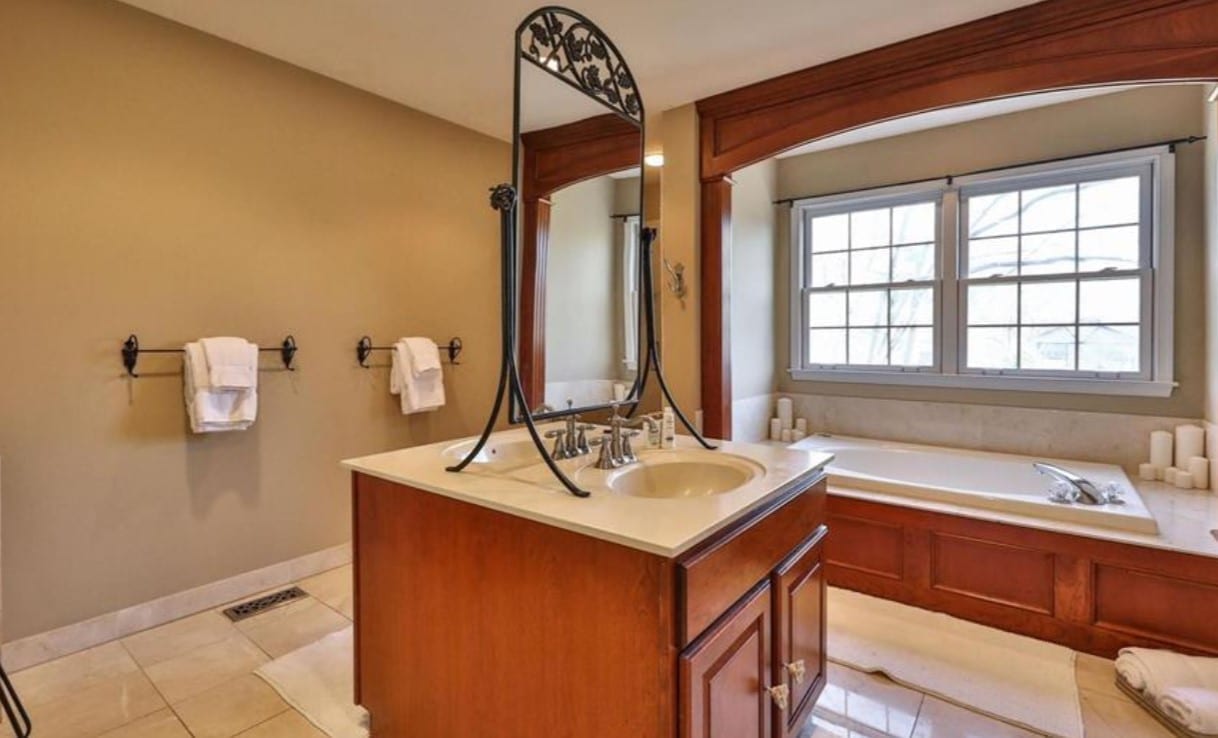 The master bathroom features a sunken tub, ceramic tiling, and… a center dual vanity? That's an unusual choice. A little unconventional, but still, the rest of the house is great!
Imagine you're on the house tour, and you're admiring this beautiful, family-friendly home.
Cool updates, tons of space, great yard size, etc. Looks perfect for you and your family! And then you utter the fateful words: "Can we see the basement?"
If you think the VANITY is the most unusual thing about this house, well…
(Admit it. You can't wait!)
Ladies & gentleman, I introduce to you- the basement.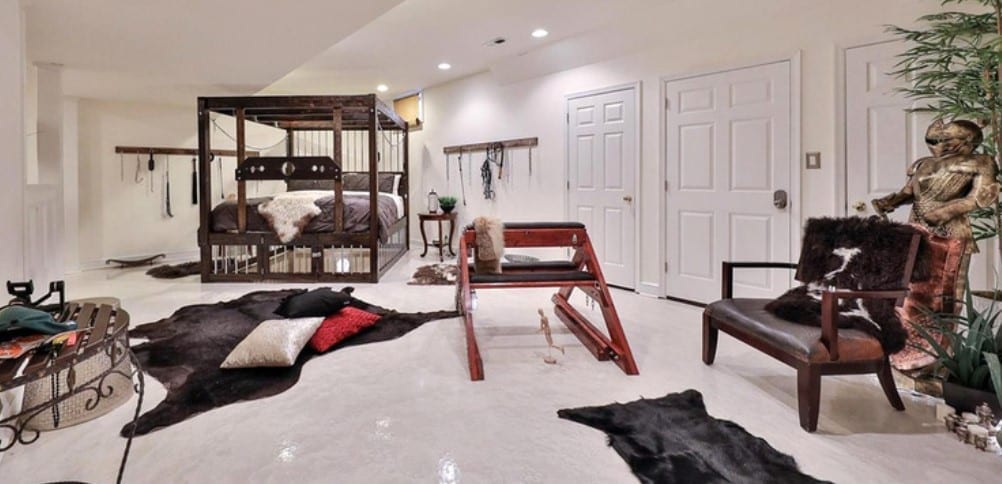 IT'S A SEX DUNGEON. IN.THE.BASEMENT.
So many thoughts! Why are there bars under the bed? Did the bed frame come with the stocks for your head/hands/feet already built into it, or did they have to have that custom-made? Where do you buy a bed like that? How much does that hook-looking-thing on the left wall hurt? I bet it hurts. Are bearskin rugs still a thing? Why are they a thing? Why is there a knight???
But it gets better, people. There's a sex swing.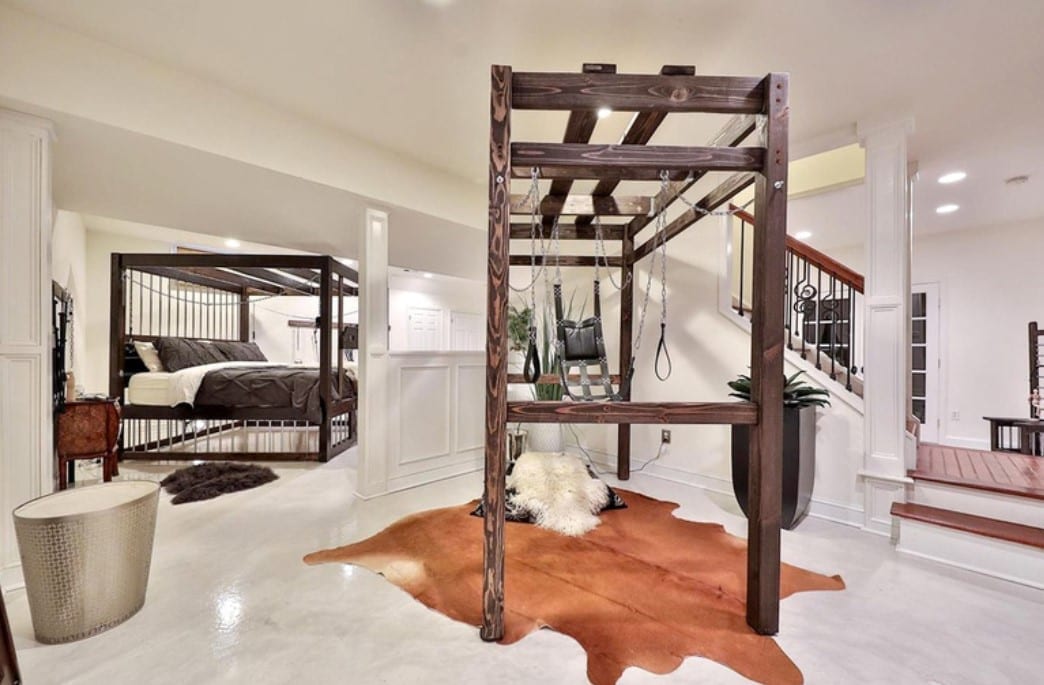 And if you're like most of us, you're probably googling "sex swing" right now to grasp exactly how this contraption works, because there's a whole lot going on here.
I'm just glad the original homeowner was thoughtful enough to place yet another bearskin rug underneath the swing, because I'm fairly confident that at the first thrust, I'd be catapulted right out of that swing & end up face-planting on the floor. And that's not sexy.
The house was originally listed on Airbnb as a vacation rental, which is why the owner requested that real estate agent Melissa Leonard list the house with details of the basement "bonuses".
As for the house's unique resemblance to Fifty Shades of Grey, Leonard explains that:
I saw the first two of the movies. I only read maybe a couple of chapters of the book. That was the first thing that came to mind when I saw it: This guy has Fifty Shades of Grey going on his basement!*
Now most of us are likely living the 50 Shades of Grey, married-with-kids version: Sorting about 50 formerly white (now grey) man socks in a laundry basket as your husband snores nearby.
We crave excitement. There's certainly nothing wrong with exploring your passions in the privacy of your own home, regardless of what your sexual proclivities may be. Enjoy a whip in the bedroom? It's all good!
Or is it? Neighbors called to complain about the sensitive nature of the listing, apparently shocked that neighbors *gasp* have sex in their own home. The basement pictures were later deleted from the listing, but as Leonard points out, the attention it has received is great for marketing:
I think that people are gonna like that it went viral. It's gonna bring more people to the house and it's going to sell faster.
The bottom line: if that's your thing, go for it! Personally, I'm impressed by the dedication.
My husband and I are lucky if we get a few kid-free minutes to do the wild thing without a kid knocking on our locked door to tattle on a sibling or to demand juice. Who the hell has time to use a full sex jungle gym in their basement??
And who has kids that would NOT climb all over that?? You KNOW you'd have to end up rescuing a kid who got his head stuck in that bed stock. Or got his head stuck in that knight helmet. Lots of places to stick one's head in this lair of lust.
While it may not be practical for everyone, the house is bound to sell fast- if you're interested you'd better crack the whip & get moving!
(The link to the original listing with more photos can be found here.)
Editor's note: After publishing this post, it was discovered that this house may have been staged to go viral for selling purposes. Read about that here.