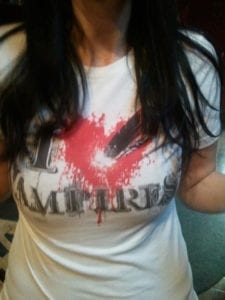 I was excited to hear from Marlon at T-Shirts.com a few weeks ago asking if I would be interested in test driving one of their tees – which I had the pleasure of doing this past weekend during my son's 13th birthday party. Given my love of vampires and with the recent release of The Twilight Saga: Breaking Dawn Part 2, I naturally chose the one I am wearing above. The shirt was soft, yet durable, had vibrant colors (which held up during a wash) and fit amazingly well! If you're in the market for a unique, funny or trending t-shirt, you need to check out their site. They have a great selection for sassy moms and endless array for the kids, too!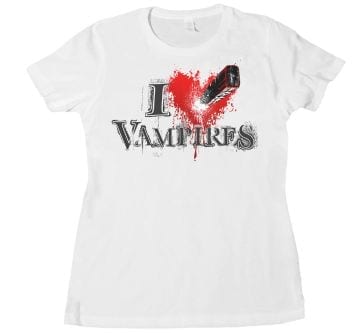 Here are a few words from Marlon:
1) Tell us about T-Shirts.com. What makes it special?

For one, we're family owned, which makes us rather unique in the industry. A labor of love, we also work with and pay commissions to artists to support the art community with our artist designed t-shirts. We're not your everyday e-commerce site, instead seeking to give our customers a unique experience and product line that can't be found anywhere else on the web.
2) Why should people order from your site?
At T-shirts.com, we're always looking for ways to help you express yourself with your wardrobe. Each tee is an extension of self, so we seek to find what makes people unique and give them as many options as there are personalities under the sun. Whether it's pop culture, artist designed tees, movies, music, sports or bold colors you are after, we will have you covered. Our site even has a fabric softness gauge to make sure your t-shirt will optimize your comfort level. We're here to make our customers feel and look great!
3) What are some of the most popular or trending tees?
The most popular t-shirts on our site can be found in the "Popular T-shirts" section of the homepage. The "Animal House College T-Shirt" is a fan favorite. Also, our vintage retro t-shirts always do very well.
4) Team Edward or Team Jacob? (I have to ask!)
For me personally, team Edward, but only because I've always had a fascination with vampires since Bram Stoker's "Dracula". Werewolves are good in my book, too! 🙂
Awesome answer, Marlon! Although I have not made it to see Breaking Dawn Part 2 just yet, I plan on wearing my tee when I do – thank you T-shirts.com!
>>Go Team Edward!<<