I spent much of my last pregnancy willfully avoiding thoughts of what on earth I'd do with my older child when I went into labor. Would I spend an exorbitant amount of money to hire a nanny or a "sibling doula"? Would I opt for medical induction so that I could arrange to have a relative in town? Would I just cross my fingers and hope a solution magically presented itself?
When the time came, we ended up bringing him along with us. True story. Thankfully, it worked out. And while I'm ultimately happy he was there, I also still feel like my hand was kinda forced. There was no good solution.
They say it takes a village to raise a child. Unfortunately, I have no village.
I'm a MILITARY WIFE, so in a way, I chose my predicament. I chose a situation where I knew I'd almost certainly be dealing with the realities of childrearing on my own.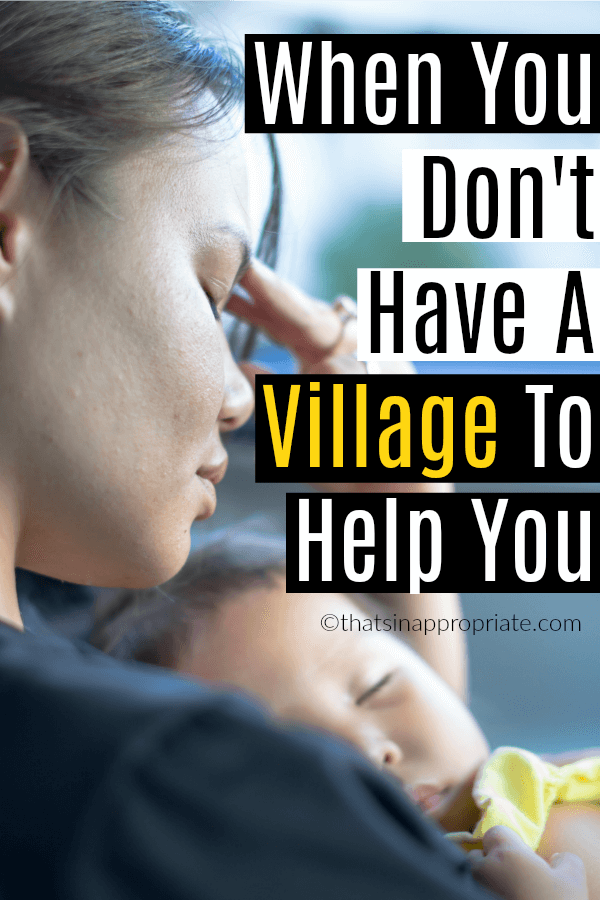 But it still sucks sometimes. And the many, many moms in my position—whatever their reason for being in that position—can identify. I don't think any of us really realize how much we depend on our own families until we're trying to raise our own.
I was lucky that my mother-in-law was able to come help out for a few weeks after I gave birth, and my own mom came shortly after. BRAND NEW MOMS have so much to deal with—breastfeeding, hormones, sleeplessness, not to mention healing from the birth itself—without having to worry about keeping the house clean and feeding everyone. Throw an older child into the mix and it gets that much more complicated.
But it's not just childbirth where we village-less mommies suffer. It's life. Every. Little. Thing. There are so many things we take for granted until we suddenly have to find someone to watch our kids while we do them.
Dentist appointments? I bring my kids along, and endure sighs and sometimes outright glares from the office staff. I've breastfed while my teeth were being cleaned. I've listened to my child scream from the confines of his CARSEAT while getting x-rays done.
Medical appointments? I not only have to schedule and attend appointments for my kids, but they have the honor of attending mine as well. Nurses smile and coo when you have an infant in tow. Their spirits are less generous when it's a four-year-old.
Date nights? Ha. You're joking, right? Do you really expect me to pay expensive babysitter rates just so that my husband and I can sit in a crowded movie theater for three hours? You're assuming I'd even be able to stay awake late enough to enjoy the ending (spoiler: I can't).
Appointments Aren't The Only Time I Miss My Village
If you have the audacity to try to do any kind of "work" with kids underfoot? Good luck with that. For a work-at-home parent, there will be (many) days where your options are "work while baby screams from his crib in the next room" or "work instead of sleeping at night."
I remember taking leisurely naps with my oldest when he was a baby, but with #2, I find myself instead cramming in as much writing as I can during those two blissfully quiet hours.
I also sometimes worry about whether my kids will suffer in some way by not developing any kind of closeness with their aunts and uncles and cousins. There's only so much we can accomplish by Skype, after all.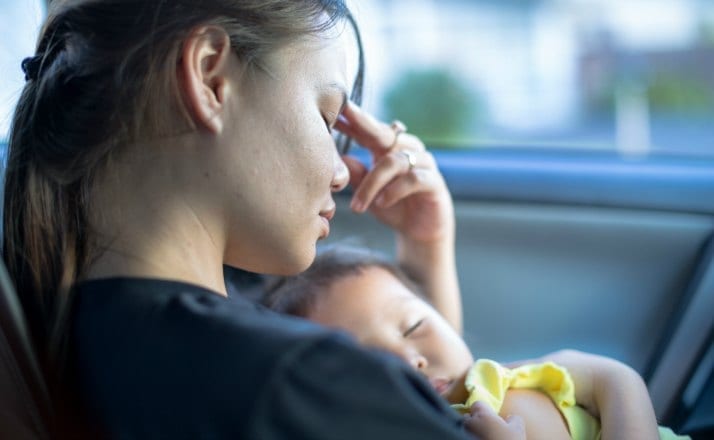 My sons can't play board games with THEIR COUSINS over the internet. They can't play hide and seek. Grandma and Grandpa can't virtually attend birthday parties or Little League games. And we miss out, too—no giant family Christmas dinner, no New Year's parties. We attend Independence Day celebrations as a small family unit, and watch the fireworks alone.
And as selfish as it may sound, I do miss having ME TIME. I can't even remember the last time I watched a movie that wasn't animated or listened to music that contained swear words. I haven't had my nails done in forever, and on the rare occasion when I try to paint them at home, at least two of them end up smudged because something happens before they're completely dry. I don't get massages anymore, my back could use some serious chiropractic care, and even a trip to Starbucks includes at least one child.
I Know These Days Won't Last Forever
It is what it is. I know these days won't last forever; the well-meaning, more experienced parents out there don't need to remind me. Someday, they'll both be in school and my house will feel empty. Someday, some of the urgency of village-less parenting will subside.
And maybe someday, we'll be able to live closer to family again. Or maybe we'll strike it rich and be able to fly home any time we want to.
In the meantime, I guess I'll just keep trying to build a new village of like-minded friends. But nothing will ever replace the village I left behind.