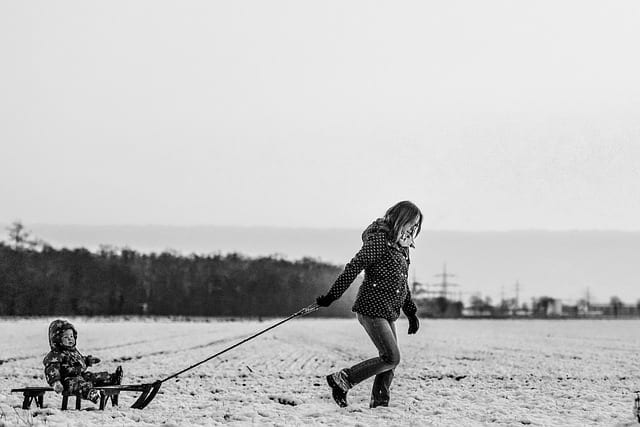 It may be freezing cold in most parts of the country, but winter doesn't have to be the unhealthiest season of the year for everyone in the household. A good diet, a little exercise, a vacation, and gratitude will help beat those winter blues before they start.
Much to the delight of many kids throughout the country, snow fort and snowman building season is here. The kids are ready. Are you?
Keep Moving
Kids love playing video games, watching TV and messing around on their computers and phones, but those passive activities aren't giving them the recommended one hour a day of exercise needed for proper growth.
A lot of kids are wiggly by nature and need to release that excess energy. Call me old-fashioned, but running around outside and playing in the snow is a good cure. Not all kids are motivated little athletes, and some need more encouragement than others, but with winter's arrival, it's also a good chance to try new sports such as cross-country skiing, snowshoeing, or even "fat" biking (those bikes with the really fat tires). Make it fun!
A more modern twist on incorporating technology with physical activity? Wearables. Children and teens are getting into wearable devices that track activities like fitness, sleep and water intake. Some watches are relatively inexpensive, which make them that more appealing to try.
The wearable device market is changing how we manage health information and it's driven by a lot of things including an increased use of smartphones, a greater importance of healthy lifestyles, and an increase in obesity and hypertension. Something to think about, for sure.
Let's Eat
Cold winter days make us crave warm, comforting food. There's not much more nourishing than soup with tons of veggies and meat cooking in the crockpot all day. Part of a healthy lifestyle is learning about nutrition, meal planning and preparation. Do you include your children in the process?
Some families wing it on a nightly basis while others like to plan meals one week or even one month out. Giving your kids a say in what they eat gives them a sense of control on what they are putting in their bodies instead of having someone else dictate to them what to eat.
Guilt trips, pleas and bribes don't work as we know, especially on picky eaters. Involving them in the process is a lot more productive use of time. Look at nutrition labels at the store, try to buy local or organic produce if possible, teach them about a shopping budget, prepare simple and healthy meals together. Who knows, you may have a little chef on your hands.
Our relationship with food and the tone we set early in their lives regarding healthy food choices is something they will remember for years to come.
Show Gratitude
I recently ate dinner at a friend's house and participated in something kind of cool. We each went around the table and answered three questions: 1. What was your favorite part of the day? 2. What are you grateful for today? 3. How were you kind today?
It's a nice way to stay connected with each other while recognizing the things we do have to be thankful for in everyday life. Sometimes we forget.
Saying "thanks" every day, finding the silver lining in a bad situation and volunteering in your community are other ways to show gratitude. Sometimes sitting quietly on the lonely yoga mat in your rec room for 10 minutes is a good way to calm the mind or just enjoy the present moment. Practicing quiet time and yoga for kids seems to be getting more popular today.
Go on Vacation
Whether it's the sun or the slopes, everyone loves a break from routine. There's always deals to be had in So Cal and discounts to theme parks like SeaWorld San Diego. Instead of buying Christmas presents, maybe the family decides to take a trip instead. The trip our family took us on to Disney World is one I will never forget.
A good balance of passive and physical activities keeps our minds, bodies and spirits happy and healthy. Rest and relaxation are essential, too. Enjoy your winter!