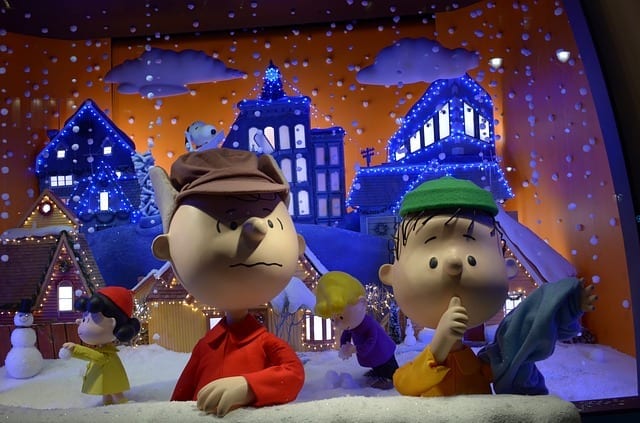 A favorite Christmas tradition in many families is watching classic Christmas movies as the holiday season progresses. Your parents may have started the tradition with you, and you've continued the tradition with your own children. They're the same movies every year, and while you never grow tired of them, there are ways you can make them more exciting and come alive for you and your kids.
A Charlie Brown Christmas

Released in 1965, A Charlie Brown Christmas has been a Christmas movie staple of families everywhere. Charlie Brown's impatience and disappointment with the commercialization of the holiday is something many people relate to, and has proven itself to be timeless.  Add lovable characters like Snoopy, Linus, Lucy and Sally, and it's no wonder people can rewatch it time and time again.

A great way to bring a little bit of the Peanuts world to your home is by making a Charlie Brown tree. It's super easy to make, and it is sure to bring a smile to your kids' face and anyone who visits your house. You only need a few items: a branch, a base, and a large ornament, and then the tools to put it together. This also makes a great centerpiece for Christmas parties!
Frosty the Snowman

First a beloved Christmas song, Frosty the Snowman was turned into a Christmas special in December of 1969. The cartoon centered around a Frosty, a snowman that comes to life due to magic hat discarded by a washed up magician. A little girl tries to save Frosty from melting, and from the magician who realizes the hat was magic after all. This timeless classic is watched by millions every year.
If your kids love Frosty, get a top hat for their next snow day! Making a snowman in the winter is a favorite pastime of most kids, and adding specific details like Frosty's hat for their snowman is an awesome way to make their snow day that much more memorable.
The Little Drummer Boy
One of many claymation Christmas specials is The Little Drummer Boy, which was released in 1968. This special follows a young orphaned drummer boy, who is kidnapped. When he escapes, he goes looking for his camel, only to find him in the stable where baby Jesus is born. This special is another one that was originally a song, and is now a classic christmas movie.
Bring this movie to life by creating drums with your kids! This is a fun activity that you can do with your kids, and it's a great way to reuse old coffee cans.With these tin cans, some fabric, and a whole lot of decorating supplies, your kids will be occupied and entertained creating their own unique drums. This is also a great activity idea for any children's Christmas party.

Bringing new life to these classic Christmas cartoons is sure to help create fun memories that your children will cherish when they are older. These are just a few example, but there are so many other Christmas classics, and coming up with ways to incorporate an item or activity is going to bring some extra special family time to the holidays.
————————
Bio: Mila is a writer with a BA in English Linguistics living in beautiful Boise, ID. Her ambitions include traveling the world, studying languages, and taking pictures of her dog, Baymax. Connect with her on twitter and instagram!