Welcome to our bi-weekly Ladies Only Blog Share link party, where the most awesome bloggers on the planet link up and share posts! Our theme this week is No KIDS Allowed! With back-to-school in full swing and the kids busy with after-school sports and activities, it's time to focus on US – even if for just a moment. For those with kiddos not yet in school, escape for a short break and enjoy a little virtual bubbly! There's chocolate covered strawberries, too! Can't you just taste them?
When you're ready, link up those posts that reflect something of importance to you, something that you created, something that makes you laugh…but no KIDS allowed! We love our children, but this week's link up is not about them. It's about US! Enjoy!
Once again, here are my talented and dedicated co-hosts:




Please make sure to bookmark or RSS feed their blogs and visit them on Facebook, Twitter and so on. They faithfully return the favor! In addition to the link share, three really cool bloggers are also being featured. This week they are (in no particular order):
Creative Home Keeper – I absolutely love the fresh ideas and helpful tips that you'll find on Victoria's Creative Home Keeper blog. Several posts that I thoroughly enjoyed were 3 Things I Do Before Breakfast and 10 Things I Do Every Day to Keep a Clean & Organized Home. If you've never visited Victoria's blog, here's a great place to get started.
The Seasoned Homemaker – Leslie of The Seasoned Homemaker will simply WOW you with her sewing and crafting creations. Presented with beautiful pictures and thoughtful commentary, this is a blog for those of us who love to tackle weekend projects or learn a new crafting technique or two. Looking for something to do this week? Stop on over at Leslie's blog and learn to make bias tape or a reversible, lined tote bag.
Cupcakes and Sippy Cups – Vicky is a mama of two little girls who enjoys sharing her cooking, crafting and family moments on her blog. She has recently posted an indulgent treat that we should all pin or bookmark now. I mean, c'mon! Who doesn't want to bury their face in an Oreo Ice Cream Cake? Her blog is just getting started, so make sure to show her some love!
Bling Out Your Sidebar! Grab Our Button!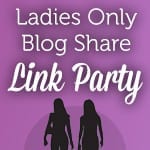 Let's get started! Have fun and visit the links below. We ask that you try to visit at least three. Remember to leave a thoughtful comment on the new blogs you've discovered and let them know you're visiting from the Ladies Only Blog Share Link Party! Feel free to pin your blog post to the Ladies Only Blog Share Pinterest board, too! In the URL field, place the link to your post. The name field should contain the title of your post. And if you'd like to co-host a future link party, give me a shout at mommifried @ gmail.com (no spaces).
Use the hashtag #LOBS when tweeting!