Welcome to our bi-weekly Ladies Only Blog Share Link Party!  This time around we're celebrating the things that make us unique and united with our special theme All Our Favorite Things. Each of us has certain things in our lives that we find truly special or can't get enough of. Maybe it's a favorite recipe or a cherished family heirloom. Or it could be a song or movie that has had a major impact on your life. Whatever it is that you love and have blogged about, we want to hear about it! Chances are, we'll love it, too! Have fun!
Once again, here are my talented and dedicated co-hosts:




Make sure to bookmark or RSS feed their blogs and visit them on Facebook, Twitter and so on. They faithfully return the favor! In addition to the link share, three very special bloggers are also being featured. This week they are (in no particular order):
Who Needs a Cape? – Just about every mom on the planet – that's who! This group of lady bloggers is truly unique. They met online several years ago and formed a circle of friendship that has had a life of its own. Together, they blog about everything from crafts and fashion to recipes, family, travel and more. Sadly, tragedy recently struck their world. One of the bloggers' sons was burned by a malfunctioning firework. As he recovers, they are asking for our good thoughts, prayers and donations, if you can swing it. Find out more here. (Thank you!)
JDaniel4's Mom – Deirdre is a mainstay in our blogging community, with her first post going live in 2009! If you've never visited her blog, get over there right now! I appreciate her recent post 17 Rainy Day Books for Kids as my daughter loves to sit while I read to her. And it's been a rainy season!
Oh Mrs. Tucker – This grandmother is truly rockin' all things grand! With something for everyone, Oh Mrs. Tucker blogs about shopping, eating, grown-up stuff and offers some great advice on everything from texting while driving to how to use vinegar to spice up a musty closet. Be sure to stop by and show her some love!
Bling Out Your Sidebar! Grab Our Button!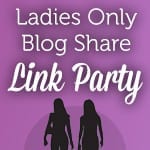 Let's get started! Have fun and visit the links below. We ask that you try to visit at least three. Remember to leave a thoughtful comment on the new blogs you've discovered and let them know you're visiting from the Ladies Only Blog Share Link Party! Feel free to pin your blog post to the Ladies Only Blog Share Pinterest board, too! In the URL field, place the link to your post. The name field should contain the title of your post. And if you'd like to co-host a future link party, give me a shout at mommifried @ gmail.com (no spaces).
Use the hashtag #LOBS when tweeting!