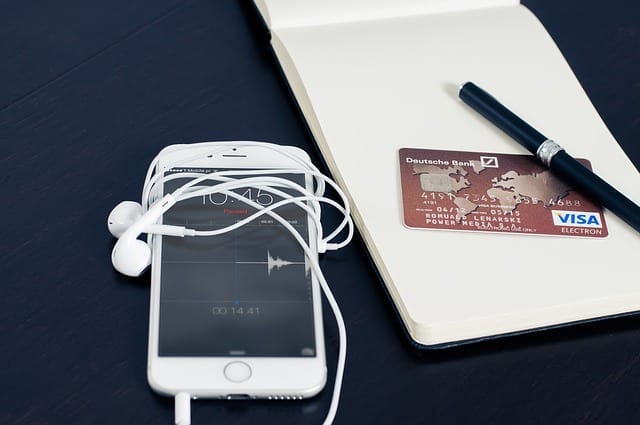 Shopping online is one of the best ways to find a bargain without running all over town. It's also a godsend for busy moms who have to juggle the kids, work, and finding time to buy a birthday present in between soccer practice and music lessons. Mobile devices make it easier than ever to shop whenever, wherever you want, but with this convenience comes the added risk of credit card and identity theft. The last thing you need in your busy schedule is to have to deal with cleaning up the mess of credit card theft. Before you click "submit order," be sure to follow these mobile security tips to keep yourself from being a victim of online theft:
Shop from Trusted Sites
A deal that seems too good to be true, probably is and just might be a scheme to steal your information. If you find a smoking deal but have never heard of the online retailer, it's time to do a little research before you plug in your credit card number. You can make sure an online company is legitimate by searching the name of the company through the Better Business Bureau or by looking up customer reviews.
Use Credit Cards instead of Debit Cards
Using a credit card instead of debit card to make online purchases won't necessarily prevent your credit card information from being stolen, but it will keep your debit card information, the link to your bank account, less likely to fall into the wrong hands. Also, many credit card companies, like MasterCard, will alert you when suspicious activity occurs.
Be Mindful of the Information You Provide
Whenever submitting an online order, it's important to be mindful of the information you're giving out because you just might be handing your credit card and identity over to thieves. Reputable online retailers won't ask for personal information, like your social security number or bank pin. You should also never be asked to give your credit card information over email. A good rule of thumb is to provide as little information as possible.
Use Trusted Online Payment Services
Using online payment services, like PayPal and PaySimple, as a middleman between you and online retailers can help protect your credit card information from internet baddies. These services allow you to make purchases online without revealing your credit card information to retailers, offering another level of security.
Don't Shop or Send Personal Information Over Public Wi-Fi
Free public Wi-Fi is great for helping us save on data use, however, it can be a dangerous place for your personal information. It may sound like something from a sci-fi movie, but cybercriminals use public Wi-Fi networks to spy on internet transactions, allowing them to intercept data and steal unsuspecting victim's personal information, including account passwords and banking information. Protect yourself from cybercriminals lurking in your local coffee shop's Wi-Fi by avoiding making purchases on your smartphone, laptop, or tablet while on a public network.
Use Your Cellular Network Instead of Public Wi-Fi
If you must make a purchase, or sign into your bank account, use your cellular data instead of a public Wi-Fi connection. Public Wi-Fi is inherently insecure, so it's best to be cautious. Also, having a mobile device with good anti-malware and security software can help protect your information anytime you're making purchases online, which brings us to our next tip.
Own a Mobile Device with Built-in Protection
Simply owning a mobile device with built-in protection can give you peace of mind every time you shop online. In order to find the right device with the level of protection all savvy shoppers need, you'll want to find a device with the best mobile processor. Qualcomm's Snapdragon 820 processor is one of the most cutting edge, especially when it comes to online security. Their security suite boasts malware detection skills and a theft prevention solution that just need to be turned on—requiring minimal effort on your end.
Download Trusted Shopping Apps
Many major retailers have their own shopping apps to make mobile purchases easy and safe. Download shopping apps from retailers, like Amazon and Target, to ensure you're purchasing from a reputable business.
Save a Record of Your Transaction
Anytime you make a purchase on your mobile device, you should take a screenshot of your transaction confirmation. This may come in handy if you don't get the product you ordered or need to reach out to your bank about any subsequent "fishy" transactions.
Shopping online can be completely safe and worry free as long as you take steps to protect yourself and your information. Practice these tips every time you shop online and you'll be no match for the cyber thieves. Happy shopping!
– By Jennifer Thayer
Jennifer Thayer is a technology writer who is passionate about exploring new ways technology can be used to make day-to-day tasks easier. Follow her on Twitter.