Piper Johnson was on her way to starting a new chapter in her life when things took an unexpected and potentially fatal turn. Two weeks ago, the 18-year-old embarked on a road trip with her parents.
They were driving from Illinois to Colorado to begin what should have been one of the most exciting times of her life: college. But instead of entering the hallowed halls of university, she was admitted to the ICU floor of a Colorado hospital.
Piper became Colorado's first confirmed case of what is being called a "sudden and severe lung illness due to vaping."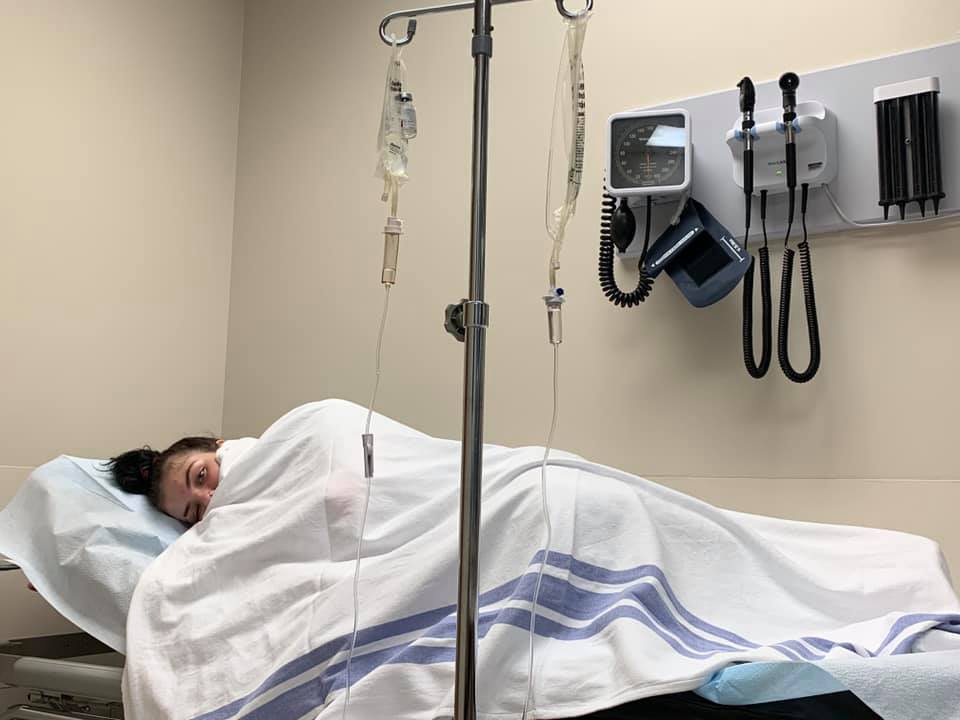 Piper's mother, Ruby Johnson, took to Facebook to share the harrowing tale in the hopes of spreading awareness. The post has garnered over 56,000 reactions and 316,000 shares in the past 24 hours.
Ruby begins her post by saying:
Two weeks ago today we loaded up a rented suburban with all the makings of a dorm room and set off for Colorado to take our oldest, Piper to college. As we began our drive, Piper was coughing and mentioned that it hurt to take a deep breath. I didn't think too much of it, but decided to keep an eye on it and figured we could pop into a CVS Minute Clinic on the road if I felt it warranted a check.
As the hours ticked by and Piper's symptoms didn't improve, the Johnson's decided to make a quick pitstop at an urgent care facility. At this point they believed their daughter may have had bronchitis. They had no idea of the nightmare that was about to unfold.
Initially the urgent care doctor diagnosed Piper with an "early pneumonia." Her first chest x-ray was "clear and unremarkable."
But what began innocently enough quickly spiralled into a fight for her life.
However, things declined very very quickly and when she was sent to the ER the following morning a CT scan showed what the ER doctor called a diffuse pneumonia – not just contained to one lobe of the lungs- hers was all over. And in the meantime, they struggled to get a pulse ox reading in the 90s. It became clear we weren't moving her in. In fact, we weren't leaving the hospital at all that day. Or any day soon.
Piper's oxygen levels continued to drop, her pain continued to increase, and each breath was excruciating. "She was getting IV fluids, antibiotics, pain meds, anti-nausea meds and a diuretic to help clear fluid from her badly inflamed lungs." Eventually she was moved to a room on the ICU floor.
So how does a healthy 18-year-old suddenly end up with a life-threatening illness?
"VAPING. That's how."
Vaping works by heating nicotine or THC (marijuana), flavorings, and solvents to produce a steam that is inhaled.
E-cigarettes were initially touted as being safer and less harmful than traditional cigarettes. On Friday, the Centers for Disease Control and Prevention issued a warning to people to stop buying e-cigarette products off the street.
This came after the launch of an investigation into 215 cases of pulmonary illness in 25 states linked to vaping. Symptoms include severe shortness of breath, vomiting, diarrhea, fever, and fatigue.
The CDC also clearly states that "e-cigarette products should not be used by youth, young adults, pregnant women, as well as adults who do not currently use tobacco products."
While the warning is all well and good, it comes too late for Piper. And for those questioning the Johnson's parenting as a factor in the choice their daughter made, Ruby has this to say:
I am a damn good mom. I am "all up in my teenagers' business." I ask the questions, I stay current on the dangers out there. But PARENTS- your kids will make bad choices. It will happen. Mine had been caught before, I confiscated, I grounded, I forced bedroom doors to stay open. I snooped. I sniffed. And still, this happened.
Because regardless of the warnings, or the policing, or the endless conversations, teenagers will still experiment. They will make bad choices.
They will believe that they are invincible. They will give in to peer pressure and clever marketing. Ruby states:
These devices are marketed to our children. They are designed to look like USB flash drives or regular pens. Some even look like Apple Watches. Tiny little pods you can pop on, carts that contain THC, cute little refill bottles of gummy bear or blue raspberry liquid.
And our kids? Have no idea of the extreme danger lurking within. And parents? We can no longer believe that this won't happen to my kid.
Thankfully Piper's story comes with a happy ending. After spending a week in the hospital receiving a life-saving steroid treatment, she returned home and is expected to make a full recovery. Her lung doctor believes that if they had waited just one more day to seek help, her story would have ended very differently. Unresponsive and on a ventilator.
But her story doesn't stop there. Piper and Ruby are demanding change. Together they are working to spread the word on the dangers of vaping (and not just the illegal street THC e-cigs).
They believe that vaping use has risen "78% in high schoolers and 48% in middle schoolers." The time to act is NOW. Before it's too late.
Ruby ends her post with a plea:
Share Piper's story. Do your research.
Talk to your kids. Talk to their friends. Talk until you're out of breath, or they just might be.
The reality is that this is not an isolated incident. The dangers associated with vaping are quickly becoming an epidemic.
There has been one death in Illinois directly associated with lung disease caused by vaping. An 18-year-old girl from Utah was placed in a medically-induced coma in July for severe lung damage from vaping. NBC News reports the toll of hospitalizations is 298 and quickly climbing.
Even Kevin Burns, the CEO of Juul told CBS This Morning, "Don't start using nicotine if you don't have a pre-existing relationship with nicotine. Don't use the product. You're not our target consumer."
Please, heed Ruby Johnson's advice. Take the time to talk to your kids. Again and again and again. It just may save their life.