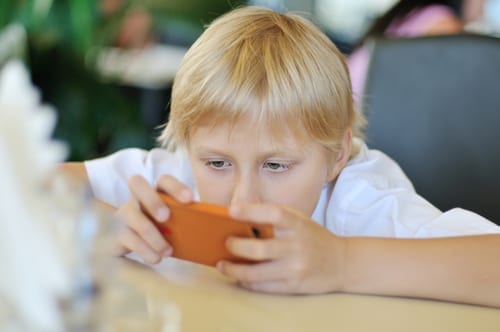 With a busy schedule and always being on the go, it can be tricky tracking your kid's every move online. Sure you'd love to and you know you should with the prevalence of cyberbullying, but it's not easy to carve out that time in your busy schedule of work, school, and shuttling everyone back and forth to activities. Since cloning yourself is out of the question (for now, at least) here are some high-tech solutions to help you keep track of where your kids are and what they're doing online.
MamaBear
MamaBear is an app that combines all of the technology functionality parents want into a single app. (Because let's face it, the more apps you download, the fewer you seem to actually use.) If you finally decided to buy your child a smartphone, you can use this app to connect with their device. It features GPS tracking and social media monitoring as well as the ability to find out if your teen driver is speeding or riding with someone who is. MamaBear alerts you with a pop-up notification when it detects any activity outside of your preset parameters. The app's offerings are robust, but you do need to spend a little time getting it all set up and creating parameters to really make the most of it.
Input each of your kids' schedules so you can get alerts when they skip math tutoring to go to a friend's house or go anywhere you've designated off-limits. The social media monitoring is really useful to keep you aware of any cyberbullying. MamaBear can let you know anytime someone uses profanity on your kid's Instagram or Facebook posts as well as notify you when they're tagged in a photo or location or make a new friend.
Price: Free; available for iOS and Android
uKnowKids
This subscription monitoring service is optimized to track all of your child's social media and text message communication. It evaluates your kid's digital footprint and helps you understand it with the Parental Intelligence tools from an easy-to-use web-based dashboard. Like MamaBear, uKnowKids boasts all-in-one offerings; however, it may be a little too NSA-like for older kids. In order to track social media access, you need their account passwords, making it tough to monitor if they're unwilling. For this reason, this may be a better option for parents of younger kids who are just getting started with their own cell phones and social media accounts.
While it works with iPhones, the uKnowKids' phone monitoring is much more detailed with Android devices. On iPhones, you can only see contacts and photos while on Androids, you can also view call history, app usage and text messages.
Price: $9.95 per month; available for iOS and Android
KizON
While the idea of a wearable tracking device may seem a little Big Brother to many, KizON was created with an earnest mission: to help parents give their kids freedom without worrying. This wristband allows you to helicopter parent from a safe distance so your kid can actually be a kid. You can set safe zones and locate your kids from the device's Android app.
KizON also functions as a phone to call preset numbers, offering two-way communication without buying your six-year-old an actual cellphone. Intended as a pre-cellphone communication device, KizON is designed to appeal to kids (available in three colors) while also being durable enough to stand up to their rough-and-tumble play. One of the coolest (though perhaps most controversial) features of KizON is that if your child misses your call and doesn't answer within 10 seconds, the device's microphone is activated, allowing you to listen in to find out what your child is doing.
Price: TBD when released in North America and Europe later this year
Net Nanny
If all of the above seems too much like spying, but you still want to keep your kids from seeing things they shouldn't on the Internet, Net Nanny is an ideal solution. This is a more basic software package that provides simple parental controls to block any online content you deem inappropriate. Net Nanny is fully customizable so you can create different usage settings for each member of your family. In addition to blocking pornographic sites and any other content you deem offensive, Net Nanny also documents usage so you can review it to know what your kids are doing online.
Price: $39.99