Yesterday, the news broke that Olivia Newton-John has died. She was 73 years old.
Sob.
As a card-carrying member of club Gen-X, I feel like a chunk of my childhood just died along with her.
Her husband of 14 years, John Easterling, shared the sad news on her official Facebook page, writing:
"Olivia has been a symbol of triumphs and hope for over 30 years sharing her journey with breast cancer.

Her healing inspiration and pioneering experience with plant medicine continues with the Olivia Newton-John Foundation Fund, dedicated to researching plant medicine and cancer.

In lieu of flowers, the family asks that any donations be made in her memory to the Olivia Newton-John Foundation Fund."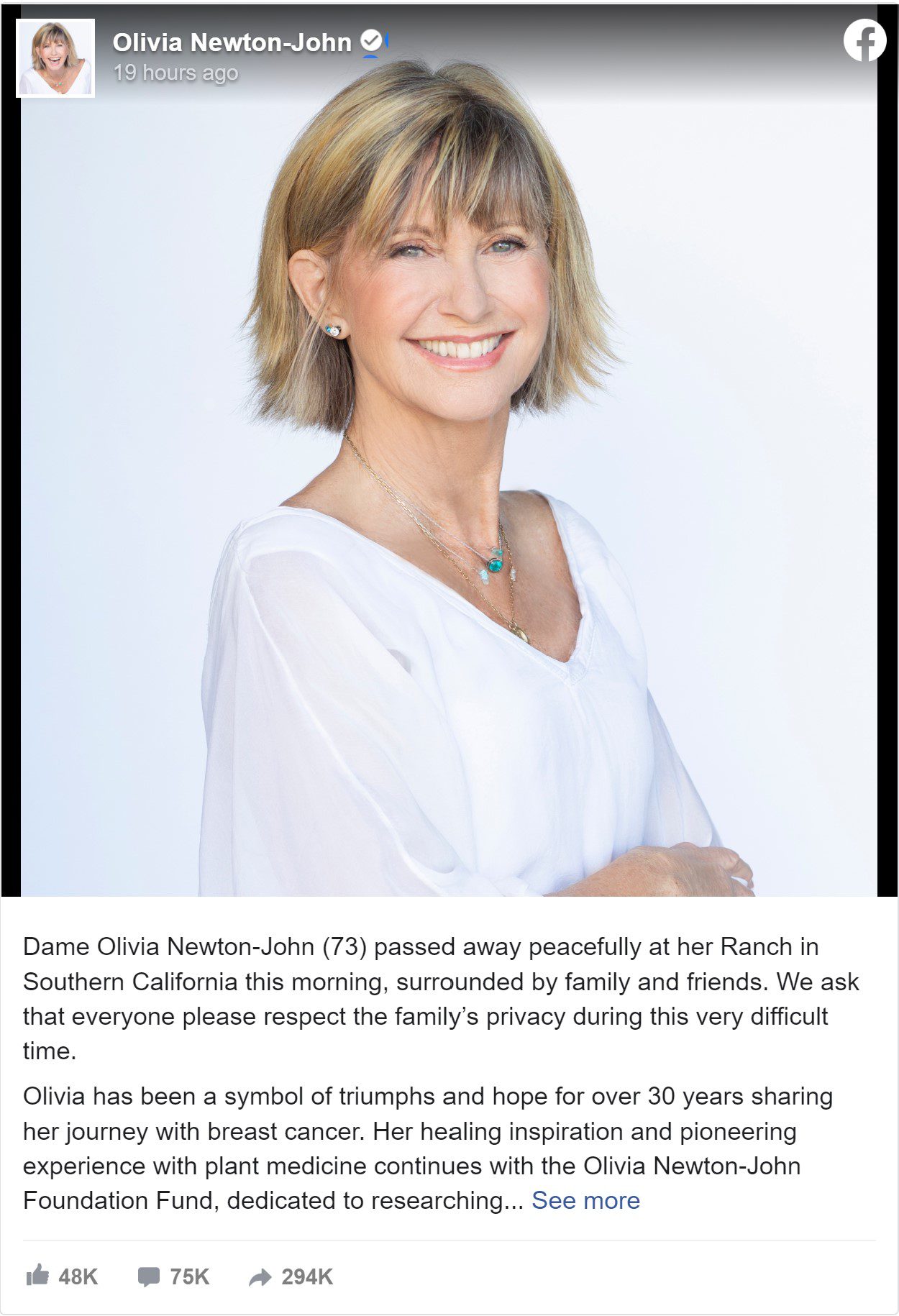 Olivia lived with multiple occurrences of breast cancer for over 30 years. She was first diagnosed in 1992 and again in 2013 and 2017. She was a strong advocate for cancer research and animal rights.
A pop icon and actress, best known for her role as Sandy in the box office hit musical Grease, she has sold 199 million albums worldwide.
She was 29 years old when she starred opposite John Travolta in Grease and stole not just Danny Zuko's heart but the heart of America right along with it.
John posted a moving tribute to his life-long friend and co-star on Instagram:
"My dearest Olivia, you made all of our lives so much better. Your impact was incredible. I love you so much. We will see you down the road and we will all be together again. Yours from the first moment I say you and forever! Your Danny, your John!"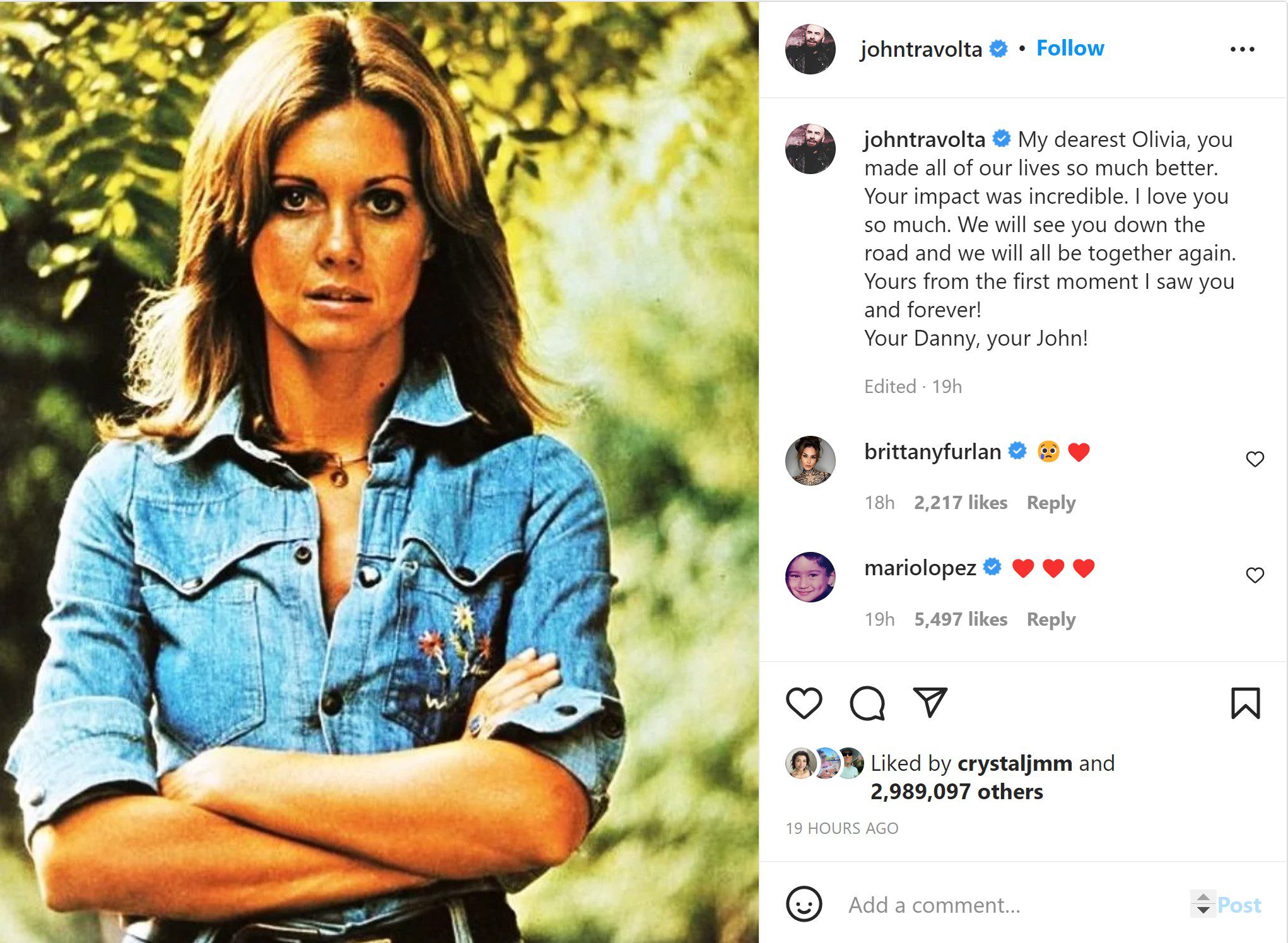 I have seen the movie Grease at least a dozen times, probably more. It was a much-anticipated family event every time it aired on cable tv.
I listened to the soundtrack on both record player and cassette tape hundreds of times.
I sang along to the songs, hairbrush in hand, and danced around my living room while my sisters and I pretended to be Pink Ladies.
Forget goody-two-shoes Sandra Dee, the epitome of wholesome innocence in her Rydell High cheerleading outfit and bow-clad ponytail with fringe.
We know who we all wanted to be (bring on the leather, the cigarette, and the sky-high red heels):
Not to mention that hair. She inspired an entire generation to trade in their long straight locks for the smell of ammonia and Aqua Net spray (including me). Perms weren't just for grandmas anymore.
She was part of some of my best childhood memories. She was as much a part of my youth as Kool-Aid and MTV.
And I'm not the only one.
Tributes have been pouring in. Twitter is alight with people who feel the same way.
She was, after all, the one that countless Gen-Xers wanted.
You're the one that I want, (You are the one I want), Ooh ooh ooh, honey.
She was the one we all wanted when we were young. I think I went to see Grease 5 or 6 times when it came out at our local pictures. I had such a crush on her when I was a young lad.

— IMeMine (@JohnRob14594924) August 8, 2022
And if you didn't want her? Chances are, you wanted to BE her.
There's 100% chance that every young girl wanted to be just like her after watching Grease and Xanadu. Me included. Rest In Peace to the one and only, irreplaceable, lovely, #OliviaNewtonJohn. ????

— Susan Lindway ? (@SuzieLindway) August 8, 2022
It was the summer of 1978…cruising around the neighborhood on banana seat bikes, eating rainbow pops from the ice cream truck, and staying out until the street lights came on.
The summer of 1978, Gen X kids will always remember Olivia Newton John and John Travolta, Grease. Wonderful memories of our childhood.

— @CommonSense (@ImpeachedAgain2) August 8, 2022
Her death hits hard. It feels as though a part of our childhood is gone:
This has really hit me. Another part of my childhood is gone. Goodbye Sandy…

— kennybeatle (@kennybeatle1) August 8, 2022
this is heartbreaking, it's as if a part of my childhood was ripped out and completely gone, truly hope she's at peace ?

— mello (@mellonoexiste) August 8, 2022
A generation of '70s (and '80s) kids will never forget her…
RIP Olivia Newton John – a generation of '70s kids will never forget you. pic.twitter.com/1wjjIzrtNu

— John Law (@JohnLawMedia) August 8, 2022
And 80's kids. Two of a Kind and Xanadu were my life.

— Mary Ann Moody (@marygirlmoody) August 8, 2022
This one hurts deeply. My inner 11 year self is shattered. Farewell Olivia Newton John. pic.twitter.com/vuaWgckmQz

— Vintage Los Angeles (@alisonmartino) August 8, 2022
We grew up watching Grease. Time and time again (thanks for that ABC).
How many times have we all watched this film? Seemed to be part of the fabric of growing up? It was for me. RIP Sandy and the iconic Olivia Newton-John ? pic.twitter.com/3YXHNILFvm

— Daniel Mays ??? (@DanielMays9) August 9, 2022
Olivia Newton-John was an unforgettable part of so many of our childhoods & she will live on in countless cherished memories.
Olivia, we honestly loved you. Farewell, our Gen-X hearts will never be the same.