Being a mom requires an insane amount of multi-tasking, & things inevitably end up falling between the cracks. Oh, I used to have a clean house- then I had kids. Sharing life with kids can be absolute bliss, but it can also be a chaotic mess sometimes.
Ok, most of the time. The endless amount of laundry to do is enough to make me want to ball myself up in a clothes hamper, sobbing. And I'd likely never be found, either, since most of my family doesn't seem to actually open a laundry hamper because the floor is so.much.better! Apparently.
If you've ever felt like you're riding the Household Hot Mess Express, have no fear- you're in good company.
Countless moms are right aboard with you, clinging to the false illusion that "I've GOT this!" when it comes to maintaining order in our homes… until reality comes crashing in.
It's usually in the form of a sippy cup found behind your couch after 3 months which has now contains a funky artisan cheese. Or maybe it's the boogers you realize your kid has been wiping on the lower portion of his bedroom wall every night (while I won't name names, you know who you are!).
We moms frequently feel like we're a step or two behind- things always manage to fall through the cracks no matter how hard we try. It can feel like we're the only one not cutting it sometimes.
But this latest funny anecdote from mom Caitlin Burch will remind you that we've all got a bit of the hot mess thing going. If your kid's room looks like wild animals live in it, take heart- Burch's daughters' room actually HAD A WILD ANIMAL LIVING IN IT.
No, seriously.
Several months ago, Caitlin's 6-year-old daughter claimed that an animal had been walking through the room that she shares with her 9-year-old sister. While her description made it clear that it wasn't a mouse, her description of the "mysterious creature" was so odd that it seemed, well, kind of imaginary.
As the mother of an imaginative 6-year-old, I get this; I've been told many a tall tale by him, too, and the stories seem to grow more elaborate, conveniently, around bedtime. So while Caitlin & her husband listened to their daughter's story, it appeared questionable. As she explained when interviewed by the website The Dodo:
She showed us with her hands the size of it and said it was fluffy. My husband and I both looked in their room, but didn't see anything.
So it obviously wasn't small like a mouse, & its size made it unlikely that such a creature could even be in the room. But like good parents do, Caitlin & her husband checked the room and, as they assumed, found nothing unexpected.
The girls were tucked into bed that night like any other night. No further mention of the mysterious creature occurred…
…until three nights later.
The Burchs were abruptly awakened at 3am by their 9-year-old-daughter, who said that she, too had seen the "creature" that her younger sister had claimed was in their bedroom. Caitlin's husband went to investigate.
And sure enough, there WAS an uninvited guest crashing in the girls' room- in the form of an opossum.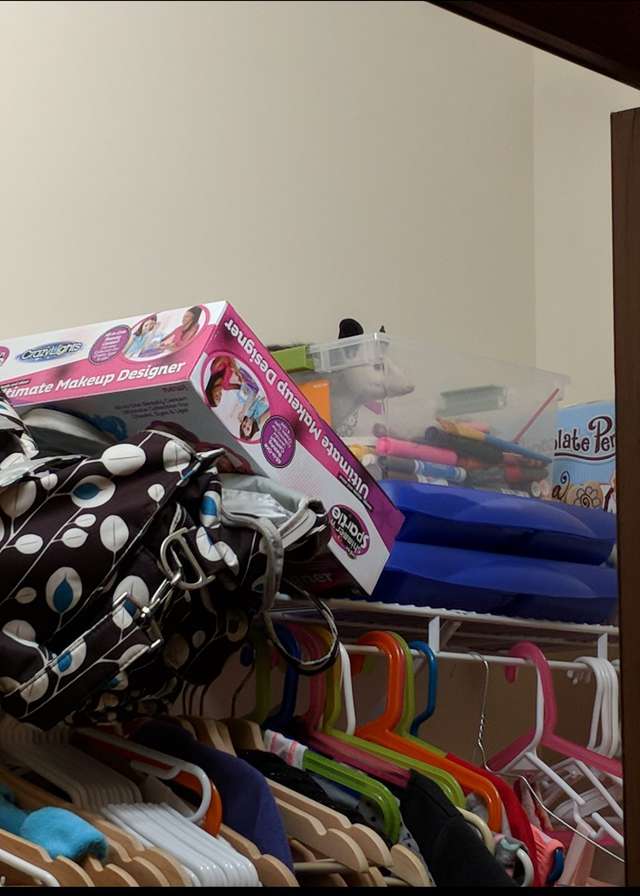 (For the record: could the opossum look more like a stuffed animal in this picture?? I love that he looks like he's faking being lifeless, too. It looks like he's thinking, "Just stay cool, stay cool… don't move. They'll never know.")
But then the opossum unfortunately blew his own cover; he looked right at the camera as this next picture was taken, so the gig was up: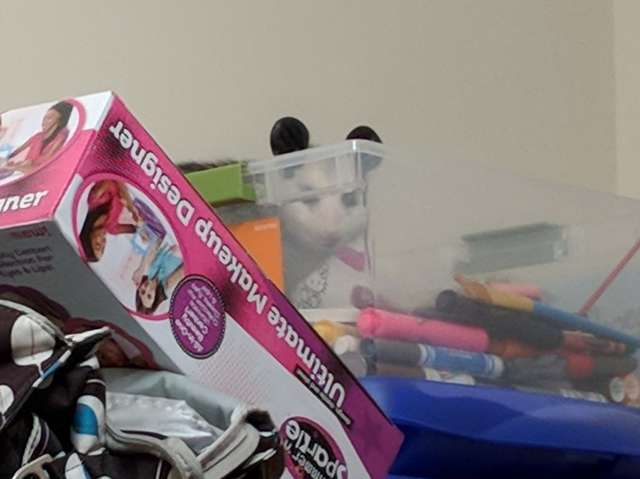 ("Just be cool… don't look… don't look… DAMN! I LOOKED!")
As Caitlin reported to The Dodo, her husband took the discovery in stride:
When he came back, he very casually got dressed and said, 'She's right.'
As for Caitlin? Not so much:
If I had known that was in the house, we all would have been staying in a hotel.
Same, girl. SAME.
Burch's husband carried the opossum out of the house & released it into their backyard, where it took up residence in a nearby tree, probably pissed at itself for blowing a good thing by not being able to look lifeless for just a few seconds longer.
While Caitlin admitted that she was initially mortified that a "creature" really had been in her girls' room -and for who know how long- her girls were not only not affected by the experience, but actually love opossums now. And it makes for a great story!
The reality is we as parents do the best we can, & need to be able to laugh at the inevitable unexpected parent fails that crop up from time to time, because we've all got them.
If you need further proof that we're ALL hot messes now & then, check out some of the comments on this related post by blogger Mary Katherine Backstrom on Facebook; fellow parent fails abound!