If you're anything like me, the arrival of any kind of food delivery is cause for celebration. Food is coming to your door… and you didn't have to cook it.
While I've recently become obsessed with food delivery services like UberEats and GrubHub, the arrival of a fresh, hot pizza from our local pizzeria is still enough to make me do a happy food dance (yes, such a dance exists. And yes, several food delivery services have been witness to said dance).
But even little kids can appreciate the excitement of the ring of the doorbell, signaling that something yummy has arrived.
A sweet moment was caught on doorbell camera when a two-year-old boy excitedly hugged a pizza delivery man at his door, but the hug was far more meaningful to the man than anyone could have imagined.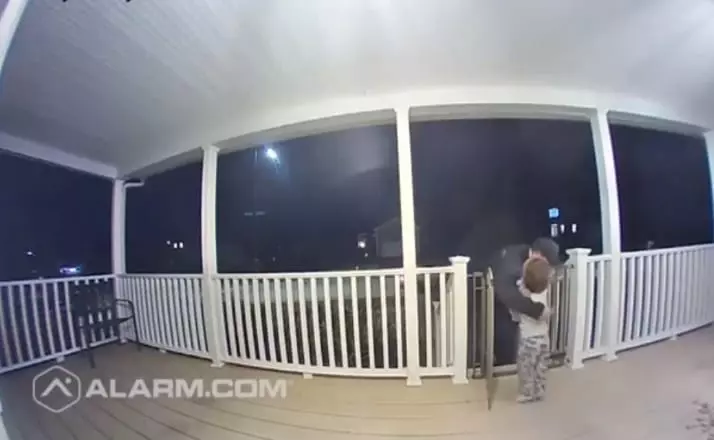 When delivery driver Ryan Catterson arrived at the West Warwick, RI, home of the Sheely family, their two-year-old son couldn't WAIT to greet him. The young boy gave Catterson an eager hug, which was caught on the family's doorbell camera.
Here's the clip, courtesy of both Lindsey Sheely & ABC7:
It seemed to be a genuinely cute moment, and mom Lindsey posted the video clip on her Instagram stories.
But what Lindsey (or anyone who initially viewed the clip) didn't know what that the boy's huge came at the perfect time… for a grieving father.
Catterson's 16-year-old daughter has been living with his ex-wife in California. After experiencing severe mental health struggles, she passed away one week ago.
The trauma and indescribable loss was palpable for Catterson; as he explained when interviewed by WWSB News, he revealed that one of the hardest thoughts for him had been:
It's going to be tough to know that I'm not going to be able to hug her again.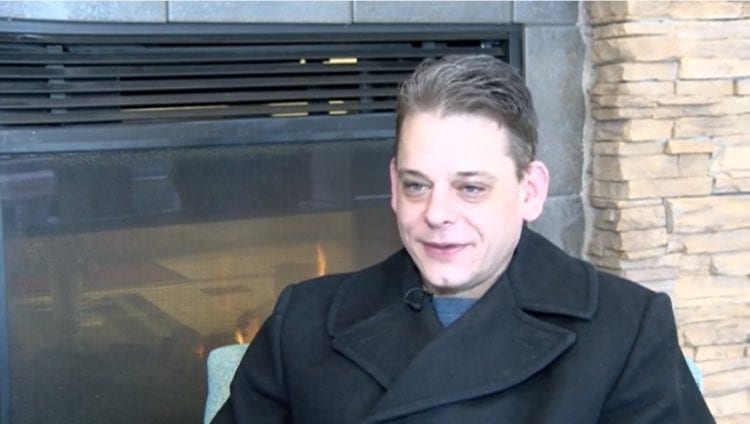 Obviously Lindsey Shelly's little boy wasn't aware of what had transpired in Ryan Catterson's life, but he didn't need to know. He simply gave Ryan love because he had love to give.
And that simple hug meant more to Catterson than anyone could imagine, giving him a brief moment of loving comfort and connection.
As he described it to WWSB:
After losing my daughter this past week, it just touched me because it was like she was there.

It just meant a ton to me.
Is anyone else ugly-crying?? Ryan's pain is evident in his words, & I want to hug him, too!
To many of us, Ryan Catterson may have simply been the delivery man dropping off our meal. We would have thanked him, maybe had a few moments of eye contact, perhaps brushed hands as we signed our credit slip & accepted the food.
Catterson's ex-wife Danielle McCord points out that while it may appear to be one simple act of a little boy hugging a delivery driver, it's actually a very powerful reminder to all of us.
As Danielle told WWSB News:
It's so easy to miss people and their internal pain.
It is, isn't it? Some people are adept at masking their pain, too well. But sometimes we're merely too distracted to look -to REALLY look- and respond to those who are hurting.
Danielle admits that while they weren't aware of the full extent of their daughter's pain, she's thankful that her ex-husband was given comfort in a time he needs it the most.
I can't help but be grateful that somebody saw his pain and was able to be there for him.
The video may have caught a little boy physically expressing his excitement for his pizza, but his actions may have also helped to momentarily ease a father's broken heart.
Let's all take a page from this sweet little dude's playbook to affirm & encourage those around us; we may never know just how significant a single moment of kindness can be for a person who needs it the most.