The other day my husband came home from work to find me slapping together a couple of PB & J sandwiches for the kids while unenthusiastically informing him he could expect the same for dinner.
I stood silent in the kitchen while running my fingers through my tangled, matted hair. My skin was coated with a gritty film of sunscreen and the cooler on the floor had yet to be unloaded. The big kid was sprawled out on the couch, complaining of starvation. The little kid had lost his clothes, revealing two bandaged knees and a sagging diaper.
"How's it going today?" my husband asked with a concerned expression on his face.
"We spent the day at the pool," I said, as if that statement alone would let him know exactly how it was going.
He smirked a little, and the look of amusement in his eyes told me exactly what he was thinking. Even after seven years of parenting, he was thinking "must be nice," after coming home from his usual 9-5. And he confirmed what I had assumed by innocently stating "that sounds really nice."
While I know he appreciates how much work goes into motherhood, there is still so much that he doesn't understand.
Like the fact that summertime with my kids is no vacation. And that going to the pool with them is possibly the most exhausting part of the season.
I know that when I tell him we went to the pool, he envisions a leisurely day of lounging and sunbathing.
And oh, how I wish it were so.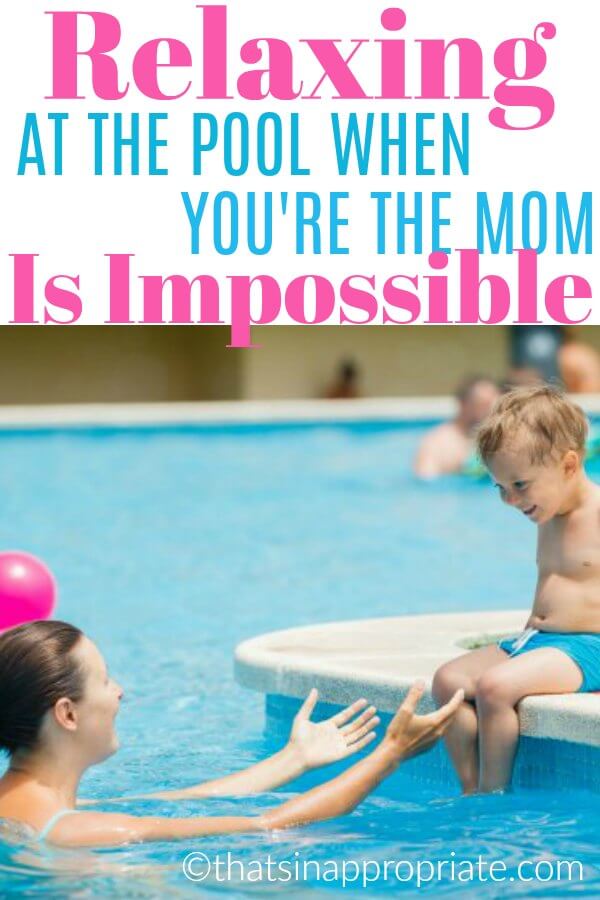 Instead I spent the first two hours of the day just preparing to go to the pool. I packed a cooler of food. I made sandwiches, sliced fruit, filled up water bottles, and tossed in every processed food I could find. Because a day at the pool involves a week's worth of food.
I spent a good 45 minutes searching for the swimsuits that had gone missing because whether it's been a day or a year since their last use, they are always lost. I combed the house in search of flip flops and pool toys and sun hats. I stuffed a pile of towels into one bag, packed extra clothes into another, and filled yet another with two kinds of diapers, a couple bottles of sunscreen, and a first aid kit. I battled against both kids' flailing limbs just to slather them with sunscreen. And I helped free one from the trap of a tangled swimsuit so she could use the bathroom.
All before we left the house. I mean, a day at the pool might as well be an overnight trip.
Once we stepped foot onto the pool grounds, one kid had to pee again and the other needed a diaper change. Afterwards, both kids ran to the water, but not before tripping and falling and drawing blood. So there were kisses and bandages and the wiping of tears.
As we stepped into the water, my brain switched to high-alert mode. Neither of my children can swim, despite months of swimming lessons. So I hovered over them just in case one happened to go under and couldn't make it back up. I followed them around, never letting them out of my sight or my reach, my body and mind prepared to make the leap in case of an accident.
For every 10 minutes spent in the pool, we spent another 20 out. For bathroom trips and the peeling off and wrestling on of wet swimsuits. For snacks. And more snacks. For battles with more sunscreen. For "rest" time in which I spent serving them or chasing them. For yelling at the big kid not to run and wrangling the little kid before he ran straight off the edge into the deep end.
And this scenario played out all day long. In. Out. Poop. Pee. In. Out. Eat. Run. In. Out. Fall. Cry. In. Out. Rescue. Repeat.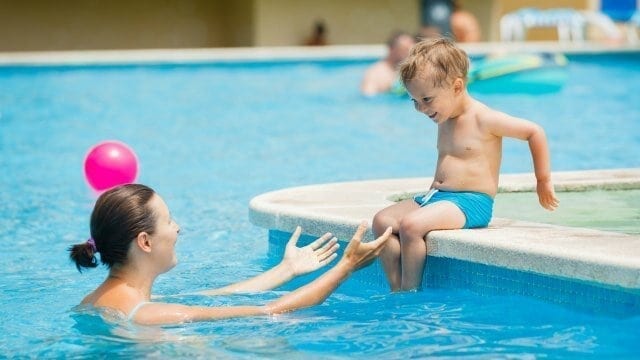 After we were done swimming for the day, wet swimsuits and wet towels were carelessly tossed around the locker room. The dry clothes that I had brought didn't stay that way as they got dropped into the festering puddles of water on the locker room floor or lost under the piles of damp towels.
I got the kids dressed, damp clothes and all, and we made our way home. I was ready to collapse.
Contrary to my husbands perception of a pool day, there was not one moment of relaxation. I didn't come home rejuvenated after a "nice" day at the pool, but instead dragged myself through the door, arms full of damp pool bags and a near empty cooler. I was exhausted and even my just-getting-home-from-work husband seemed more refreshed than me.
So the next time my kids ask to go to the pool, I think I'll give my husband the chance to take them because I'd sure hate for him to miss out on these much envied days of leisure.