Dana – maybe give this a summer publish date? Thanks!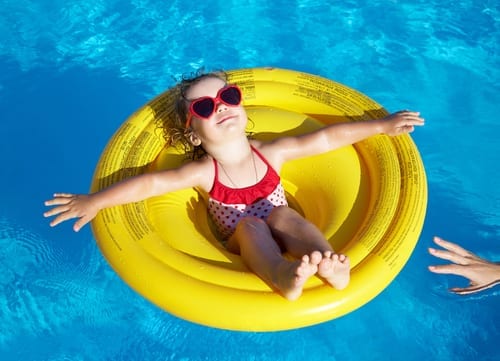 It's that magical time of year when the smell of newly cut grass fills the air and the evenings are enticingly mild. It's a time for parties and picnics and pools. A time when the children are home from school all day. ALL day. Every day. For weeks. But with a little planning and preparation, the summer season can be a relaxing and enjoyable experience for the whole family.
To help you prep for summer social gatherings and quality family time, here are a few recommendations for purchases and home projects that are sure to keep the summertime blues at bay.
Hot items for keeping cool
If you're fortunate enough to have a pool, there are countless pool accessories to tempt you before the thermometer starts to climb. Why settle for an inflatable pool mattress when you can have an aquatic pool sofa? SoFloat makes the luxurious Cloud Nine Pillow for pool owners who want to relax in the pool in style. Better wear sunscreen when using this pool bed, though, because the comfort level of this accessory is known to induce siestas.
In this day and age, the old Slip 'n Slide just doesn't cut it for kids. Everything is bigger and better, including something that by design is essentially a long sheet of plastic wrap. But not any more. The Turbo Chute Hill and Lake Water Slide is higher, wider and capable of sending children slipping and sliding farther and faster. Just be sure there's an adult at the bottom of the hill to play catcher.
Cool home improvements for staying stylish
Warmer weather means you'll finally be able to tell the kids to go play outside. But your backyard should be more than a place to exile the children. With a few improvements, it can also be an adult oasis.
If you're looking to add a stylish and functional element to your backyard, the addition of an outdoor BBQ island is the perfect solution. Imagine home-cooked meals with your family on a pleasant summer evening in your backyard, the crickets chirping and the smell of mesquite in the air — all without turning on your stove or heating up the house. It's summertime bliss. At least it will be until your son knocks over a pitcher of fresh lemonade.
For times when you're hosting an outdoor party for friends and family, your guests will require seating accommodations. Although those charming and oh-so-comfy fold-out metal chairs are always an option, a gazebo would add style and ambiance to any backyard. Though a gazebo can be purchased and installed, building one yourself is a fairly straight-forward, two-day DIY project. If you're up for a fun weekend challenge before the heat hits, consider designing and building your own.
Since childhood, summer has been a time to treasure and to look forward to all year long. So this summer, take a little time to plan and prepare for the most anticipated months of the year. Stay cool and stylish with fun products and projects to keep the dog days of summer from getting you down.