Parenting in the digital age is challenging. While we don't want to relegate our kids to the dark ages we do need to restrict the amount of time they spend on devices so that they can experience life in the real world.
Fortunately, there are a number of available apps to limit screen time.
According to the American Heart Association, the average child aged 8 to 18 spends more than 7 hours per day looking at screens. Significantly more than the recommended daily maximum of two hours of screen time. For children ages 2 to 5, The American Academy of Pediatrics says to limit screen time to one hour a day of high-quality programming.
Numerous studies link too much screen time with an increase in depression, thoughts of suicide, and increased odds of being overweight or obese.
In addition, too much time in front of a computer or TV can have negative effects on a child's brain development. Including issues with memory, attention and language skills.
It is an ongoing battle to regulate screen use for children (and adults).
Kids do not have self-limiting behavior when it comes to managing technology. Screen time management can feel like a full-time job for a parent. Thankfully there are apps available to automate setting screen time limits.
Most devices are now equipped with built-in parental controls, including Google Family Link, and Apple's Screen Time which make setting limits a lot easier than in the past.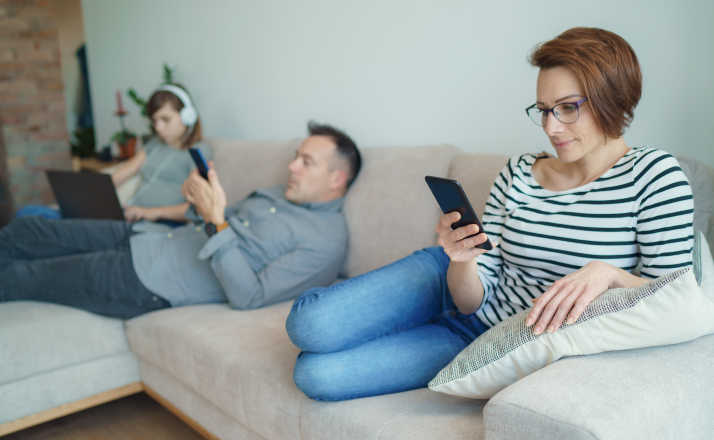 THE 6 BEST APPS TO LIMIT SCREEN TIME
Google Family Link:
Availability: Android devices running version 7.0 (Nougat) and higher. iOS 10.0 or later. Compatible with iPhone, iPad and iPod Touch.
Price: Free
Rating: 4.4 on both Google Play and iTunes
Google Family Link allows you to limit the amount of time your kids spend on their device by setting a Daily Limit, specifying a Bedtime, and allowing you to remotely lock their device. In addition, it allows you to view your children's activity, provide notifications to approve or ban downloads from the Google Play Store, manage in-app purchases, and track location.
Apple's Screen Time:
Availability: Part of iOS 12 or later. Available for iPhone, iPad, iPod Touch, Mac.
Price: Free
Rating: N/A
Apple's Screen Time monitors your screen use – Your daily and weekly averages, how much time you spend on each app, your notifications, and how often you pick up your phone. It allows you to set daily limits on specific apps, categories of apps, and websites. You can also block specific apps at specific times with Downtime.
In addition, Apple Screen Time has communication limits, which allow you to restrict phone calls, Messages, and FaceTime, as well as restrictions for explicit content, purchases, and downloads.
Parents are able to access their child's activity report from their own iOS devices and remotely block or set App limits on their child's iPhone, iPad or iPod Touch.
Of note, the Screen Time feature is based on your iCloud account, not based on individual devices. If you are using a shared device it will not track usage by each member of the family.
Parental Control & Kids GPS: Kaspersky SafeKids
Availability: iOS, Android, Mac, and PC
Price: Free version or Premium Version: $14.95 yearly subscription
Rating: 3.6 Google Play and 3.7 iTunes
Kaspersky SafeKids allows parents to access and set limits on devices using a My Kaspersky portal. Parents can set a time limit based on hours per day or a specific schedule. Kaspersky SafeKids will either warn the user or power down the device once the limit has been reached.
In addition to screen time management, the free version also includes an online content filter to block harmful sites, the ability to manage access to games and apps and expert advice and tips from child psychologists on online topics.
The Premium version gives you everything in Free, plus: GPS child locator, battery level tracker, and social network monitoring including reporting on their public Facebook activity. In addition, it provides parents with detailed reports on their child's online habits and real-time notifications on what they are up to.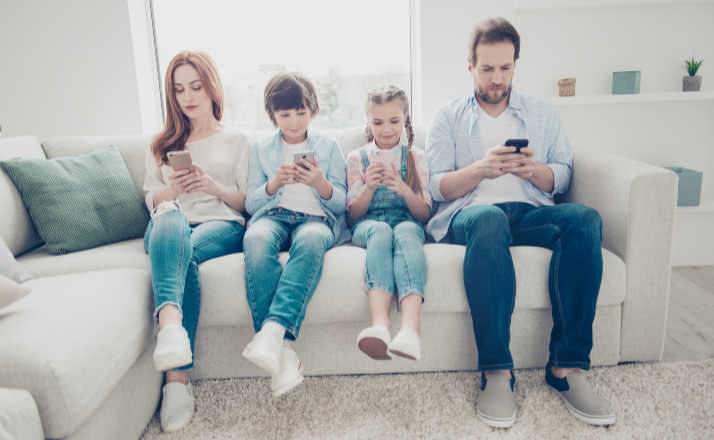 Famisafe:
Availability: iOS, Android
Price: $9.99/month or $19.99/every 3 months
Rating: 4.6 Google Play 3.1 iTunes
Famisafe lets you monitor how much time kids spend online per day, week, and month. Parents can remotely schedule daily or weekly app usages around specific locations, such as school and home, as well as target specific apps. also have the ability to temporarily block devices.
As with other apps to limit screen time, Famisafe also provides the ability to block websites by category, monitor texting and prevent cyberbullying, and track conversations and content on WhatsApp, Instagram, YouTube, Facebook, Twitter. It will alert you of disturbing videos, explicit content, and suspicious photos. Additionally, it tracks real-time location and will send instant location alerts using geofences.
Kidslox
Availability: iOS, Android, Mac, and PC
Price: Basic Features – $3.99/month; $39.99/annual; $79.99/lifetime
Premium Features – $5.99/month; $59.99/annual; $99.99/lifetime
Rating: 3.6 Google Play and 4.3 iTunes
Basic features include up to 5 devices and both the option to set daily limits and a specific schedule. You can also set limits for individual apps and categories of apps as well. For example, you may allow your child 2 hours of screen time per day but specify only 1 hour for games. Once the limits are reached, the device will go into Lockdown mode and everything except the Camera, Facetime, and Siri (iOS) will be restricted.
Kidslox has also added customizable modes that enable you to set different levels of restriction on a device at different times. You could have a custom mode set up for before school, during school, after school, and bedtime.
In addition to the basic features, premium also allows for up to 10 devices, content filtering, location services, and app blocking.
Net Nanny (formerly Zift)
Availability: Android, iOS, Kindle Fire, Mac, PC
Price: 1 Desktop – $39.99/year; 5 Devices – $54.99/year; 20 Devices – $89.99/year
Rating: 3.4 Google Play N/A iTunes
With Net Nanny, you can control when your child is able to access the Internet on their devices, set the total number of hours in a day or set specific times each day when your child can be online. It focuses on internet access and does not have the capability to limit screen time based on specific apps or categories of apps.
However, it does do instant reporting of online searches, visibility of apps used by your kids, and real-time alerts on Porn, Suicide, Weapons and Drug-related Content. In addition, it also gives parents the capability to block apps and websites. It also includes a location tracker.
It is our duty as parents to keep our kids safe and provide boundaries and limitations. Especially when it comes to navigating the digital landscape. But it is also our responsibility to ensure that our kids look up. To teach them that there is more to life than just video games, social media, texting, and the internet. And to give them opportunities to experience the world beyond the devices in their hands.