If you're looking for a reliable small car for you or a teen driver in your family, this list is for you. While many parents believe that giving a newly-licensed teen a large SUV is the safest thing to do, that's not always true.
Large vehicles are more difficult to navigate and park for new drivers, especially, and small cars have the added benefits of tight turning ratios and the option to park in narrow spaces (think city driving and college campuses).
Many of these cars also have an element of fun built in, with comfort and technology features to make you and your teen driver happy.
Bonus: when in the used category (2019 models and earlier), all of these vehicles top out under $20,000. And in some cases (like the Kia Soul and a few more), even a brand-new one is under that price threshold.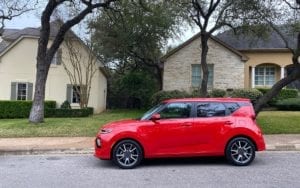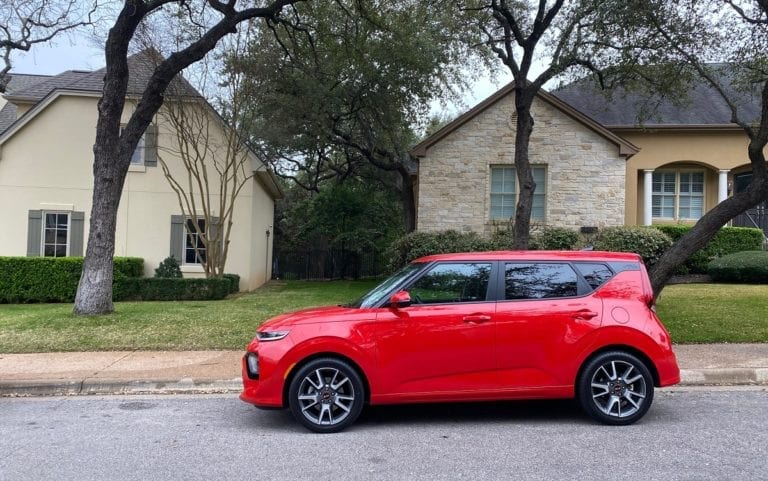 Kia Soul
If you like quirky cool, the Kia Soul has a unique body style. The Soul's boxy shape accommodates plenty of cargo and seats a drive plus four passengers.
The view of the road from the driver's seat is unimpeded, and both you and your teen driver will appreciate intuitive controls throughout. Kia's fun hatchback for model years 2017-2019 is available in three options: Base, Plus (+) and Exclaim (!), the trim names matching this innovative subcompact's personality.
Check out a few of the standard features on 2017-2019 Kia Souls: 130-hp 1.6L four-cylinder engine, 60/40-split folding rear seats, Bluetooth, and USB port. Redesigned for 2020, the Soul starts at $17,490 brand new.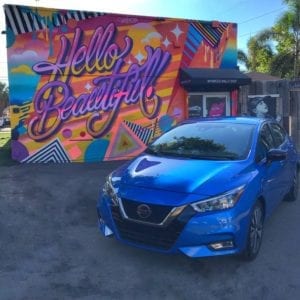 Nissan Versa
Nissan's zippy Versa comes with a 109-hp 1.6L four-cylinder engine. Want your teen driver to learn how to drive a stick shift?
The base S model is equipped with manual transmission as standard. Back-seat passengers will like the roomy feel and comfortable ride, and you'll appreciate the trunk space for sports gear, band instruments, and more.
Expect to see these standard features like these on Nissan Versas for 2019 models: power mirrors, a four-speaker audio system, cloth upholstery, and a rearview camera.
Also redesigned for 2020 with improvements to the interior and new exterior styling, the Versa starts at just under $15K and is still under $20K fully loaded.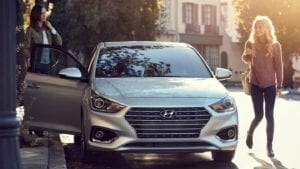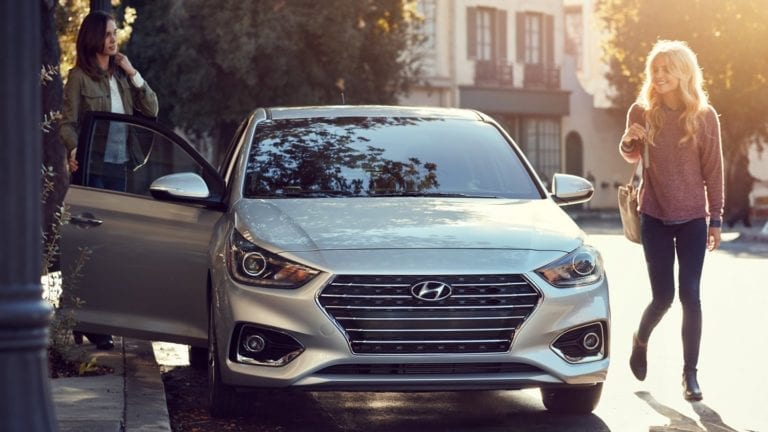 Hyundai Accent
Also available in hatchback and sedan body styles for model years 2017-2019, the Hyundai Accent is an excellent choice for anyone looking for a quick and comfortable ride in a small package.
The front-wheel drive Accent is available in base SE and Value Edition trims in the sedan and SE and Sport for the hatchback. Both include a 137-hp 1.6L four-cylinder a six-speed manual transmission is standard (automatic is an option too).
Multiple storage areas help to make the Accent an efficient vessel on wheels.
If the Accent caught your eye, check out the standard features on 2017-2019 models: six-speaker audio system, tilt-adjustable steering wheel, sliding center armrest, and cabin air filtration. For a brand-new 2020 model, the Accent can be had with all of the niceties like a sunroof and heated seats for a squeak under $20K.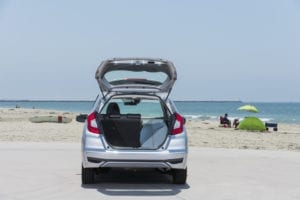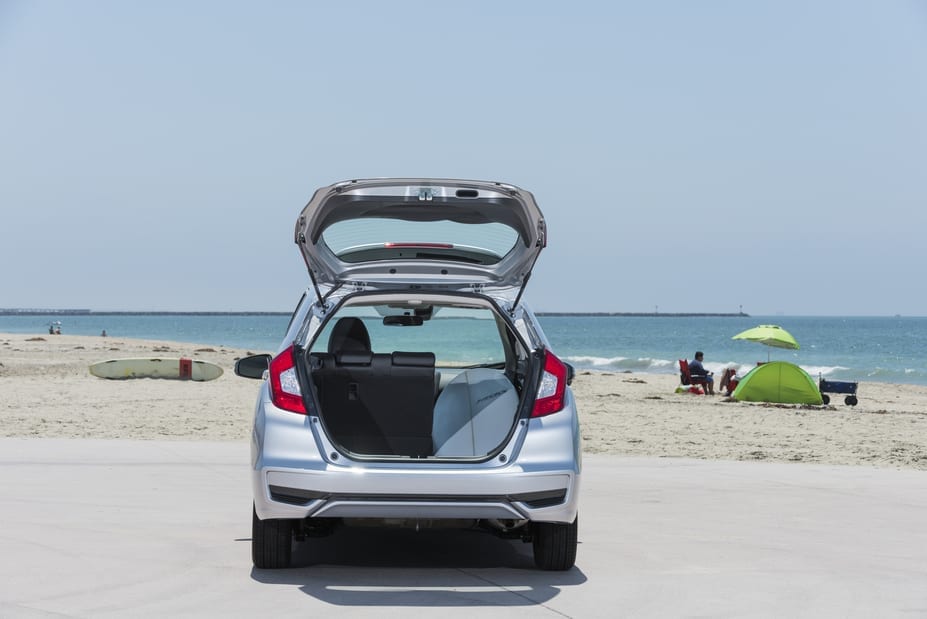 Honda Fit
Honda's subcompact Fit is a strong contender for your attention (and for the attention of your teen driver.)
The adaptable 60/40 split "Magic Seat" can be configured in a variety of ways; for instance, all of the seats fold down to accommodate a bicycle. Or the back seat can be flipped up and all kinds of stuff can be hauled from one place to another (great for college kids).
The driver can even remove the front headrest and angle the front seat all the way down for a wonderful resting spot for when they need to stop and take a break on their way home to see you.
Is the Honda Fit a match for you? Take a look at these standard features on 2017-2019 models: multi-angle rearview camera, tire pressure monitoring system, 160-watt audio system with four speakers, and five-inch color LCD screen.
For 2020, the EX trim will take you over the $20K line but with a host of active safety features, it's worth a slight splurge.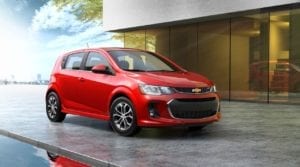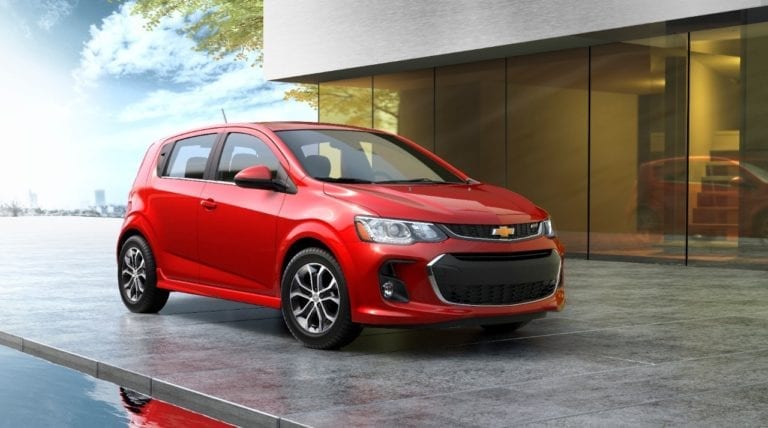 Chevrolet Sonic
The first thing to know about 2017-2019 Chevrolet Sonics is that they are available in 10 colors, including a bright Orange Burst Metallic, sleek Silver Ice Metallic, and fiery Red Hot. A peppy turbocharged 1.4L engine is standard on all 2019 models, giving you plenty of power to propel the Sonic.
The Sonic even offers two stacked glove boxes to store sunglasses, gum, tire pressure gauge, nail file, and more.
For 2017-2019 Chevrolet Sonics, these features and more are standard: Apple CarPlay and Android Auto, seven-inch touchscreen, hill start assist, and rear vision camera.
A base-level Sonic in the 2020 model costs almost $17K, but we'd recommend the mid-level trim or higher for creature comforts like power windows.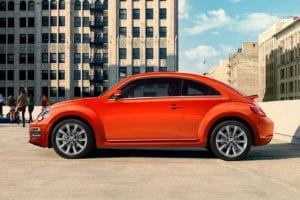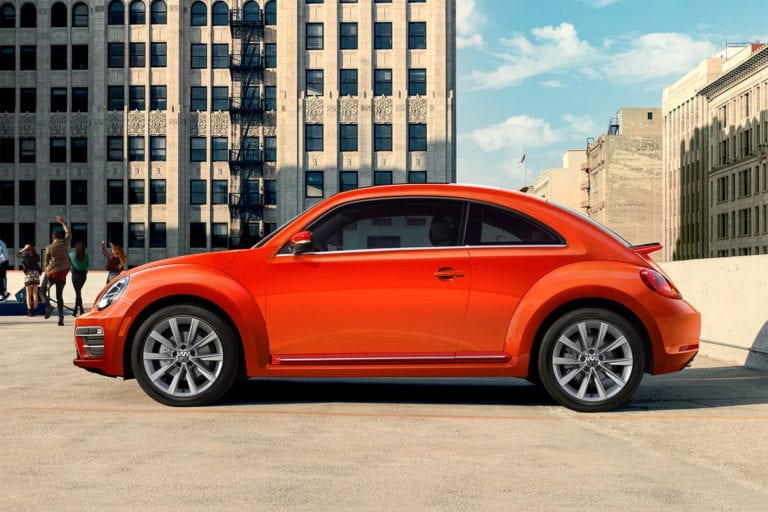 Volkswagen Beetle
The charming and iconic Volkswagen Beetle is a small car that feels cavernous on the inside, with a rounded design that increases head room substantially. It has performance in spades, too: model year 2017 includes a 170-hp turbocharged 1.8L four-cylinder engine for all seven trims but the R-line, which has a 174-hp 2.0L engine.
The larger engine is standard on all 2018 and 2019 Beetles.
All 2017-2019 Volkswagen Beetles include a five-inch touchscreen, rearview camera, three-spoke, leather-wrapped, multi-function steering wheel, and cruise control. If you (or your teen driver) have your heart set on a Beetle, look for one with low miles and you'll find options under the $20K threshold.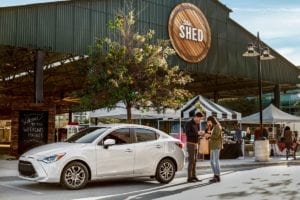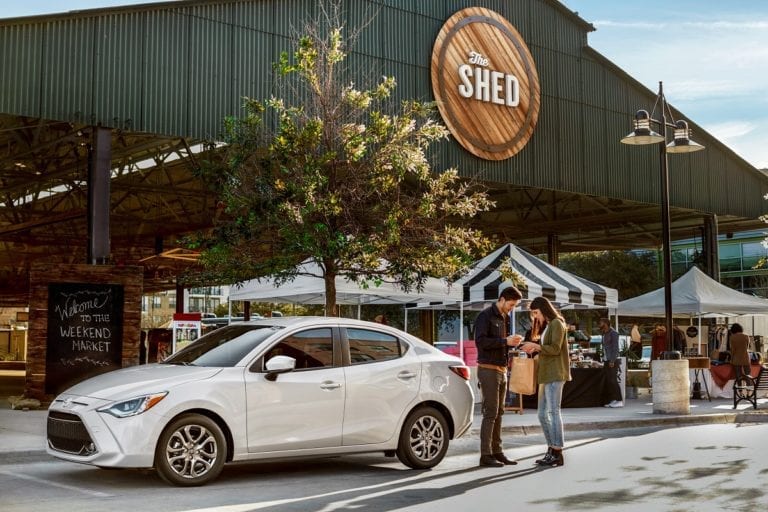 Toyota Yaris
While the Yaris is in its last model year in 2020, there are still plenty of great used and new vehicles to be had.
This subcompact has been popular for a few reasons, including stellar gas mileage. Notably, it earned the highest score in all crashworthiness measures in tests conducted by the Insurance Institute for Highway Safety (IIHS).
Who needs a giant SUV when you can save time and money at the pump and get a great safety rating?
For under $20,000, a 2019 Yaris includes forward collision warning; rearview camera; power locks, mirrors, windows; cruise control; air conditioning; Bluetooth, two USB ports, and more. Even fully loaded, a 2020 Yaris is under $19K and the fuel economy will prove itself pretty quickly.
***
Not sure which vehicle you need? Contact me with questions (kristin@drivemodeshow.com) and I'll steer you (pun intended) in the right direction.