As a parent, one of the most frightening things to me is the thought of a malicious stranger gaining access to my kids.
When I was growing up in the early 80s, it was the mustache man in the white van we all had to be aware of. But in this tech-savvy saturated world, we now have to worry about monsters coming through our own devices.
Take the story of one TikTok mom who caught her toddler on her Ring camera explaining that a man keeps him up at night trying to offer him ice cream.
Yeah. That's some creepy sh*t.
In a TikTok post that has freaked out 23.3 million people, Fran Chelle (@franchelle) shows her Ring footage of her family hanging out in her son's bedroom.
Mom appears to be reading in the corner, the family dog is hanging out in his own bed, and dad is on the floor playing with their toddler son.
Suddenly, the child starts jumping up and down and says, "Daddy! Daddy! Look! Oh no!" Then the boy asks, "What happened?"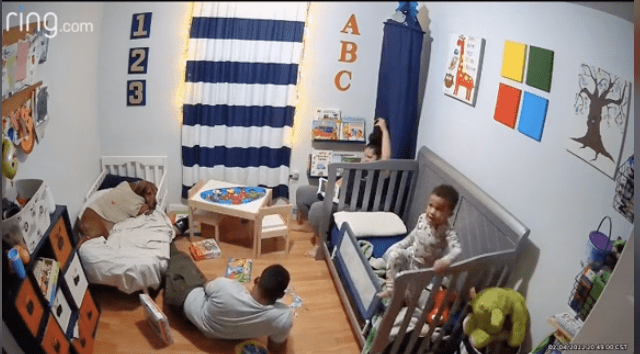 The audio is very difficult to hear, but the child tells his parents that he hears a man talking to him.
Some folks in the comments say that they hear a man say the word "sleepy" at the 0:05 mark, but after listening to the video more than a dozen times, I did not hear that.
One commenter Lilo Masina wrote, "OMG it says sleepy at the 5-second mark oh heck no," promoting a thread of 136 responses all debating if the man's voice is actually there.

Check it out for yourself here and see if you can hear it.
Regardless of whether or not anyone can hear a man say "sleepy," others were quick to point out how important it is to listen to small children, especially when safety is an issue.
Usser7862180770504 wrote, "please listen to the baby! Babies don't lie. trust and believe what the baby is saying."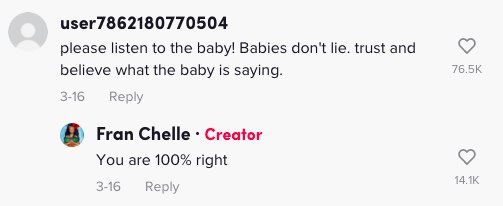 In a follow-up video, @franchelle0 posts another Ring footage that shows her son speaking in Spanish with his dad.
In that video that has been viewed 16.3 million times, the boy tells his dad that the man in the Ring camera tells him he wants ice cream.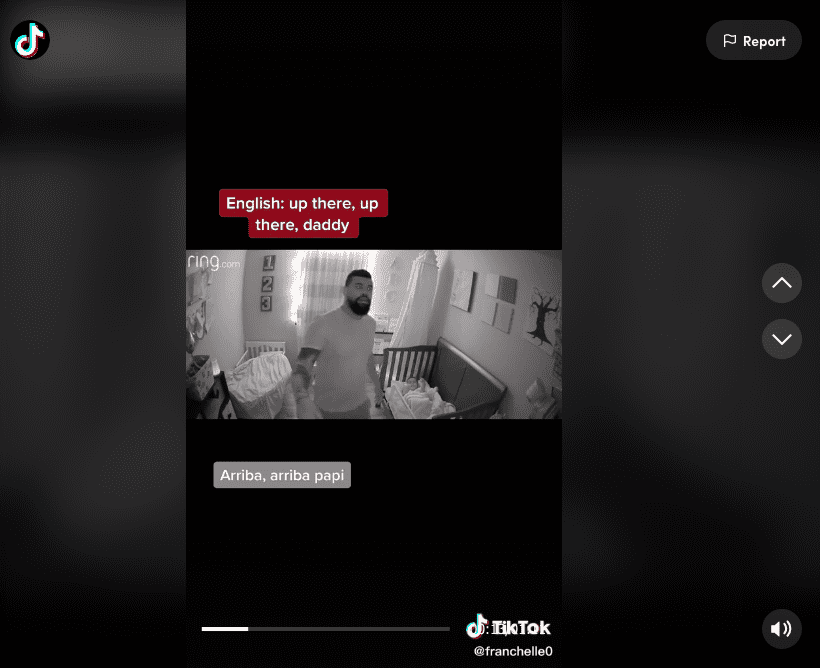 Here is the exchange between the boy and his parents, according to the video caption translation from Spanish to English.
Boy: "Up there, up there, daddy!"
Dad: "This one? You don't want it? Why?"
Some back and forth we don't understand.
Dad: "Babe, Junior is saying the camera is talking to him at night."
The mother (@franchelle0) and the family dog appear in the video.
Mom: "This [is bothering] you? What is it saying?"
Boy: "It's saying (incomprehensible) I want ice cream. Saying I want ice cream."
Dad: "And it must be true because he said that before."
The mom continues talking to her son, but that is very difficult to hear and understand.
Finally, she asks her son if the voice is "a girl or a boy" and he responds, "boy."
The unnerving incident proves once again that security cameras connected to WiFi are easily hacked.
Back in 2019, we reported on a mother from Tennessee who caught a hacker talking to her 8-year-old daughter through their Ring camera.
In that chilling video, you can hear the 8-year-old girl asking, "Who is that?" and a male voice responding, "I'm your best friend, I'm Santa Claus!" at which point the girl screams for her mother.
The voice then says, "I'm Santa Claus, don't you want to be my best friend?"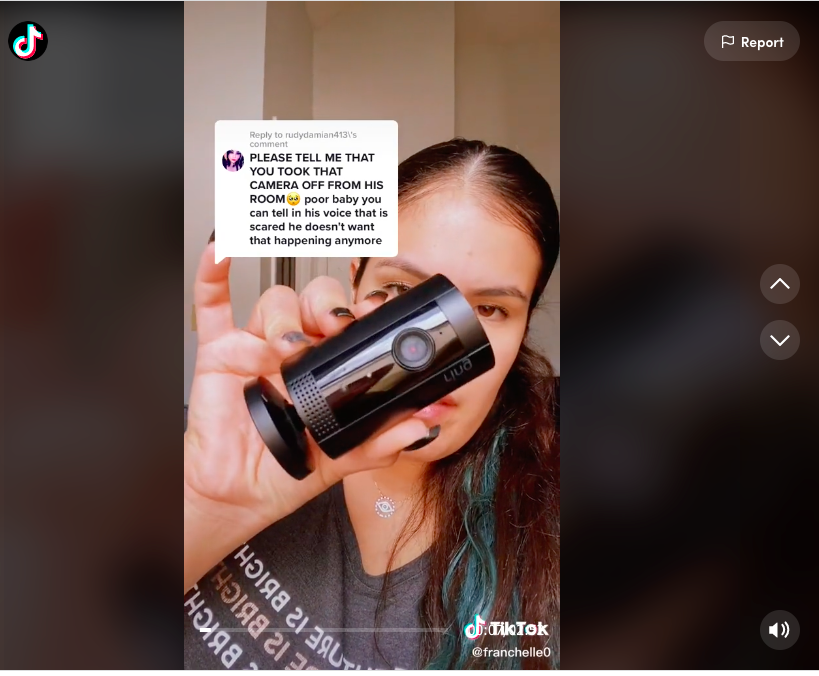 In a follow-up video, @franchelle0 says that she took her Ring camera out of her son's room.
She also received an email from the Ring company, which is shared with her followers. The email, shown in the background of the video, reads:
"Hi Neighbor, In an effort to ensure that your concern is addressed appropriately, we have escalated this matter for review.

Our team will be reaching out soon. You should receive a response in three business days. We want to assure you that we take all of our Neighbors' concerns very seriously.

If you need additional assistance, please feel free to reply to this email and I or a member of my team will assist you. Thank you again for contacting Ring."
@franchelle0 says that the company called her the next day and said that they couldn't find any suspicious activity in her account.
However, commentators took issue with Ring over this.
Some suggested that hackers are getting through her IP address and that she either change her Wi-Fi password or use a solution that doesn't require Wi-fi at all.
Others felt fired up and aired their grievance with Ring directly in the comments.
Bright Gonzales wrote, "@Ring just lost a customer! All these companies exposed for having background agendas, no ma'am no sir! I'm out!"

T wrote, "This is scary — @Ring should take responsibility."

And Noor Sidhu wrote, "@Ring all of these stories and you guys cant get right?"

The saga may continue for @franchelle0 who is still posting follow-up videos as she tries to find a resolution to the scary issue of a potential security breach in her home through her Ring camera.
You can follow her on TikTok @franchelle0 to watch more.