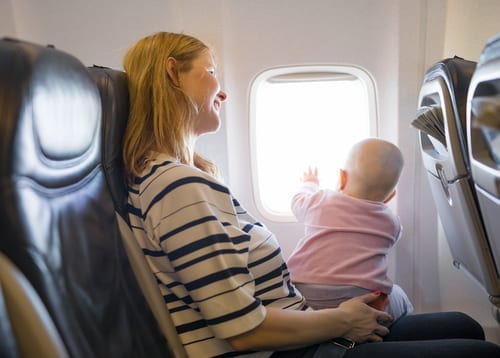 From professional photographers to mommy bloggers, it seems like everyone is traveling with their babies in an effortless fashion. Luckily, these savvy parents have openly share their travel tips and guide parents towards stress-reducing products and techniques. When you integrate the current tips and trends into your travel plans, you and your family can enjoy a seamless journey to your destination. Here are some of the hottest tips for traveling with a baby.
Entertainment
When you plan for your travel, think about the ways in which you can keep them entertained. Pack their favorite toys that are easy to carry so you can pull them out at a moment's notice. Also bring books that you and your baby can read together, which will help pass the time and pacify their behavior. If your baby can eat solid food, make sure you have packed snacks for them. Snacks won't only keep them occupied, but will also help steady their blood sugar level and lessen the chance of a tantrum or any kind of upset.
Also make sure to take breaks from sitting down; if you're on a plane, walk around with your little one, carrying them through the aisles. The brief moments of movement will make them feel less restless. If you aren't anti-screen, your baby could enjoy some show apps on your phone as a form of entertainment. "Dave and Ava" is a nursery rhyme show on YouTube that will keep your baby engaged and in a happy mood.
Planning and Scheduling
When you schedule your flight or car time, take your baby's nap schedule into consideration. Most babies will nap on a plane if you can make it feel like their usual routine. This could include reading them a book, and tucking them in with their blanket. Most flights are relatively quiet, however, you could end up next to passengers that are loud. Avoid this potential situation and bring sound-cancelling headphones that will help your bub stay in slumber.
Another thing to plan ahead for is your seating arrangement on your flight. If you have a child who is restless and needs frequent movement, book an aisle seat. If you have an infant, the best place to have them fastened in is near the window and in the front of the plane. The back of the plane is often noisiest, so the front will offer a more serene environment for your baby's slumber.
Equipment
When you travel with a baby, you have to carry them around with ease. Choose equipment that will help you easily cart your baby toward your destinations and not take up too much space. Beth Kirby, a mom who founded the blog Local Milk, recommends you ditch the stroller and instead wear a baby carrier. The baby will enjoy being close to you and you won't have to worry about checking-in a stroller at the airport or hauling it to your various locations. Some babies will even nap in the carrier, which makes it convenient for you to be out and about at restaurants, museums or shopping.
One larger item you should bring is a bassinet. A bassinet is fairly compact and is an easy-to-transport bed for your little one. Not all hotels offer bassinets, so it is important that you avoid this problem and simply bring your own. Don't travel with too many baby items — keep it minimal. Keep the quantity of diapers and toys minimal, as you can always purchase diapers at your destinations and babies can often find joy out of everyday items to play with as toys.
With the right planning and equipment, you and your baby can travel without any major hiccups. These tips will guide you toward some best practices, but ultimately it is about finding out what works best for you and your bub.