If you're slogging on through day 40 something of the pandemic and if you're beginning to feel like you've run out of ideas to keep your kids happy and busy then check this out.
Muggles everywhere are getting a rare treat thanks to J.K. Rowling and her Wizarding World website.
Daniel Radcliffe, and other celebrities, are taking turns reading chapters from Harry Potter and the Sorcerers Stone through a new project called Harry Potter at Home.
YES! Literally, Harry himself will read to you with a simple click of a play button. I mean your kids. I mean…whatever, we adults get to stan too.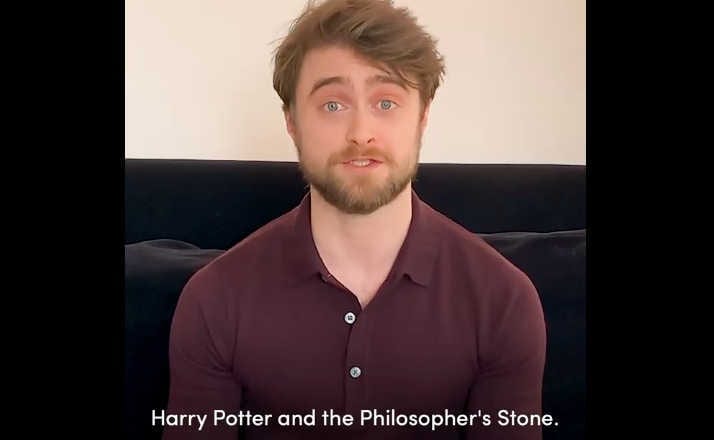 Harry Potter at Home is how the Wizarding World is trying to help Muggles stay home, stay safe, and stay engaged with their favorite books and characters through games, puzzles, quizzes, videos, and tons of other features.
But back to the read-aloud.
Daniel Radcliffe spends 25 minutes reading the first chapter of The Sorcerers Stone but he's not alone.
Several other celebs have lined up to read to you – I mean your kids as well including, Stephen Fry, David Beckham, Dakota Fanning, Claudia Kim, Noma Dumezweni, and Eddie Redmayne.
More celebs will be announced through the Harry Potter at Home website.
Each week a new video will be posted to the website where fans can sit back and listen to their fav story read by a different famous voice.
If video streaming isn't possible at your house (internet is wonky for some of us!) then you can listen to the stars reading chapters on Spotify and Spotify Kids.
To get access to all of the videos plus all of the amazing interactive games and quizzes, head over to the Wizarding World and get registered.
As you watch the video and listen to the story being read aloud, you might notice some fun drawings pop up from time to time.
Those were done by Potter fans and you and your kids can submit your own drawings to be featured on future chapters that celebs are preparing to read aloud for now.
To submit your artwork, check out this submission page here.
If you haven't been sorted by the Sorting Hat or found your Patronus, then definitely get yourself registered at the Wizarding World.
With schools shut down and parents starting to lose it from all the antsy energy on top of all the responsibilities, Harry Potter at Home is a brilliant way to get kids and families reading, creating, and tapping into their imaginations to help get through this wildest of times.
Remember, stay safe, stay home, and keep the magic alive.
Harry Potter at Home | Wizarding World

Surprise! We've got a treat for you… From today, amazing friends of the Wizarding World are going to take turns reading Harry Potter book one for Harry Potter At HomeAnd to start us off with Chapter One: 'The Boy Who Lived' we think you'll agree we have the perfect narrator… ?? That's not all! Over the coming weeks, we're going to be joined by other familiar faces reading all 17 chapters of Philosopher's/Sorcerer's Stone.Chapter One: http://wizarding.world/6001178vH

Posted by Wizarding World on Tuesday, May 5, 2020