Maybe it's our fault as a nation. Maybe our seemingly insatiable appetite for reality TV and celebrities has led us to this very dark place.
We couldn't get enough of poking into the nooks & crannies of celebrities' lives, & pouring over every salacious tidbit.
But now, my friends, we pay the price for our indulgences, because celebrities like Tyrese Gibson apparently think it's cool to poke into his girlfriend's nooks & crannies on livestream social media.
Tyrese Gibson's girlfriend recently filmed him shaving her pubes on Instagram Live, and now we have to burn down the Internet because there's no coming back from this one.
Tyrese Gibson has been known for impressive plethora of accomplishments: he's had success as a rapper, actor, songwriter, model, & DJ.
View this post on Instagram

But after Sunday's weirdly sexual shenanigans, he'll now likely be known as the cautionary crotch tale of what not to do with your partner on Instagram Live.
(I know, I know- so.many.questions, right???)
Tyrese & his girlfriend Zelie Timothy have been dating for a few months now, getting together shortly after Gibson's divorce from Samantha Lee in December 2020.
These two are clearly a hot & heavy couple, and followers of Zelie Timothy's Instagram account were treated to a live video of Tyrese heading down into Zelie's hinterlands to do some… bushwacking?
For some unfathomable reason, Zelie decided to grab her cam to conduct an impromptu livestream of Tyrese shaving her pubes that she then posted to her Instagram Stories.
Viewers were unexpectedly treated to (or terrified by, depending on your point of view) a shot of Zelie lying spread-eagled, legs dangling in the air, as Tyrese shaved her snatch.
On camera. For you, people. For all of us.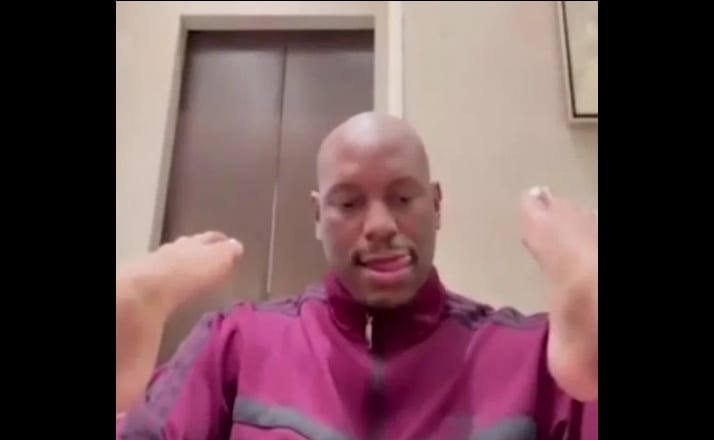 As if the image isn't awkward enough, Zelie captioned the interaction with:
"I will never let go of my King. But does your man shave you though?"
No, Zelie, my man does not shave me.
I've seen his "skills" with a razor on his own occasionally bloodied face, & there's no way I'm trusting him with a sharp weapon anywhere near my tender bits.
But even if that's your thing.. hey, that's cool. Let your guy mow your lady garden, but for the love of all things holy, please don't share it on mainstream social media.
Tyrese is apparently an artist when it comes to beautifying the bikini line; prior to running the razor, he explains to Zelie that he's:
going to put the creamer on it first, then mix it with some oil.
*jams fingers in ears, & screeches, "LALALALA" to block out the mental image of Tyrese's process*
Ick. Keep your cream-er to yourself, Tyrese. And off our Instagram Stories feed.
Tyrese calls his girlfriend beautiful, and Zelie responds with:
No, what's beautiful is your man hands. I know he's supposed to be shaving, but I'm thinking about something else.
In case this interaction isn't already uncomfortable intimate for your average social media user, Zelie makes it clear that she's talking about SEX, DAMMIT!
Instagram Stories typically expire unless the account owner intentionally saves them, and Zelie did not save this cringeworthy clip. But instead of fading into the ether, Tyrese's shaving skills live on.
Once word spread about this bizarre posting, social media users scrambled to screenshot it.
In notorious Internet fashion, sharing is caring. And based on the fact that this clip has gone viral, apparently the Internet cares- a LOT.
Here's the clip in full… watch at your own discretion. If you dare.
— Big Brother Weave Herstorian (@TheBBWH) April 26, 2021
Although Zelie Timothy is known for posting racier content on her OnlyFans page, the vast majority of social media users are still mystified as to why Tyrese was cool with his sexy shaving skills being shared so publicly:
Tyrese shaving his girl vagina isn't the issue. doing it on LIVE is odd?

— ????. (@_slimarella_) April 26, 2021
Agreed!
I'm never going find out why Tyrese is trending on Twitter again, from now on I'll just assume it's none of my business. pic.twitter.com/PBE36Ok9LP

— Sean (@distinctxdesign) April 26, 2021
Same, dude. SAME.
It's so crazy to me how Tyrese went from vowing to win his ex-wife back to having a girlfriend who calls him her king, all in the span of a week pic.twitter.com/Z4Bcz39QhQ

— Helmet of Salvation. Breastplate of Righteousness (@AshleyShyMiller) April 26, 2021
This is likely going to put a crimp in the whole, "maybe my ex-wife & I can reconcile" thing.
Tyrese…..but why? pic.twitter.com/LINwsgQG6i

— Tiffany Louisville (@TLo_allidoiswin) April 26, 2021
Why is Tyrese shaving his woman's v*g*na on THE INTERNET pic.twitter.com/InkBsTorEa

— The Next Supreme (@DoeOrDeer) April 26, 2021
Seriously, Tyrese. Inquiring minds want to know.
While one can only guess why this couple thought it was appropriate to share this intimate moment with the world, maybe it's just a sign of the times. The pandemic has been a long, strange trip, & anything goes.
Apparently.
So, we've reached the "Tyrese shaving his girlfriend's coochie on Instagram live" part of quarantine. Nice and normal. https://t.co/DJty1Nm3ni

— ?? safy (@SafyHallanFarah) April 26, 2021
Two key lessons can be gleaned from Tyrese's awkward over-sharing. 1: Late-night Instagram can quickly lead to a hairy viewing experience, and 2: for God's sake, Tyrese, skip the shave & wax that woman!
Why is there a video of Tyrese giving a woman ingrown hairs on my timeline

— Comorienne ?? (@_ShamGod) April 26, 2021