Mention Victoria's Secret and most people will immediately think of sexy lingerie and supermodel Angels.
However, times they are a changin'. And Victoria's Secret is trying to change with them.
The underwear fashion brand just announced the debut of Love Cloud, a new collection of bras and panties "centered around all-day comfort." And with it? A lineup of 18 models that are an obvious and welcome departure from the runway models of old.
The campaign features women of varying shapes, sizes, ages, and backgrounds, including Puerto Rican model, Sofía Jirau, who also just so happens to have Down Syndrome.
Thus, making her the first model with Down Syndrome the company has ever featured and marking a historic new milestone.
And all the angels sang "Amen!"
Jirau took to Instagram to announce her news. Alongside a picture of herself debuting the Love Cloud Collection, she wrote in Spanish:
"One day I dreamed of it, I worked on it and today it is a dream come true. I can finally tell you my big secret . . . I am the first Victoria's Secret model with Down syndrome!"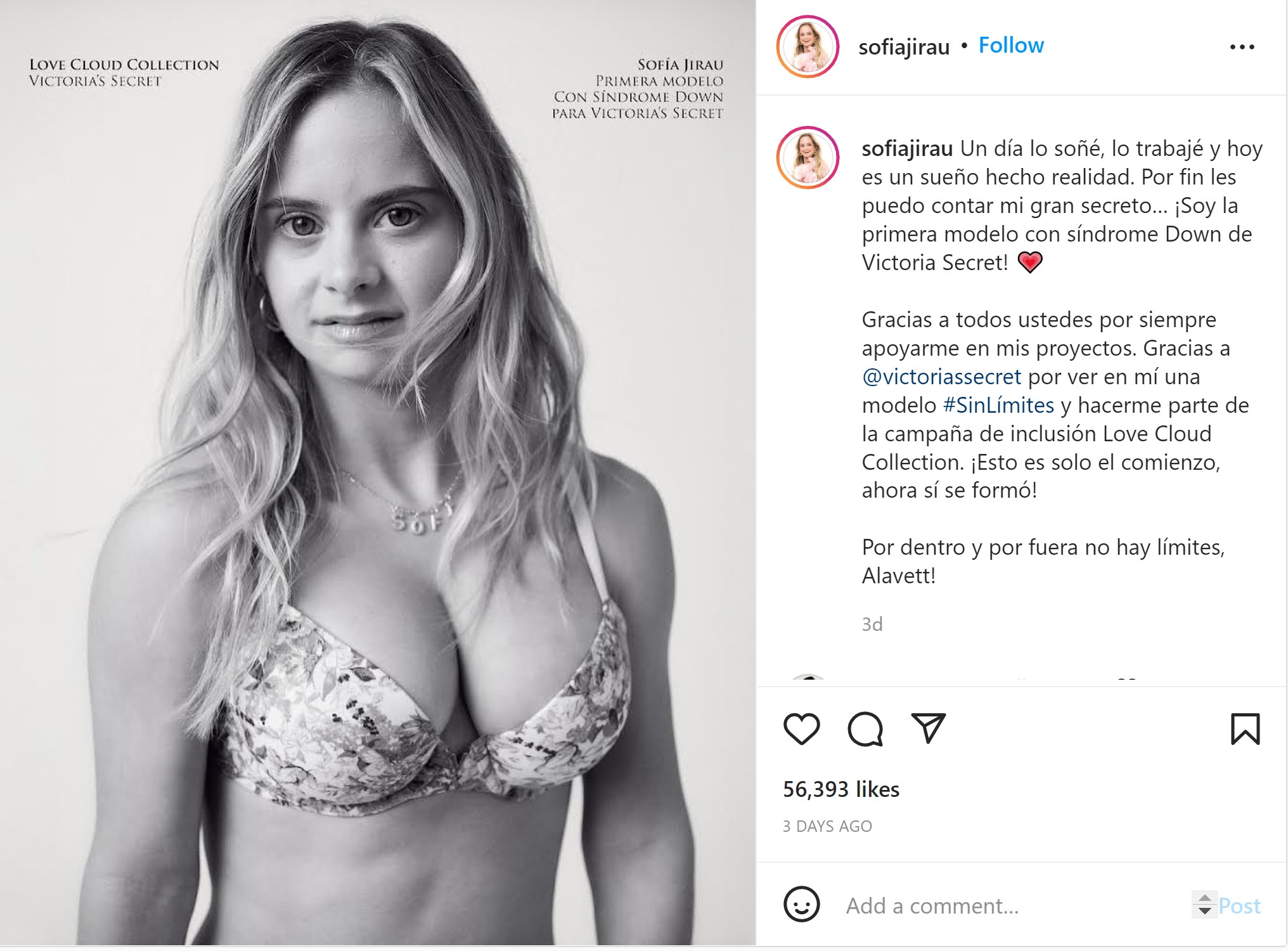 She went on to write:
"Thank you Victoria's Secret for seeing me as a model who has #NoLimits and making me part of the inclusive Love Cloud Collection campaign. Inside and out, there are no limits."
No limits indeed.
Her post has garnered over 56K likes and 2K comments.
This isn't Jirau's first foray into the world of modeling. She started her career in her home country of Puerto Rico in 2019.
In 2020, she walked the runway at New York Fashion Week for designer Marisa Santiago.
In 2021, Jirau launched her own #NoLimitsCampaign to raise awareness about Down Syndrome. It was this campaign that caught the attention of Victoria's Secret execs.
Down Syndrome is the most common chromosomal condition diagnosed in the United States.
The National Down Syndrome Society reports that:
"Approximately one in every 700 babies in the United States is born with Down syndrome – about 6,000 each year."
And while society may deem that Down Syndrome poses limitations, clearly Jirau isn't buying it.
In addition to modeling, she also has her own online fashion store, Alavett. The collection includes everything from mugs, to t-shirts, to hats, to accessories.
It's obvious that Jirau isn't planning on living within any limits any time soon.
Jirau's isn't the only story of inclusion and diversity to come out of the Love Cloud Collection though.
Included in the line-up are transgender model, Valentina Sampaio and model and actress Miriam Blanco featuring the forearm crutches she uses for her walking disability.
Additionally, all of the models aren't actually models per se.
There is also pregnant accessories designer Sylvia Buckler, gray-haired artist Maryanne Elizabeth, Nez Perce Tribe-Wildland firefighter Celilo Miles, set medic and pilates professional Jailyn Matthews, and production coordinator Yacine Ndaw.
They are a diverse group of women, celebrating ALL women. Or at least, according to Victoria's Secret, it is.
They call it:
"A first of its kind campaign for the brand, the collection is modeled by eighteen dynamic women, reinforcing Victoria's Secret's commitment to welcoming and celebrating all women."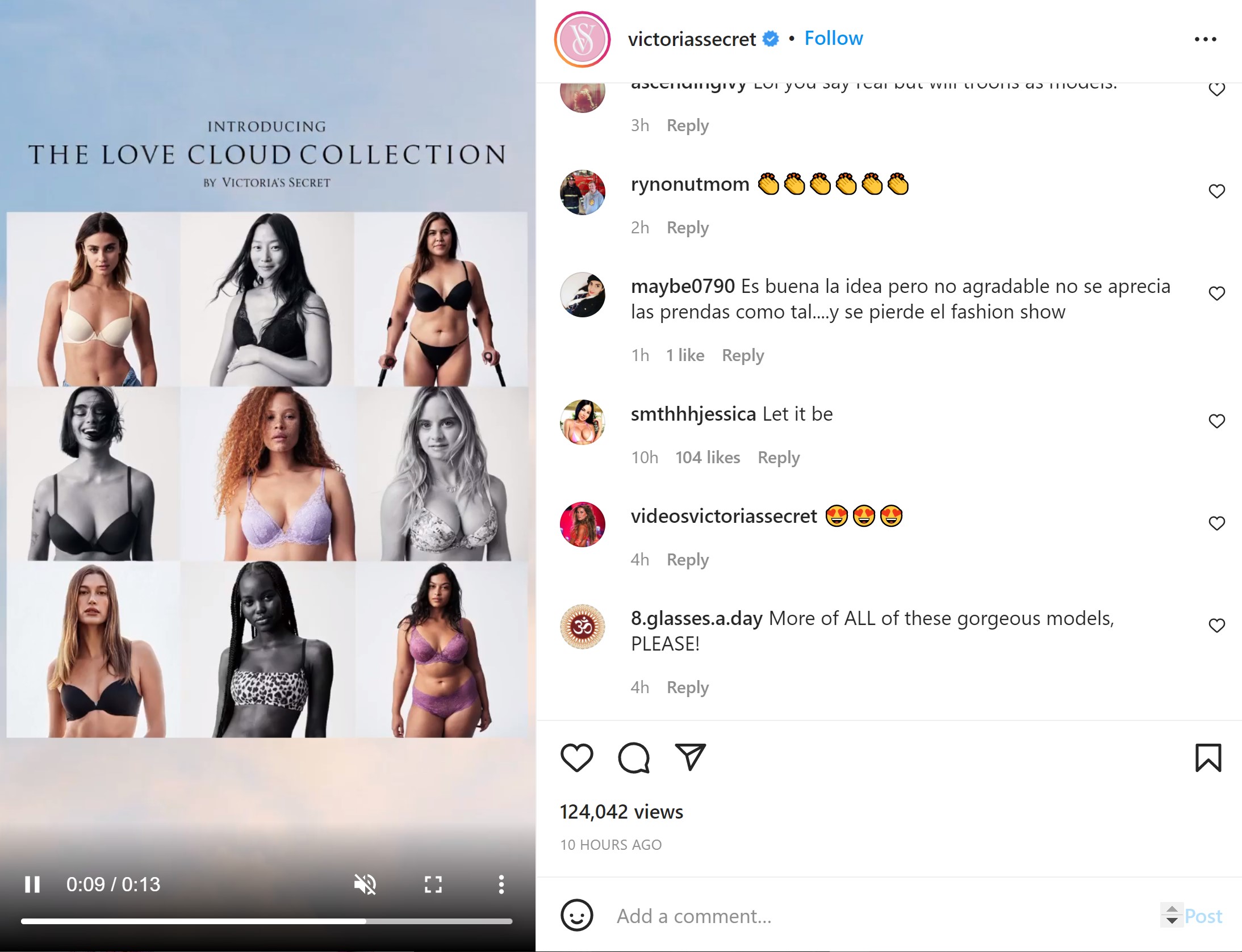 In the Love Cloud Collection press release, Raúl Martinez, Head Creative Director of Victoria's Secret states:
"Love Cloud Collection is a major moment in the brand's evolution. From the cast of incredible women that bring the collection to life, to the incredible inclusive spirit on set, this campaign is an important part of the new Victoria's Secret standard we are creating."
This moment has been a long time coming.
Victoria's Secret has known its fair share of controversy.
For the past couple of years, Victoria's Secret has been on a mission to rebrand. They have actively diversified their models, swapping their signature "Angels" with brand ambassadors more synonymous with inclusivity.
After facing accusations of sexual harassment and abuse by over 100 models in an open letter to VS executives, and fatphobic and transphobic statements made by top execs, the company is trying to wipe its slate clean.
And so far it seems to be working.
The company has revamped stores and done away with the Angels. It is also using plus-sized mannequins for the first time in 44 years.
It appears as though Victoria's Secret is FINALLY embracing the reality of the human existence – we come in all manner of shapes, sizes, colors, and abilities.
And representation? It matters.
Should it have taken this long for Victoria's Secret to get the message that people have been screaming from the rooftops for seemingly forever? No. It shouldn't have.
However, better late than never, I guess.
Will it be enough to convince the masses? Only time will tell. And at least, if we are to take anything away from their newest campaign, it seems that we are finally, finally, moving in the right direction where inclusion is concerned.