The movie 'Frozen' has captured the hearts of kids and adults all over the world. It was one of the first Disney movies to turn the notion of true love completely upside down and inside out and in doing so, became a cultural phenomenon.
It is the highest grossing animated film OF ALL TIME.
And one of its biggest fans? A little girl named Madelyn.
In a video that will melt the frozen cockles of the blackest heart, 3-year-old Madelyn is channeling her inner Elsa and honestly? Idina Menzel better watch out.
Her mother, Kristi Michele posted the video to her Facebook page, captioning it with:
"Madelyn finally got some snow to do her scene."
The one-minute video showcases the young diva in all of her princess glory. And quite frankly? One minute isn't nearly long enough.
In the video, Madelyn re-enacts Elsa's solo performance of "Let It Go" on the North Mountain. And she NAILS IT. Madelyn is not only dressed the part; in her Elsa princess costume, her hair braided, and a tiara on her adorable little head, she IS the part.
And the lightly falling snow? Doesn't hurt either.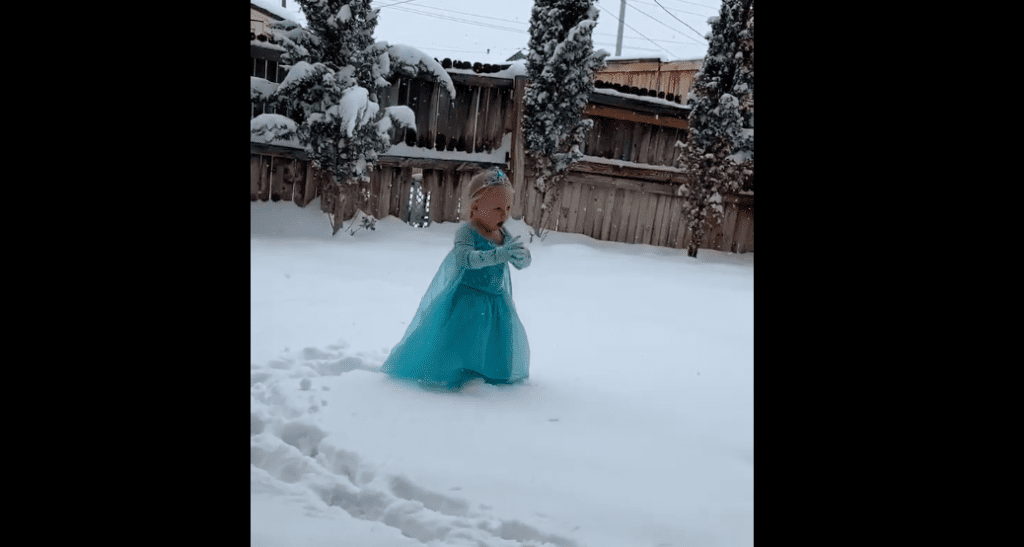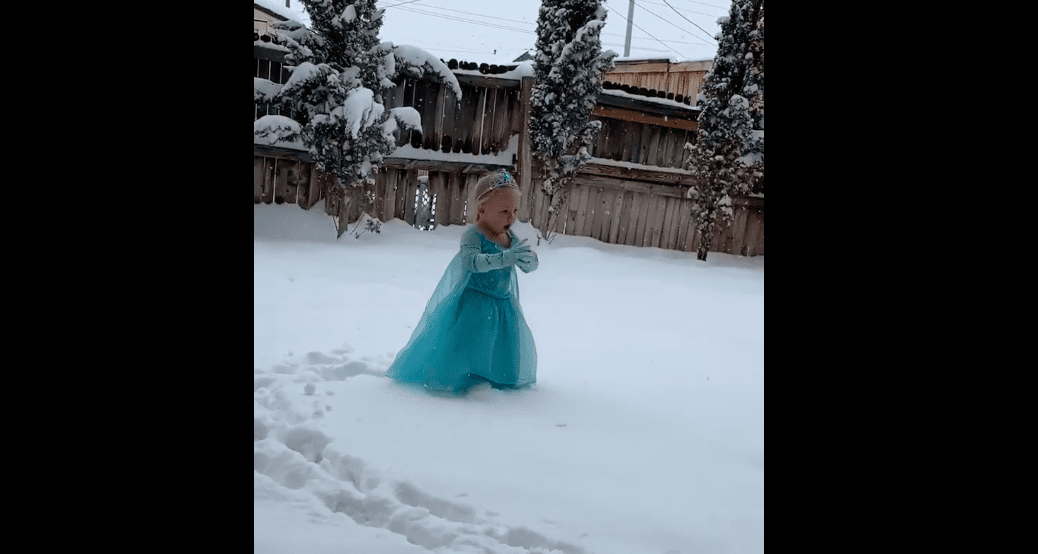 While "Let It Go" plays in the background the toddler gives the performance of a lifetime, and can someone please give this little girl an Oscar?
From her on-point arm gestures, to sweeping the snow in front of her, to singing along with the music track in what can only be described as the most adorable scene, ev-eeeeer, Madelyn gives us all a little glimpse at true magic in action.
As she belts out "Let it go, let it go, can't hold it back anymore!" it is obvious that there is no holding Madelyn back. This is HER moment and she is giving it her all.
Possibly the best part? When Maddie rips off her gloves and flings them to the ground in what can only be described as the best throw down in the history of throw downs.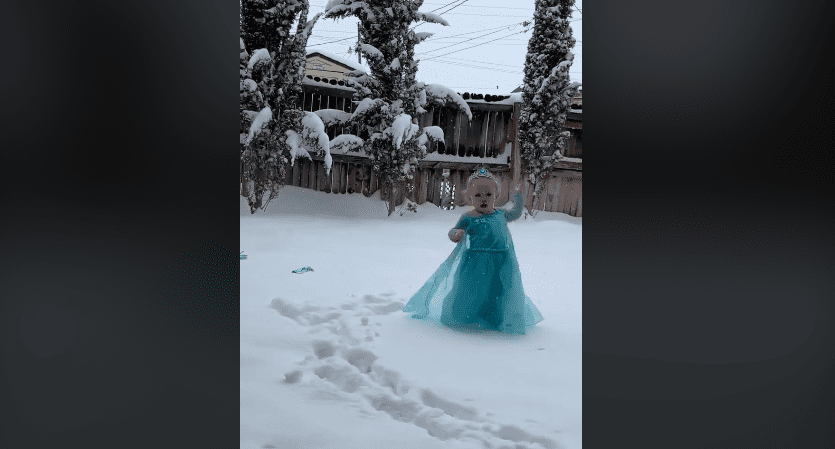 Of course this is closely rivaled by the instrumental interlude when Maddie struts her stuff like no girl has ever strutted before. YOU GO GIRL!
And people are here for it. In just 24 hours the video has gone crazy viral. It has garnered 167K likes, 78K comments, and a whopping 335K shares. It has already been viewed over 12 million times. 12 MILLION.
While the majority of comments are positive, with people saying things like, "Stop omg this is precious," "Adorable!!!" and "OMG…she is amazing!" there are a few who are concerned about Maddie being out in the cold.
Kristi posted a comment to assure people that Madelyn is just fine, stating:
Thanks for all the love for my sweet girl! I'm shocked there's so many views!! And for all the negative ppl it was less than two min and she refused to ruin her costume with a jacket! I warmed my little angel up immediately after.. don't worry lol"

This isn't the first video of Madelyn channeling Elsa that her mother, Kristi Michele, has posted to her Facebook page. She also has a previous one of Maddie in her living room, draped in an Frozen blanket, singing her little heart out.
Clearly practicing for her BIG MOMENT.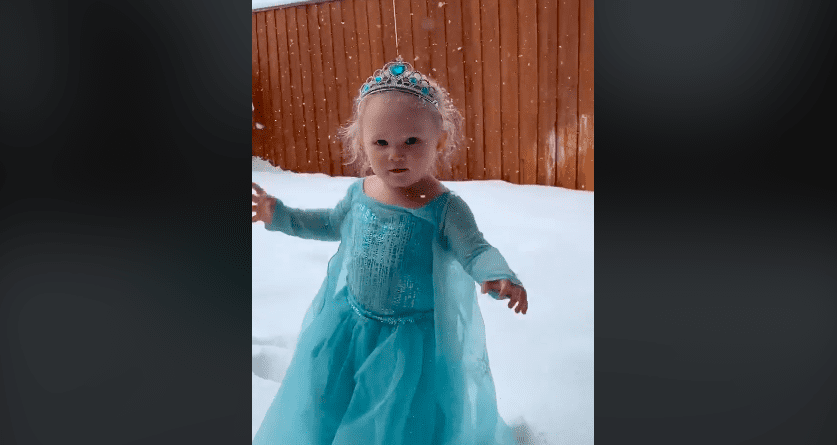 And while Madelyn may be a few years away from making her Broadway debut, look out everyone. Because I have a feeling this little girl is going to take the world by storm one day. In fact, she already has.
Just in case you now have a burning desire to watch Frozen, you're in luck. It is currently streaming on Disney+. And it's hugely popular sequel, Frozen 2, will be released on digital platforms such as iTunes, Vudu, Movies Anywhere, and Google Play on February 11th.
DVD, Blu-ray and 4K UHD physical copies will be available on February 25th.
If that isn't enough, you could always immerse yourself in a whole Frozen experience at Walt Disney World resort in Orlando, Florida. Where you can set sail on a magical boat ride through Arendelle, participate in a Frozen sing-along, meet Anna, Elsa, and Olaf, and enjoy some tasty Frozen-inspired treats.
Or you can just sit back and relax and replay this video of Madelyn over and over again. Because it is here, with one little toddler and her pure love for Frozen, that the real magic happens.
Madelyn finally got some snow to do her scene ?

Posted by Kristi Michele on Wednesday, February 5, 2020