I remember the first time I read The Five Love Languages, I thought to myself, "Seriously, all men are the love language – touch. Why am I wasting my time reading this?"
I stand by that statement. Sure, it was insightful for my own love language, but for my husband? Not so much.
I understand that he may have "other" love languages. Let's be real; however, for all heterosexual men, sex is their primary love language.
Yes, your man may want positive words of affirmation. Yes, your man may want you to hug and kiss him more, but at the end of the day, what he really wants is sex. For an exhausted wife, sex is hard, no pun intended.
Your husband may love it when you rub his back, but he wants it to lead to sex.
Your husband may love it when you cuddle, but he loves cuddles best when they come after sex.
Not every time, but most of the time, he wants these things to lead to sex.
Men have a natural instinct, and that instinct is sex.
This does not mean that they cannot be sensitive. On the contrary, my husband is compassionate and wonderful about sex.
He does not pressure me to have sex at all. He understands my exhaustion. He never pushes sex when he knows I am not feeling it. This does not change the fact that I know he wants it.
Men release stress through sex.
Men connect with you, emotionally and physically, through sex.
Men feel wanted and appreciated through sex.
I know that I, and probably you, can do better about having sex with our husbands.
I know you are exhausted. I am too.
I know those little people you call your children have been pulling at you all day.
I know those children have been asking you a million questions, and you are mentally drained.
I know that if you are overwhelmed with breastfeeding, the last thing you want is to be touched again by someone else.
I know you hit the bed mentally and physically unable to process or do one more thing.
There's the rub, again, no pun intended.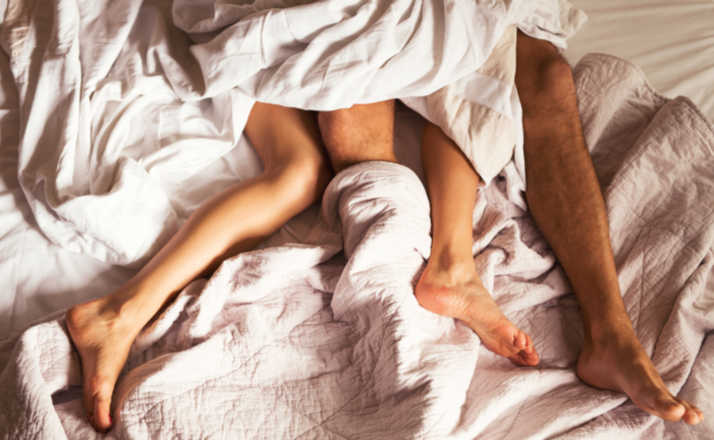 Women need to be mentally and physically ready to have sex. When our mind isn't there, we physically don't get there either.
Men, on the other hand, are ready to go physically, no matter what else they have mentally going on. I realize I am not speaking about all men. Still, if I was at the betting table in Vegas, I'd bet the majority are usually ready for lift-off.
So, that leaves women with a problem. What do we do?
I will tell you what I have done, and that is, I just take off my big girl panties and have sex with my husband. I need to do this more, not less.
Sometimes, I am not 100% into it, but I never regret doing it. EVER.
I may not have an orgasm, but I never regret doing it. EVER.
Even if, after we finished having sex, my mind races back to my to-do-list.
But, I am always happy I had sex with my husband.
I am happy we connected. I am so glad we remembered how we made these babies. I am delighted that he still wants me.
That is so vital, ladies. Your husband wants you, and that is fantastic. So even if you don't want sex, you should still want your husband.
I know that I am lucky because my husband is patient, kind, and never pressures me for sex. Men, if you are reading this, do this, and your wife will have more sex with you.
No woman wants to have sex because she feels obligated, but all women want to have sex when they know they are wanted.
Yes, sometimes I am not there mentally as I am having sex with my husband, but inside I am thrilled that this man still wants me. We all want to feel wanted, it is human nature.
Ladies, have sex with your husband, even if you are not one hundred percent there mentally.
Even if you are exhausted, have sex with your husband. I promise you, when it is over, you will be happy you did it.