Remember the part of the pandemic where we were all hunkered down? When online streaming services made sure we had new content to keep us bonding in the form of Tiger King and Frozen 2?
How we had an option to work remotely so we weren't spending as much on gas driving to and from places of employment?
When we were getting stimulus checks and had an increase in unemployment benefits and our bills were being put on pause because a huge financial fallout was anticipated?
And then remember when three months later everyone went back to work and everybody had a thriving budget?
Yea, me either.
I know this is a sensitive subject; taboo even. For some reason we've been trained not to talk about money
especially
when we lack it.
But here's the deal: not talking about being broke doesn't make anyone less broke.
It just makes them more anxious because they don't know why they are being impacted when everyone else is fine.
No?
Just me?
Regardless, I am still going to say it: the pandemic has made me broke.
It's happening and I dare say it is happening to more middle class families than just mine. I am feeling the financial burden from the fallout of the unpredictable circumstances known as COVID-19.
I find myself saying silent prayers on my strolls to the mailbox that an unexpected check will magically appear and alleviate some of the financial burden that has become all too regular and familiar.
I don't know about you but in the beginning of the pandemic we were okay.
Our stimulus check helped cover unexpected medical bills because aren't there always medical bills, decreased employment hours because everyone had decreased hours, and increased grocery budgets because I don't know about you but my children were insatiable when this thing rolled out.
Then June came. The world decided it was time to reopen; at least where we could.
And the perks of additional unemployment ran out and the big bad bills needed to be paid because forbearances and forgivenesses and delays can only be sustained by billion dollar corporations for so long.
I guess.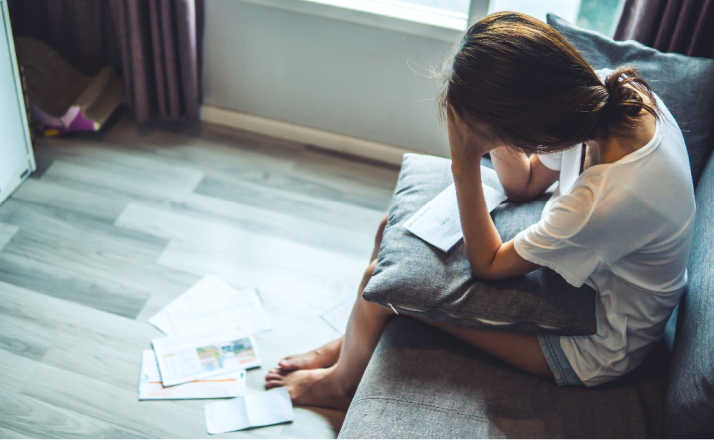 In the midst of this transition it seems that I have landed where I usually do: in the middle.
I am not financially stable enough to maintain a budget during a crisis.
Why?
I went to college and graduate school and took out student loans and credit cards. I took out loans because I have always been middle class. Upon graduation, my debt to income ratio dwindled into the negatives which has left me wondering for all eternity why I didn't skip the college thing.
Not to mention the economic collapse of 2008 left us swiping credit cards on the regular and racking up even more debt because the money just wasn't there. And neither were the jobs.
Sure we could have made different choices like not resort to magnetic strips but we were young and we learned the hard way.
Then there is the whole we have a big family with five kids.
Ok, ok, yes I know that is our fault. Others might point out that we should not have had so many kids because we should have thought about the fact that we would regularly be on the receiving end of economic collapses and pandemics resulting in the loss of fifty percent of our income on multiple occasions.
Now that the newness of COVID-19 has lifted and we have entered the "it's time to get back to reality even though we are still in the throws of a crisis through and through" portion of the pandemic and I have a good enough job where I do not qualify for additional assistance but do not make enough to cover our bills, I find myself being squashed.
Because I am in the middle.
Yes I scrounged together a savings at the beginning of the year when everyone agreed that everyone needed additional financial support.
But, that savings has quickly dwindled due to unexpected personal circumstances because those are still happening even though we are in a pandemic and I would prefer not to enter into more credit card debt because I did begrudgingly learn something from 2008.
I have no idea what the rest of this pandemic will bring to my budget.
I have no idea how I will financially recover when it is over, or if I will. I don't know what lessons I will have learned or if I will have maintained middle class status.
I just don't know.
What I do know is that I will keep scrounging my couches for coins and keep pausing before spending.
If there is one thing I have learned, it's that money doesn't grow on trees.
I know, I'm dishing out ground breaking wisdom and for that you're welcome.
I have also learned that I am hopeful and determined. Not to mention I still have optimism left in my bones and because of that I'll be in my backyard planting the quarter I found in my kid's piggy bank.