If you're an HGTV enthusiast and ever thought to yourself, "Hey, I think I'd really like to try my hand at a fixer-upper while simultaneously fueling my nightmares," welcome home.
A new listing in Milwaukee, WI promises investors and sweat equity seekers a "one-of-a-kind Bayview Home."
(Taxidermists and serial killers may also want to apply).
The 2100 square foot, 3-bedroom, 2.5 bath abode recently went on the market and it is already flagged as a "hot home" with Redfin claiming that it is "expected to sell faster than 99% of nearby homes."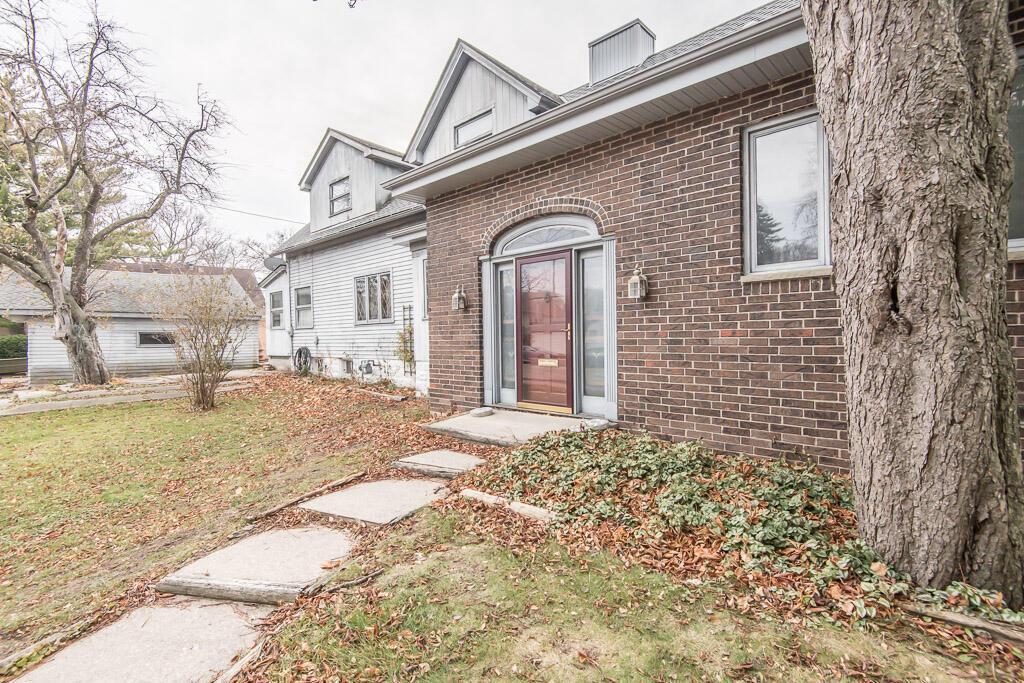 The description starts off promising:
It boasts a large eat in kitchen, formal dining room, Wood burning fireplace, living room with unique wood ceiling and large great room at the front of the house with lots of wildlife to greet you.
So far so goo..wait…wildlife?
When you enter the home it may not be obvious at first. You may not even notice the Canadian Geese perched upon the shelf above the expansive closet.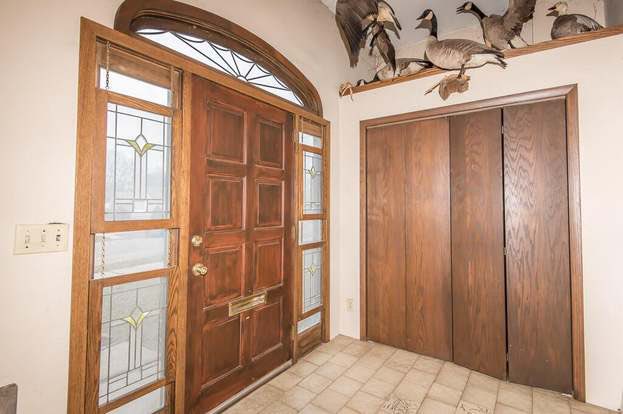 You may be focusing your attention on the original 1900 stained glass windows, the solid wood door, and did I mention the spacious front entry closet?
But at some point, you will need to turn around and then…
…step into my lair.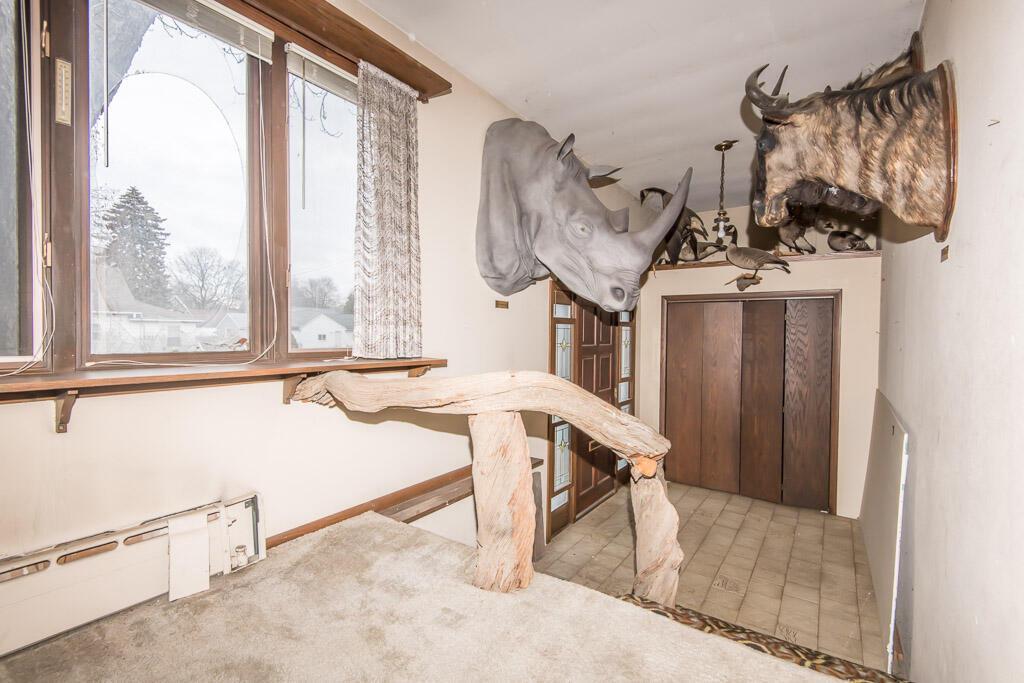 Yes, that is the giant head of a rhino just waiting to concuss you as you attempt to avoid the other two mounted animal heads.
Right about now, you may be thinking that you should just "head" on back out that door and "hightail" it home which apparently isn't so bad after all.
But large eat-in kitchen! Formal dining room! Wood-burning fireplace!
So you ignore the seriously strong serial killer vibes the house is giving off and forge a-head.
Or as Twitter user @evanryt put it, begin your "descent into madness."
Just scrolling through the pictures on this home listing feels like a descent into madness, I can't imagine what it'd be like to actually enter this house https://t.co/AhjcEFLNcR pic.twitter.com/b7Pl391g3y

— Evan Rytlewski (@Evanryt) December 8, 2021
Starting with the "living" room. Or more aptly, to quote Ace Ventura, the "lovely room of death."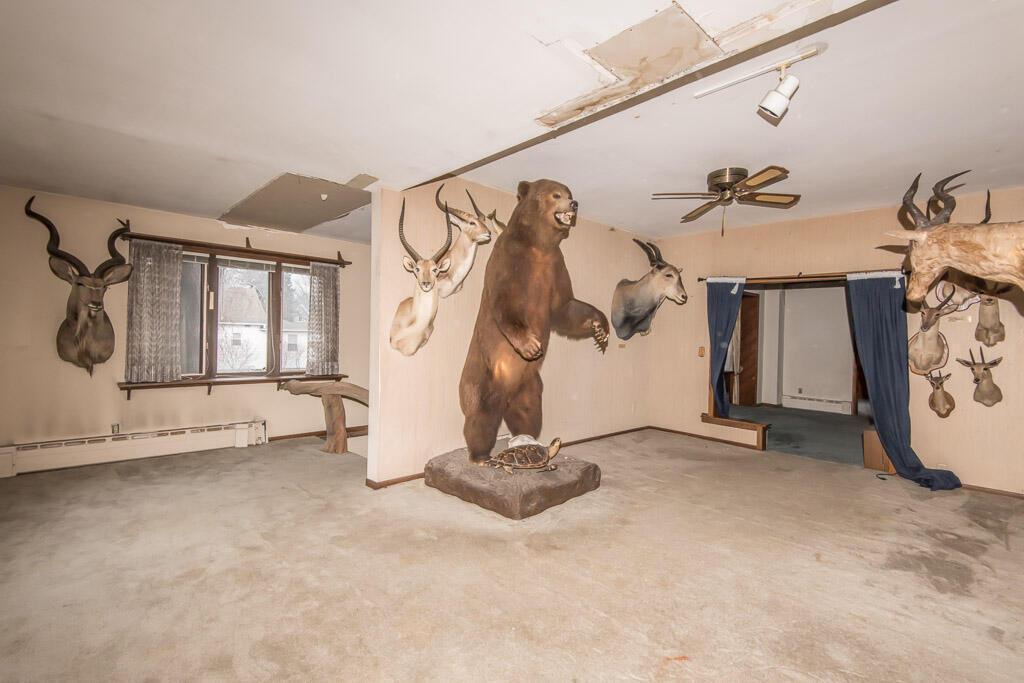 It seems the former owners really loved collecting taxidermy, and, um, ship lapping their walls…with severed heads. (And yes, I see the bear.)
And while you may think the taxidermy is the main attraction, you would be wrong.
The taxidermy seems like it should be the headline and yet it's really only the tip of the iceberg

— Evan Rytlewski (@Evanryt) December 8, 2021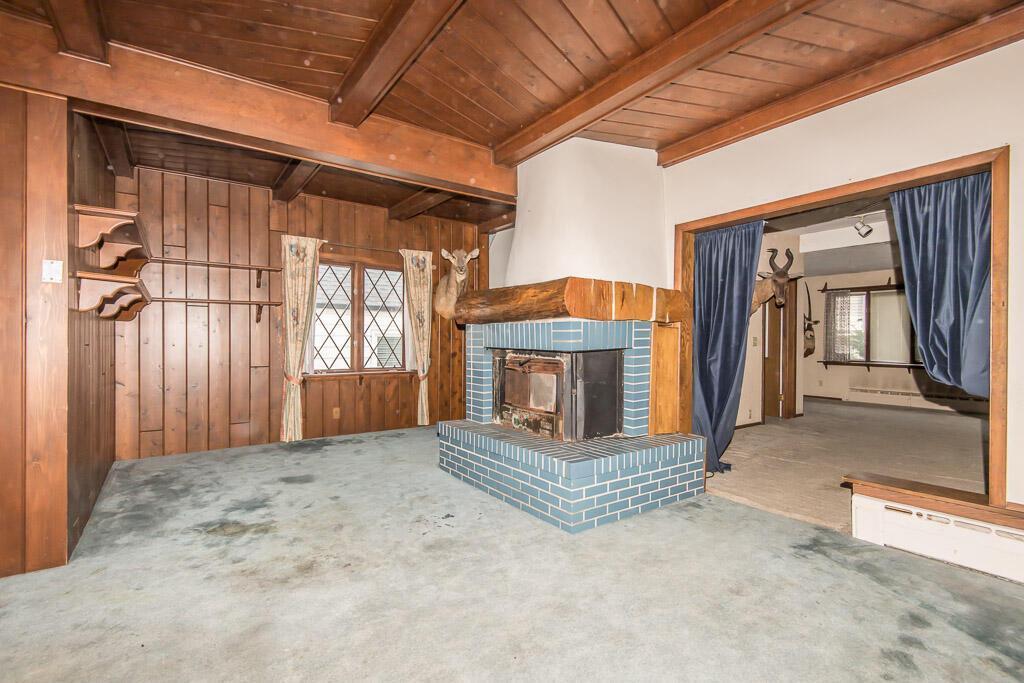 Next up, the wood-burning fireplace. And am I the only wondering, what is happening with that fireplace??
And onto the kitchen…oh look! Stainless steel appliances!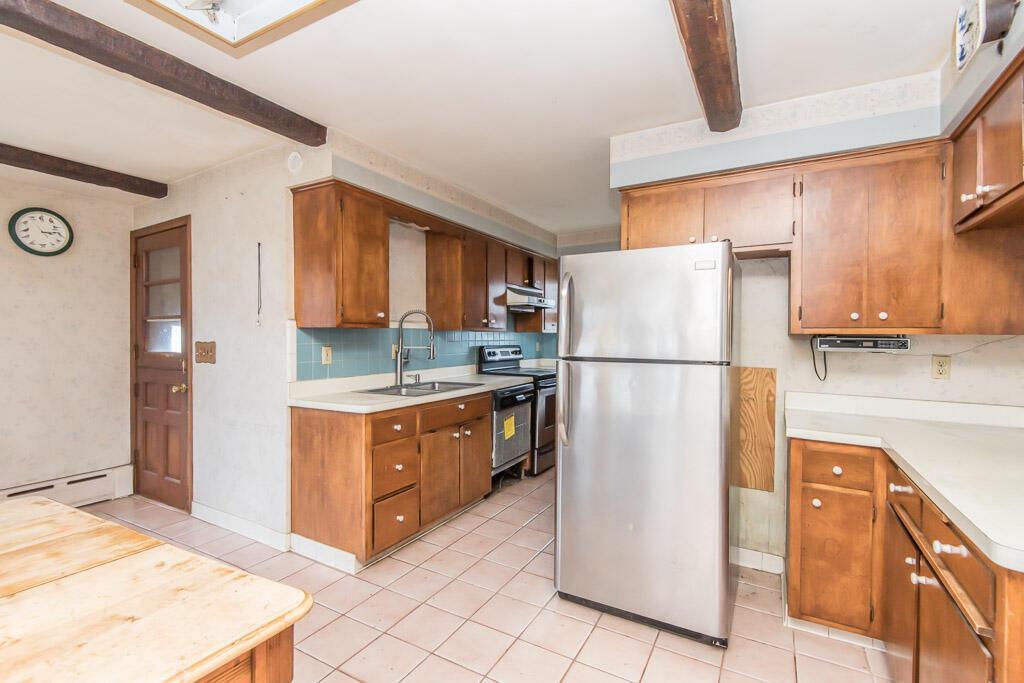 Sure the fridge is weirdly out of place and there's a strange piece of plywood where the body was walled up, probably, but the dishwasher looks brand new. So there's that.
Underrated mystery is why the fridge isn't positioned properly and what's behind the plywood!

— Michael W (@mworringer) December 8, 2021
The description goes on to read:
Upstairs you'll find a large master bedroom with vaulted ceilings. Patio doors exist with opportunity for a balcony. Master bath has a soaking tub, stall shower, double vanity and bidet.
Sounds promising, no? There's a soaking tub, a double vanity, AND his and her toilets. Maybe there's hope for this house of horrors after all. Or maybe not…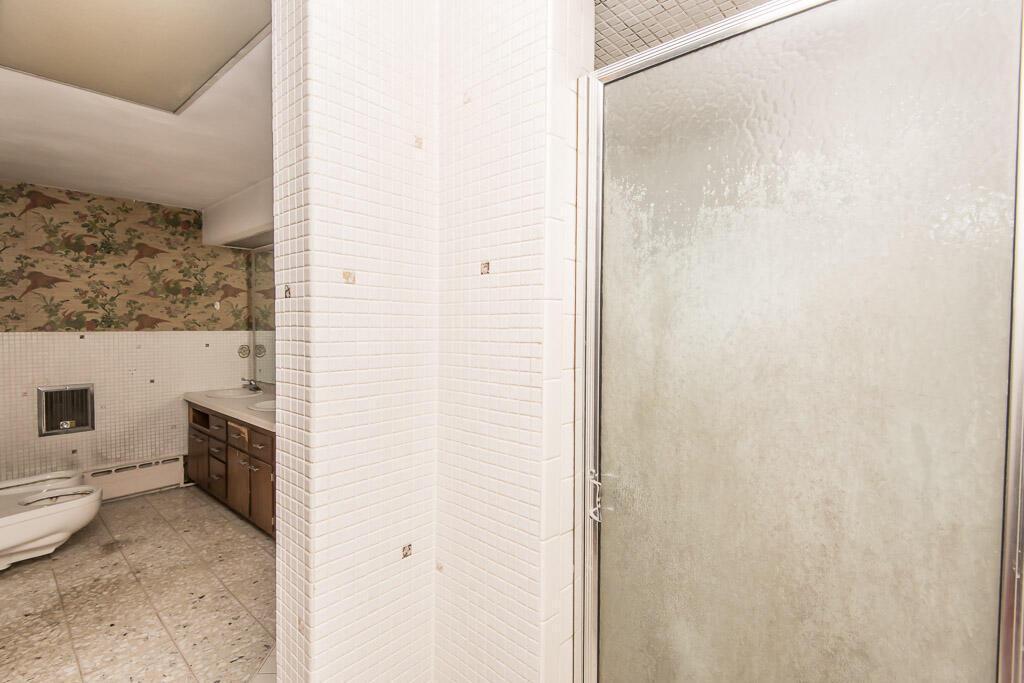 Hello Norman.
Also, the soaker tub.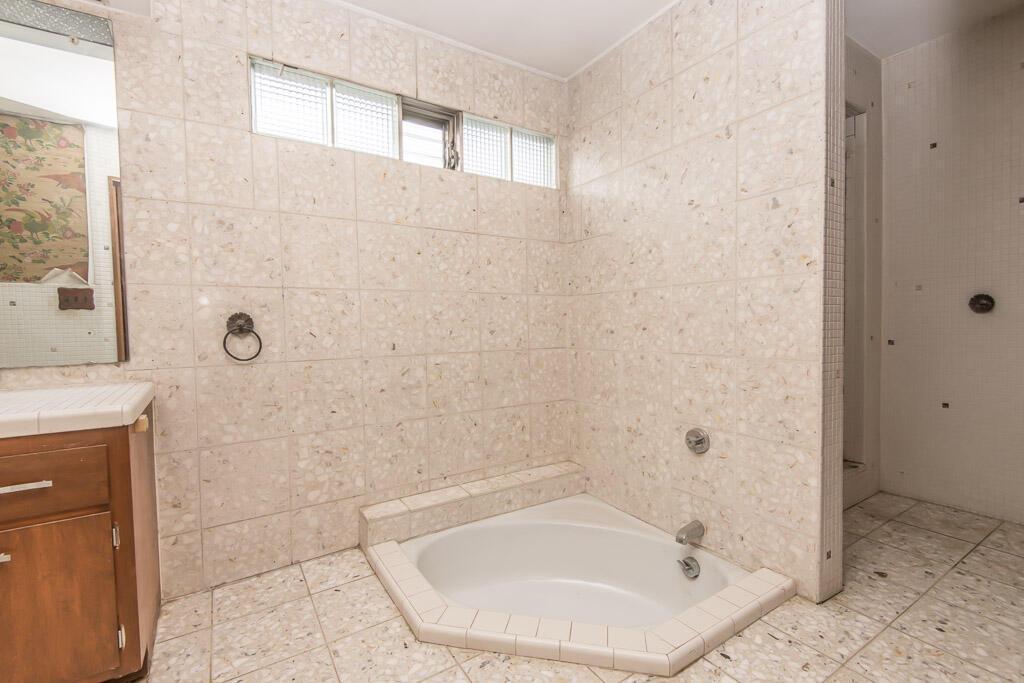 I have so many questions. Like, why is this sunken into the floor? Who bathes in this? Why is it so shallow? Why does it look like a sacrificial tub? Why do I have a sudden urge to douse myself in holy water and bust out some sage?
I've seen so many terrible, terrible houses on the market but this is the first that made me think "this should not be."

— Evan Rytlewski (@Evanryt) December 8, 2021
And just because this all isn't terrifying enough, the house also includes an unfinished basement. Because of course it does.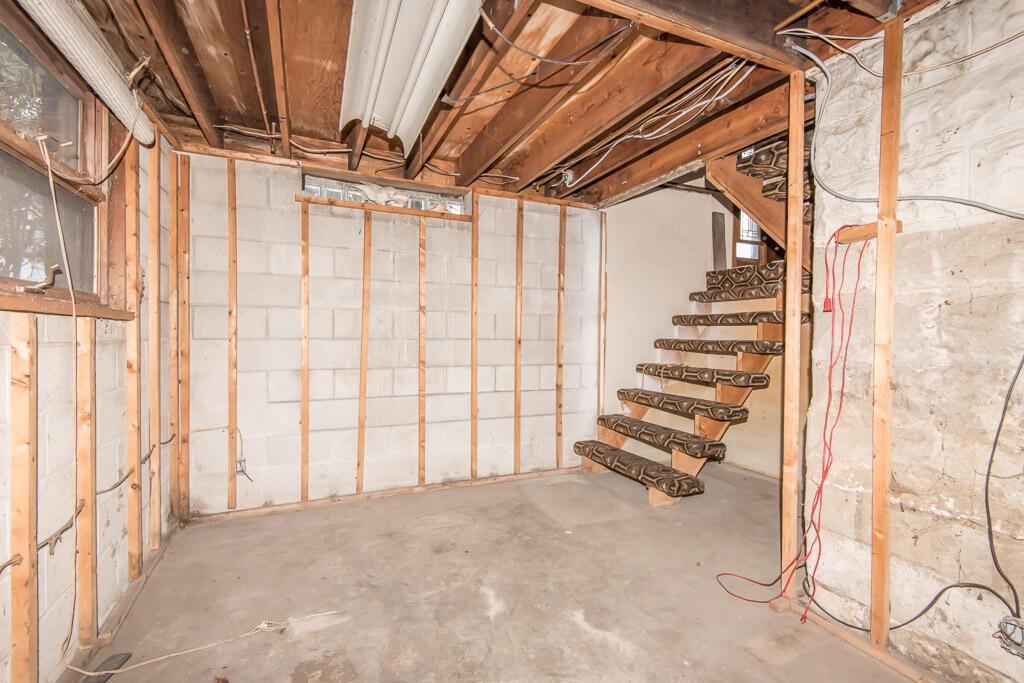 This house is currently on the market for $250,000, which according to the listing, is a steal of a deal.
A home of this size and potential in this area is RARE. .. .. the possibilities here are endless for the buyer willing to put in the work.
The house is also being sold AS-IS, as in the creepy critter carcasses are INCLUDED. So plan your decorating accordingly.
The. Taxidermy. Comes. With. The. House. pic.twitter.com/LGvOx8kFe7

— Jessica Koth (@JessicaKoth) December 8, 2021
If you're currently looking at the photos thinking, "Meh, I wish there was a little more wildlife, this isn't enough for me," you're in luck.
There is another house on the market in Cold Spring, MN for a mere $1,449,000 (which makes me think a quarter of a mil for the Wisconsin wildlife retreat isn't all that bad).
This one. Warning. https://t.co/dNFRBrt4EA

— Steven Dennis (@StevenTDennis) December 8, 2021
Behold: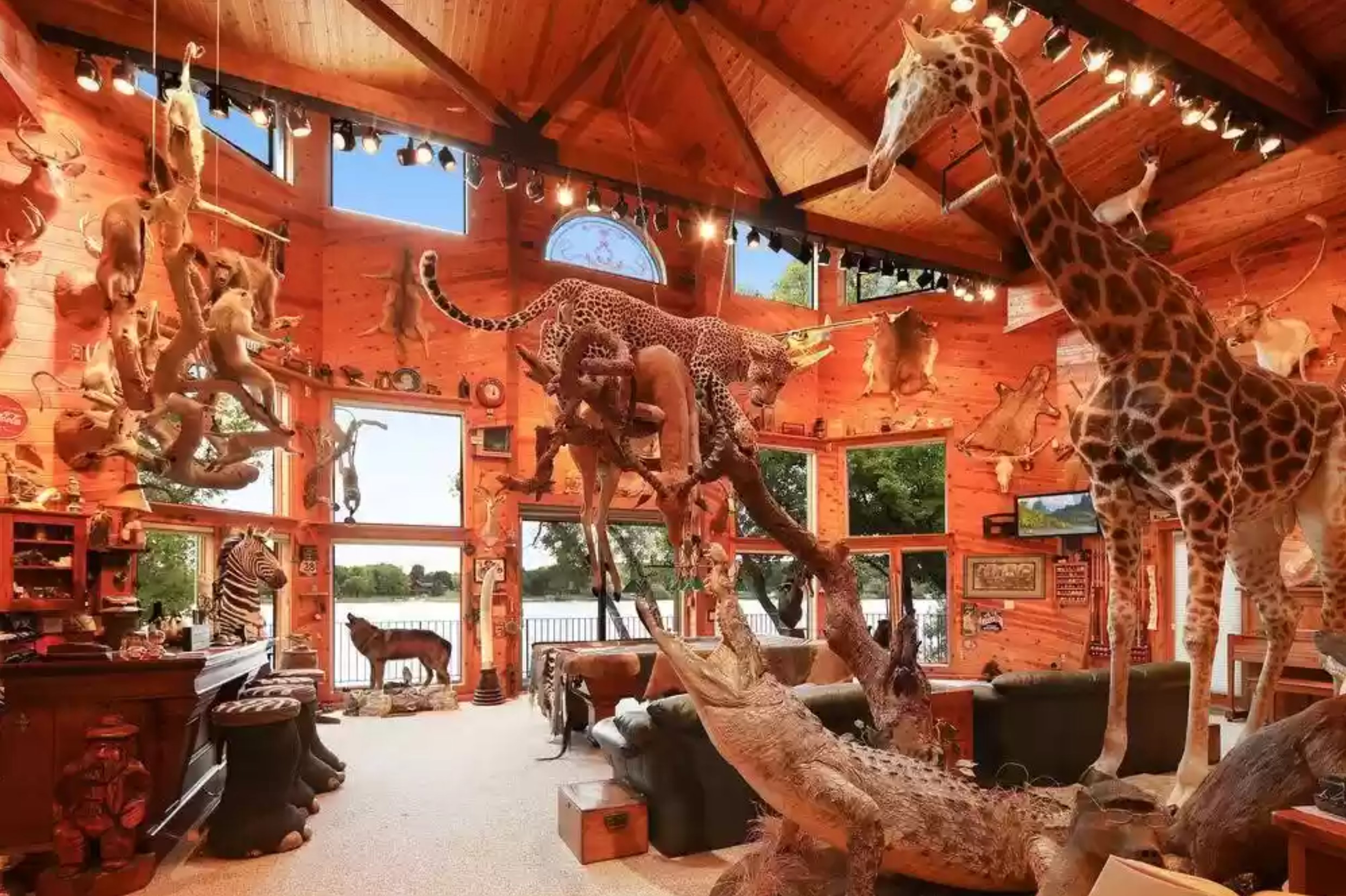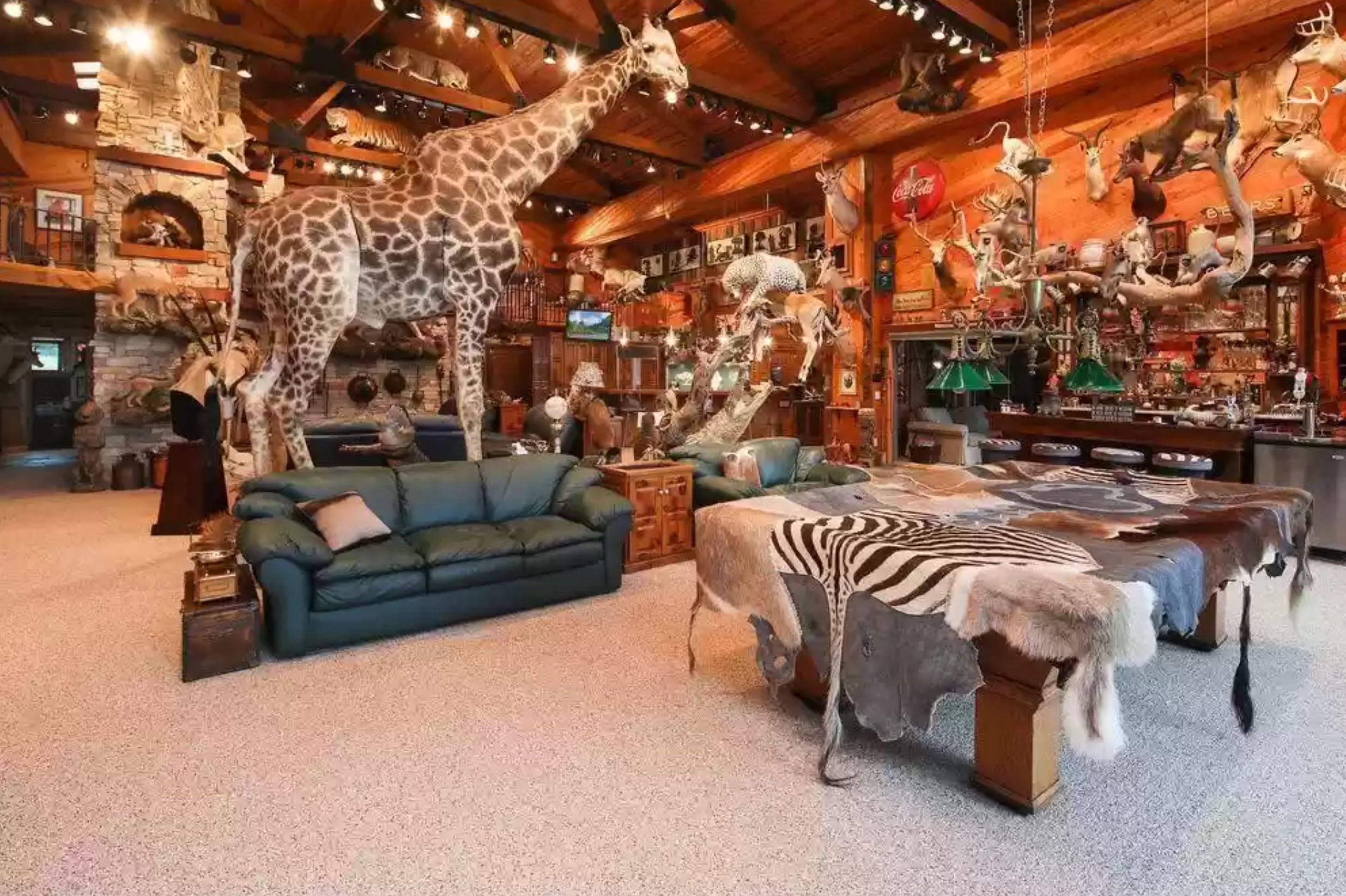 I wonder if the owners of this house and the one in Milwaukee are related? (Maybe too closely related, if you know what I mean.)
Regardless, if you're in the market for a fixer-upper that already comes complete with your very own furry friends (no food & water required), you'll want to act fast. If the real estate agent is right, it sounds like this one won't last long.
You can check out the full listing here.