For the past few years, Karen has been the moniker used to represent a self-righteous, ignorant, entitled middle-aged white woman with a signature asymmetrical bob. She loves coupons and complaining. (Sorry to all the good Karens out there.)
Urban Dictionary describes her as:
44. Mother of three, blonde, owns a Volvo. Annoying as hell. Wears acrylics 24/7. Currently at your workplace speaking to your manager.
She is the ring leader of Janet, Susan, and Carol. She is the star of countless memes, jokes, and hilarious satires. And she is racist as hell.
And if that isn't enough, now she's starring in her own movie. OMG Karen.
The trailer for the new horror flick simply titled "Karen," was unleashed late last week and it is sparking all kinds of reactions, almost all of them bad.
What Jordan peele "get out" snl skit nonsense is this?? No one asked for a movie about a murderous Karen pic.twitter.com/ILYGmsvJZ6

— London (@urmom2708) June 22, 2021
The movie, produced by BET Original Movies, is directed by Coke Daniels and stars Orange Is the New Black's, Taryn Manning as Karen Drexler. And Pennsatucky is raising her druggy born-again Karen to a whole nother level.
According to IMDB Karen is about:
A racist, entitled white woman in the South (WHO)terrorizes her new Black neighbors
While it looks like some freaky parody of a really bad Lifetime movie. It's not. It's a REAL movie.
Is that Karen movie preview… an SNL thing or is it real?

— roxane gay (@rgay) June 22, 2021
The trailer is 2 minutes and 11 seconds of literally ALL THINGS KAREN and it's obvious that this movie ticks all the stereotypical boxes of the Karen we love to hate.
Entitled white woman? Check. Head of the HOA? Check. Asks to speak to the manager? Check.
Overt racist wrapped up in a passive-aggressive Karen bow bringing death by a thousand micro-aggressions? CHECK.
Although I gotta say, they didn't exactly nail the typical blonde hairstyle.
The trailer opens with a young black couple moving into the heart of upscale suburbia. As they get out of their car, luggage in hand, they lay eyes on their new "neighbor from hell."
Karen is dressed in a navy blue sweater over a ruffled blouse with a string of pearls, bouffant hair, and a signature head tilt.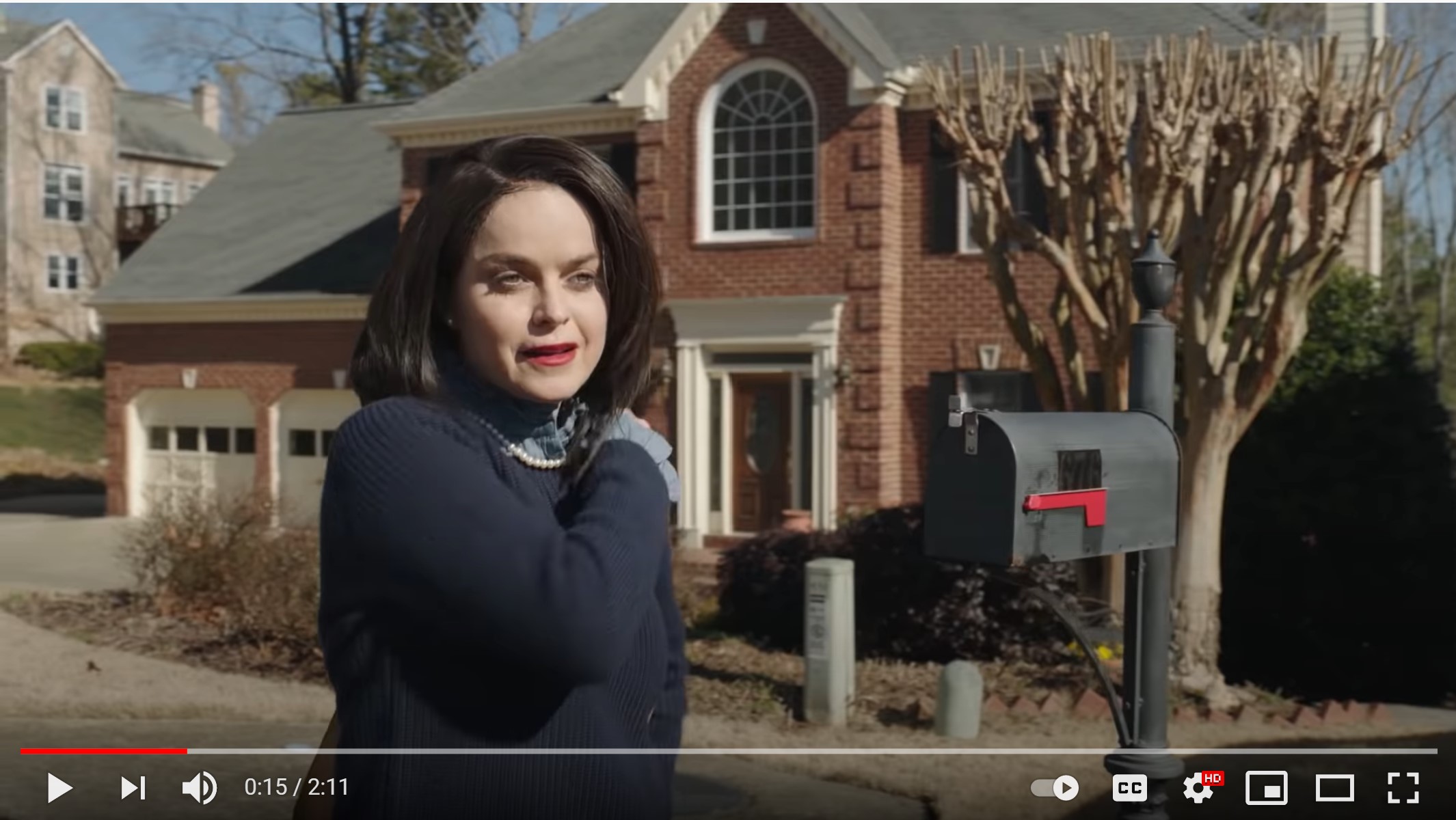 It then skips to a scene in a restaurant where Karen responds to her friend's, "Tell me about your new neighbors" with "They're black."
She goes on to tell a fellow black diner:
"Do you mind keeping it down? If you don't comply I'll tell the manager."
Calm down, Karen.
And just in case it's not obvious enough, the trailer shows Karen installing extra home security cameras and introducing herself in the most Karen-y-way possible.
Hi! I am Karen Drexler, I'm your neighbor.

If you could just take your trash cans off of the curb right when the trash is picked up…"
It even goes so far as to literally spell it out for viewers when Imani (played by Jasmine Burke) asks her Community activist husband Malik (Cory Hardrict):
"Wait, we have a white entitled neighbor named Karen?"
Yup, you sure do.
And just to make it super clear that she IS really a Karen and not just some actress on tv, the trailer goes on to show her making racist remarks ("There she is slaving away in the kitchen" and "You people are very angry"), calling 911 on some "very suspected teenagers" in a park, ranting to the HOA, and wreaking havoc and mayhem on the lives of her neighbors with the help of her equally racist police officer brother.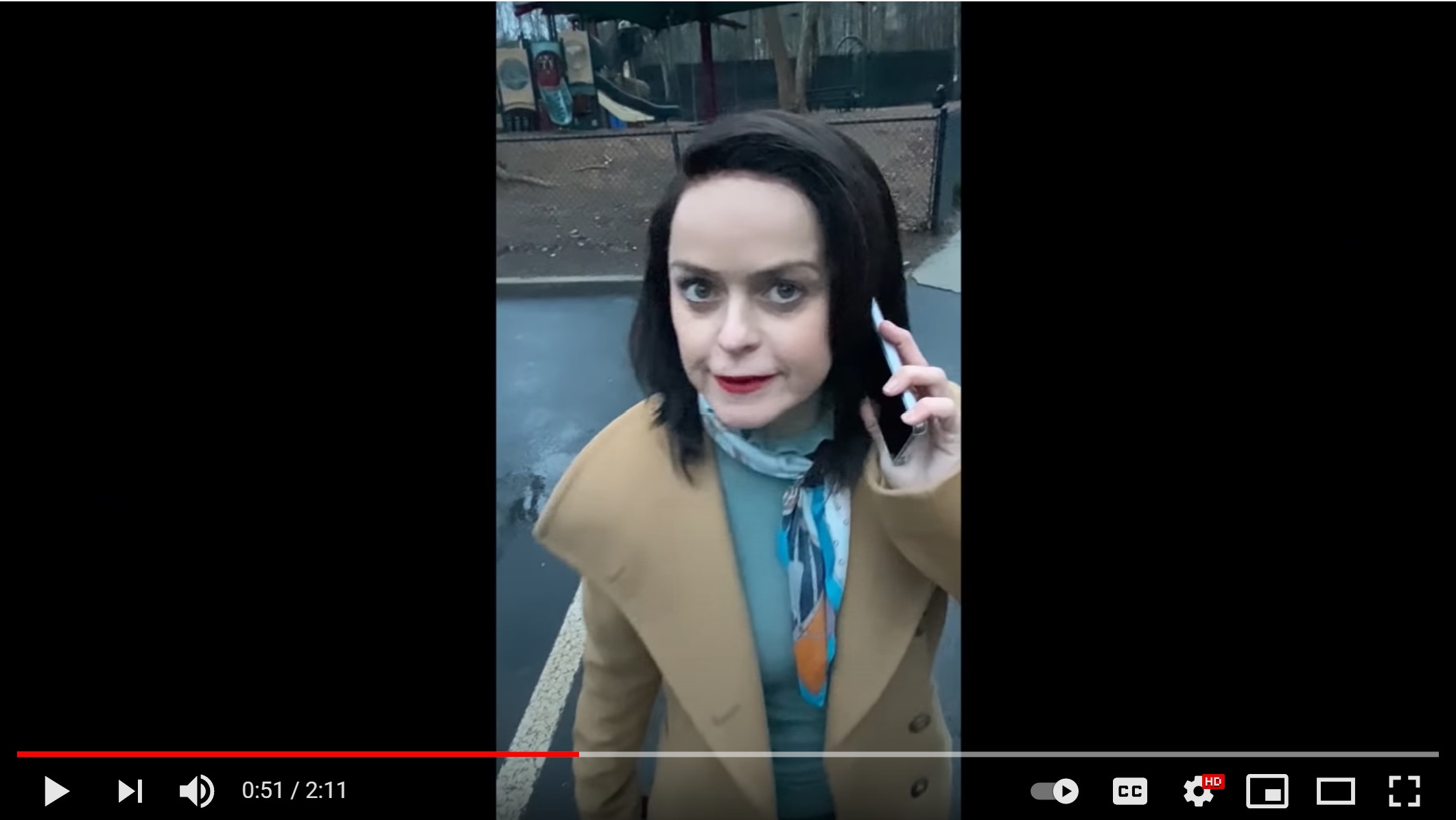 The preview ends with her saying:
"Bad things happen to the people who don't comply."
If the goal was to put in every single Karen-meme stereotype ever in the span of 2 minutes, I'd say, "Job well done."
This movie comes on the heels of a string of real-life "Karens" like "Soho Karen" and "Central Park Karen" who have dominated the headlines over the past year for reporting made-up crimes by black people.
In an interview with Deadline, Coke Daniels explains what inspired him to make the film:
"Last year during the global pandemic and civil unrest, I — like many of us — felt anger, despair, and hopelessness. The overwhelming amount of support from people around the globe, who want to see change, has been such an inspiration."
Taryn Manning echoed his sentiments saying she felt a "social responsibility" to take on the role:
Even if I had to play the villain to affect change around the globe, then I was more than willing to step into the role.

What's been going on is devastating. It's time for change and for me to be a part of the bigger picture, meant a lot to me."
The response to the film has been mixed. While some people think the portrayal of Karen is hilarious, others notsomuch.
I'm screaming! This looks hilarious and so so bad. ????? Karen Movie Teaser/Trailer

— Dianna | #BlackLivesMatter (@GrlpantsGR) June 19, 2021
I lowkey want to see this movie ?

Karen (2021) pic.twitter.com/lO2PT8axu7

— Dréa A. Gay (@dreaalexand) June 19, 2021
I just finally saw the trailer for that KAREN 'horror' movie. I can't stop laughing.

Its unbelievably cringe! Its like someone took every woke stereotype and fear mongering about race relations and put it into a blender without nuance or subtlety.
No surprise its from BET. ????? pic.twitter.com/W5MbiaKwgP

— Juno Maxwell (@Goddess_Maxwell) June 22, 2021
It's not too late for them to delete all the footage and for us to pretend like this was never made pic.twitter.com/g144PG66HS

— Marquis (@IAmQuisB) June 22, 2021
We deal with Karens in real life already. Not worth getting high blood pressure to see this movie https://t.co/eRDXpVYvX2

— KJ (AKA hoodmistress) (@indigenoussista) June 22, 2021
They made a movie about what black people that live next to racists have to actually endure every day… for entertainment? They love profiting off of black trauma at least the acting was good

— unfriendly black hottie (@chantessicaaa) June 22, 2021
Karen is scheduled to come to a screen near you in September.
In the meantime, you can watch the trailer below. If you dare.