When it comes to toys, dolls are a popular go-to favorite for a lot of kids.
And while American Girl, Disney Princesses, and Barbie seem to be the frontrunners for stealing the hearts of little girls & boys, it was a completely different kind of doll that captured the heart (or is it, soul?) of one little girl.
On a recent outing to the Spirit Halloween store, 3-year-old Briar Beard found her new bestie…and she's legit terrifying.
Briar's mother, Brittany Beard, shared the story on Facebook where it has quickly gone viral with over 13K likes, 4.5K comments, and 11K shares.
Alongside a series of photos of the two BFFs, Beard wrote:
"This is what it looks like when you take your 3-year-old to the Spirit Halloween store and she absolutely insists on buying the creepiest baby doll you've ever set eyes on."
As soon as Briar set eyes on the zombie doll she knew she had to have her.
"She said, 'But I'm its mommy and it needs me!"
There's no arguing with a three-year-old.
Also, of course, the creepy murder doll needs her, I've seen the movie Annabelle, I know where this is going.
Briar christened her Chloe and Brittany immediately nicknamed her Creepy Chloe – for obvious reasons; the dead-to-me glowing red eyes, the soul-sucking mouth, the desiccated skin.
"Briar named the doll Chloe and I then immediately nicknamed her Creepy Chloe. I'm pretty sure Creepy Chloe is stealing my soul when I sleep."
We are too, Brittany. We are too.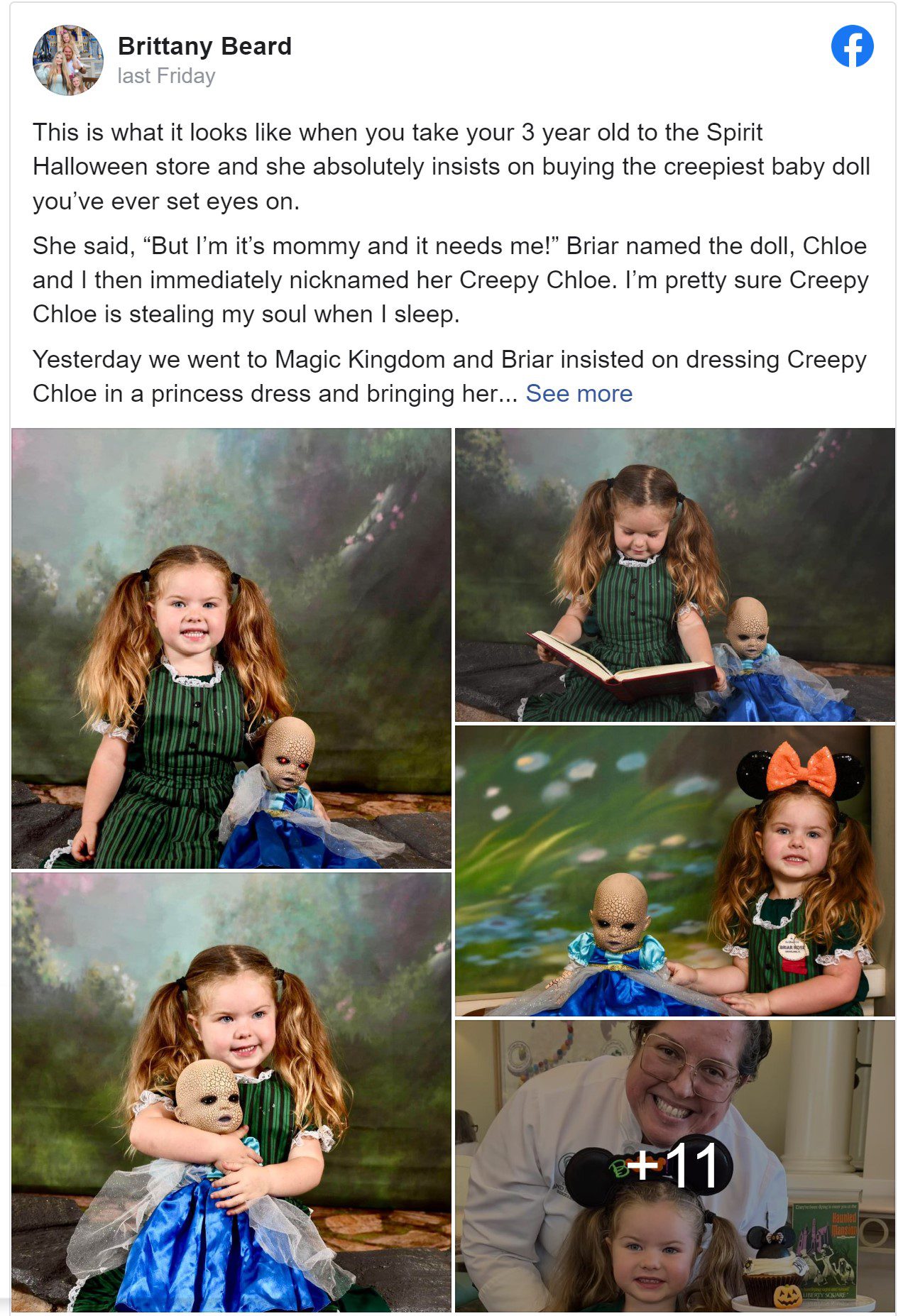 Since Briar selected Chloe as her spooky sidekick the two have been inseparable.
From enjoying a good book together (Scary Stories To Tell In The Dark, probably), to swimming, to going to the park, they go everywhere together, including the happiest place on earth – DisneyWorld.
"Yesterday we went to Magic Kingdom and Briar insisted on dressing Creepy Chloe in a princess dress and bringing her along. Because creepy babies need Disney magic too I guess?"
Look, this doll needs ALLLLLLL the magic. Preferably in the form of defense against the dark arts, protection spells, maybe an exorcism or two.
Some sage wouldn't hurt either.
In a show of sisterhood, Briar dressed in her Haunted Mansion cast member dress, complete with mouse ears.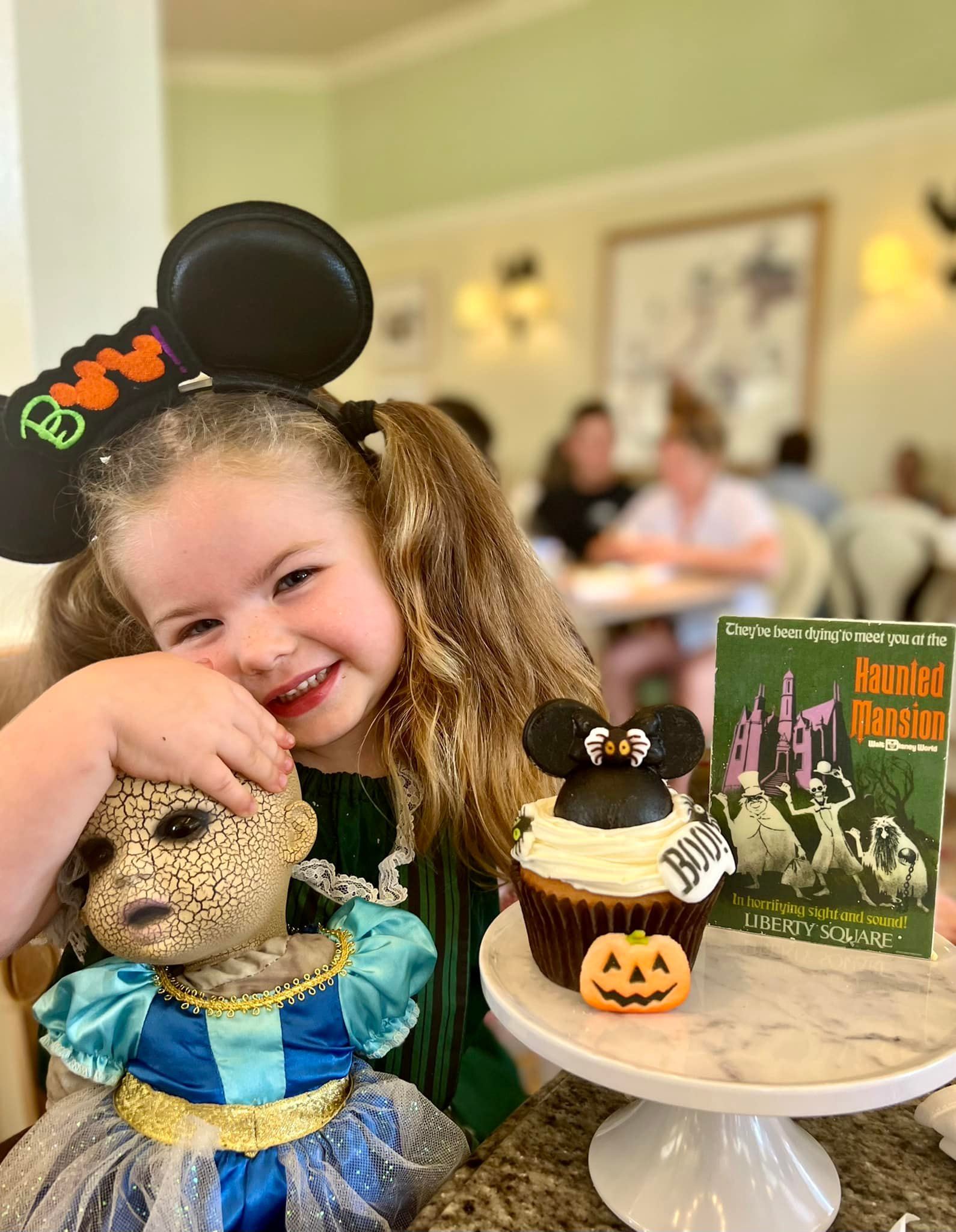 Awwww, they're adorable, no?
And, it would seem, Briar isn't Chloe's only victim fan. The good folks of Disney also fell under her spooky spell.
"While eating breakfast at the Grand Floridian cafe, they brought out the cast member pastry chef to meet Briar and Creepy Chloe because apparently she loves all things spooky.

She said she adored that Briar loved the doll and at the end of the meal, she surprised Briar with an amazing spooky cupcake and a mini handmade chocolate Haunted Mansion poster. It was actually really sweet!"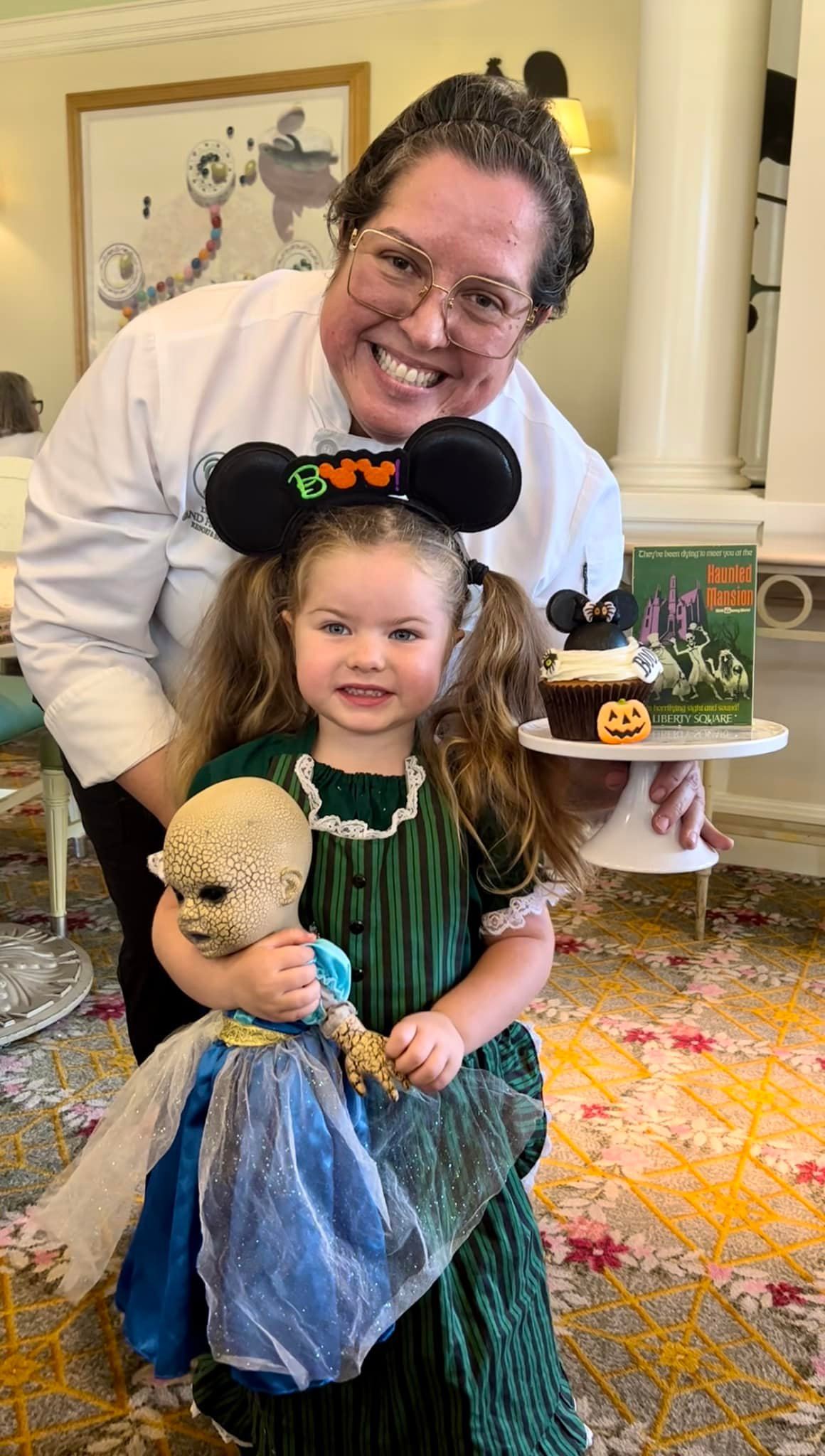 After a photo shoot at Magic Kingdom, the duo headed to the Haunted Mansion (because of course they did) where they received the VIP treatment.
Rather than stand in line with mere mortals, Briar and her undead doll were whisked away to the secret "Servants Quarters" within the Haunted Mansion.
"There was a 50 minute wait to get on the ride but when they saw Briar, they immediately whisked her away into the secret "Servants Quarters" where we got to see the keys to all rooms and the bells that ring to call the servants up."
The family was also gifted with official Haunted Mansion Caretaker certificates and a front-of-the-line escort onto the ride.
Sounds like a pretty magical day.
Brittany ended her Facebook post in classic fairytale fashion:
"So all in all, I guess the moral of the story is when your 3 year old throws a fit over absolutely needing a super creepy Halloween doll… buy the doll.

Creepy Chloe might be stealing my soul while I sleep, but we are making the best of our time left over here!"
While Brittany may never sleep again, her husband seems to have come around to embracing the newest member of the family (likely as a survival tactic.)
In an interview with Today, she said of her husband:
"I talked to him this morning and he was like, 'You know, maybe it is a good lesson that you love everything no matter what it looks like.'"
Until it reveals itself as the haunted murder doll possessed by the daughter of Satan and then? Not so much.
In all seriousness, Briar's love of Creepy Chloe is proof of why kids are the absolute best.
If you want to check out more of Briar and Creepy Chloe's hijinks, you can check out the original post here or follow them on their new Instagram account, Creepychloeandbriar.