Oh, reality TV, thank you for providing endless hours of cotton candy brain fluff, especially over the past year of social distancing hell.
Thank you that we're Keeping Up With The Kardashians, for giving us a bird's-eye view on what it's like to be Married At First Sight (YIKES.), and of course, thanks for the endless entertainment of watching Joe Exotic tangle with that bitch Carol Baskin.
For those that love reality television, buckle up, because things are about to get real… and magical. Well, maybe.
HBO Max has created a new reality series based on the blockbuster male stripper movie "Magic Mike" & is actively recruiting participants that are willing to… put it all out there.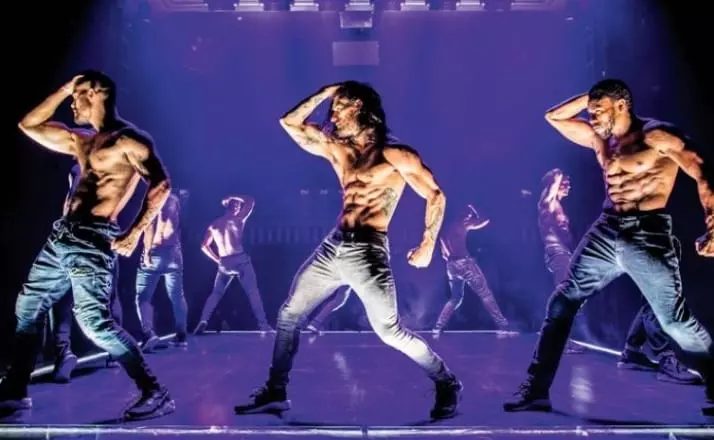 The future series is the brainchild of Warner Bros. Unscripted Productions & Eureka Productions, & will be an unscripted reality dance competition show.
Fun Fact: one of the series' executive producers is none other than "Magic Mike" himself, Channing Tatum.
You remember Channing and crew in the original 2012 movie "Magic Mike", right?
The tale of an ambitious roofer who moonlights as a sexy stripper, seeking his fame & fortune through stripping down to his skivvies.
(You know. The movie about male strippers with all the hot shirtless dudes.)
In case you've forgotten, here's a tasty visual refresher: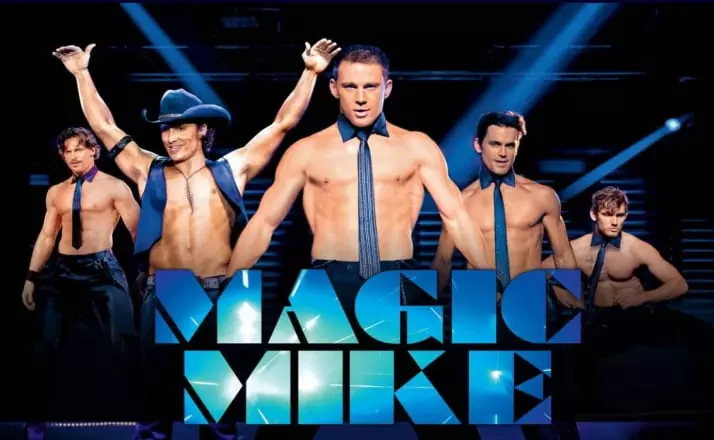 Sure, these buff men made for some very pleasant eye candy with their banging bods, but now the average Joe here in America has a chance to make some magic of his own.
HBO Max is currently seeking gents brave enough to step up & bust some moves for their upcoming reality show entitled, The Real Magic Mike.
According to a press release from HBO Max, the participants in the series:
will bare their souls and more as they evolve their bodies, learn to perform spectacular routines, and develop a new level of self-confidence.
And more– methinks the contestants will be baring more than just their souls, & we're here for it, boys!
The series will feature 10 men that have "lost their magic" as they are transformed -via exercise regimens, dance classes, & likely plenty of self-tanner & baby oil- into sexy stripping bohunks.
Although props should be given to all of the men that are willing to step up & strip down, only one of the men will claim the grand prize.
The series winner will earn a hefty cash prize as well as the opportunity to join the cast of the Magic Mike Live show, which is the Las Vegas live theatrical stage show of the movie.
So if your guy has the guts (and the abs?) to oil up & get down before a live audience, casting agency Creative Content is currently accepting applications for contestants across the country: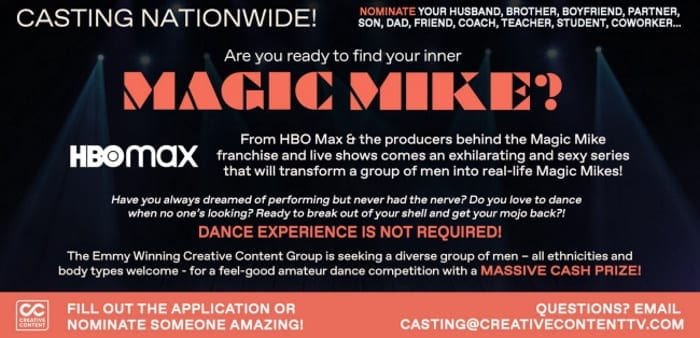 Although a cash prize sounds pretty sweet, the idea of being magically transformed into one of America's sexiest dancer's sounds pretty tasty too, so fire off an application, guys, & get ready to bare your sweet chee- SOUL. We mean soul, guys, as in "put your heart & soul in it". Totally.
Forget the Real Housewives; America is overdue for a REAL Magic Mike, & you can bet your bippy we'll be watching… and maybe drooling.