Like many fine wines and artisan cheeses, women get better with age… apparently. People often mistakenly assume that the elderly lose their zest for life, but the saucy geriatric vixens of the Milton Lodge retirement home in Colchester, England have proven otherwise.
The female residents of the retirement home were recently treated to a fancy dinner, complete with… well, I'd like to say "white-glove service", but the reality is, the servers weren't wearing gloves. Or much of anything, actually.
Dinner was served to 23 lucky guests by MALE STRIPPERS.
And the strippers were hired upon request of the retirement home residents. Yup- the octogenarians wanted roast beef- served by beefcakes. And their wish was granted.
If the woman dressed in yellow had brought her wallet, it would have been raining dollar bills at the moment this photo was taken. Just saying.
The idea was the brainchild of 89-year-old Milton Lodge resident Joan Corp. According to activities co-coordinator Claire Martin, Joan's been hankering for a hunk for quite awhile:
'Whenever you ask Joan what she wants that day she always says "a man".
Well, Joan got her wish, and residents were treated to dinner and a show (by "show", I mean a whole bunch of buff, oiled man-body parts dishing up their dinner).
The Milton Lodge activities committee initially debated if the unusual request should be honored, but once approval was granted, they contacted Hunks In Trunks, a company that provides adult male entertainment. Residents also invited their daughters and granddaughters to the event.
Can you imagine?? My grandmother once invited me to Bingo Night at her retirement home, but I must have missed the "Supper With Stripper Service" invite… or maybe old age is simply more fun in England?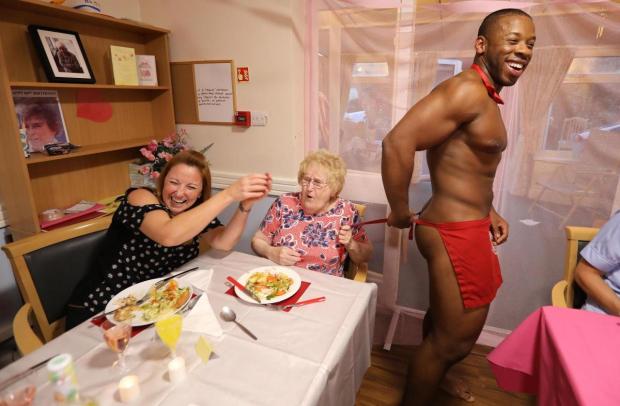 Dinner With Butlers In The Buff
The night included a three-course meal, though I suspect that many diners were probably too distracted by the "entertainment" to focus on their food. Because, again, NAKED MEN.
The special servers were also requested to engage in some "harmless flirting", and treated interested women to massages… without the happy ending, of course, but residents left extremely happy nonetheless.
Was the food any good? Who cares?! When interviewed by British newsite Metro about the unique experience, coordinator Claire Martin said that the residents thoroughly enjoyed themselves:
'The ladies were really excited, they had all been giggling and they dressed up.'

Photo Credit: Essex Gazette (SWNS.com)
She DOES look pretty excited, no?
The best part of the story is the genuine joy that the residents experienced during their "stripper supper".
The residents were invigorated, and staff reports that:
'They didn't stop laughing the whole night, they absolutely loved it.'
We often dehumanize the elderly, viewing them as simply avuncular grandparent material who exist to dispense sage wisdom to younger generations. We mistakenly assume that those in a retirement home accept that they are "past their prime" and set their limping libidos aside permanently. This story is a fabulous reminder that no matter what age, women can still be passionate, fun, and saucy.
Take note, American retirement homes: Bingo Night with Beefcakes in the Buff. It could be thing. Why isn't it a thing?!
Forget the Golden Girls- the ladies of the Milton Lodge retirement home are truly embracing their golden years with passion and fun, and are the better for it.