There is nothing as confusing as trying to understand what the latest internet slang is all about. Remember when we all tried to figure out what the hell yeet meant?
Well, a new phrase is taking TikTok by storm, and it has everyone obsessing over an elderly dog. Y'all. I'm talking about a bones day.
If you follow TikTok at all, you have likely heard people describing their daily plans based entirely on whether or not a 13-year-old, elderly pug named Noodle has bones.
This all started when a delightful TikTok creator called @jongraz, who goes by the name Jonathan began posting daily updates about how his sweet dog, Noodle was feeling.
If Noodle is too tired to deal with everyone's BS then he'd flop over like a sack of wet noodles. But if Noodle is feeling jazzed and has some energy to go out and seize his day, then Noodle "has bones."
Honestly, these two are so damn cute it's addictive. Check out the latest Monday morning bones update to see what I mean.
In the video, we watch as Jonathan and his sweet dog decide that it was definitely a "bones" day.
Now, if you think I'm just being a weirdo and obsessing over a ridiculous man and his dog, then look behind me because there are 2.2 million people behind me all needing to know if today is a "bones" day.
In fact, Noodle's daily mental health checks have become so sought after they are downright ubiquitous.
In a recent TikTok duet, @skeetermcgavin_ proved that Noodle is not only important to the daily mental health checks of us common folk, but the Pentagon is watching too.
THE. PENTAGON, PEOPLE.
@jongraz##duet with @skeeter.mcgavin_ Noodle's birthday is July 4th so this actually makes perfect and rational sense. Also WHAT IS HAPPENING ##nobones
"Y'all, not only is this 13-year-old pug barometer for Gen Z and Millenial mental health, but now, this homie is influencing at the Pentagon,"

Skeeter tells her audience while Noodle, dueting to the left, is adorably asleep.
And that's not the only video, if you head over to Noodle's fan page @jongraz there are so many sweet duets of folks letting followers know just how much Noodle means.
As a stressed-out mom of three, I absolutely love using the Noodle barometer to figure out what kind of a day I am going to have.
Because let's face it, when you're outnumbered by the very people that you made, shit can real, real quick.
So, having a little litmus test to let you know exactly what kind of Mercury in Gatorade kind of day you're going to have is pretty much akin to having a mental health cheat sheet.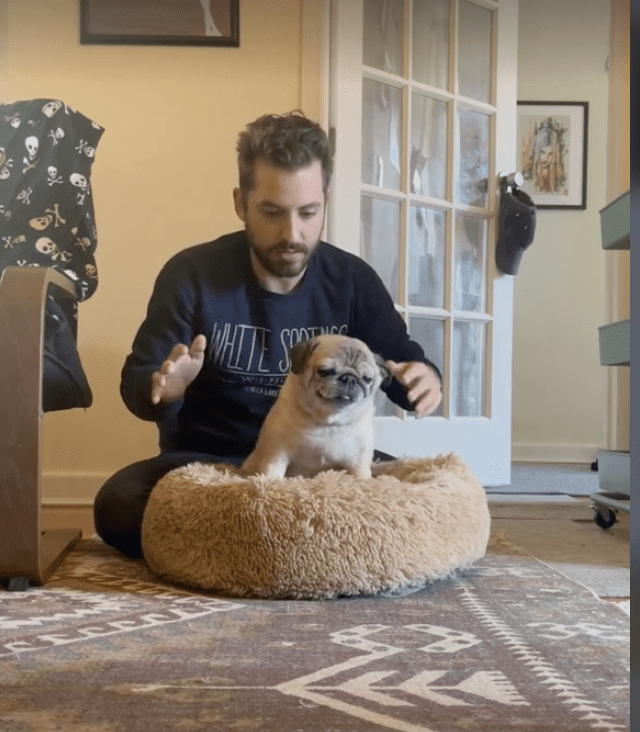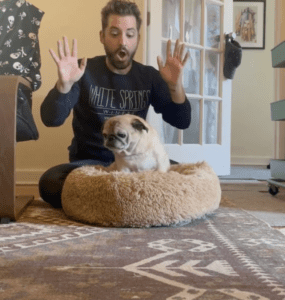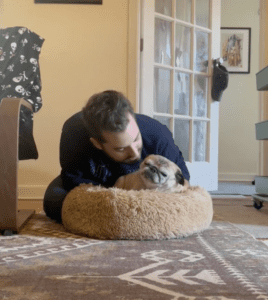 Case in point; last weekend, I woke up with a raging headache from getting no sleep. My kids each had interruptions in their own sleep and came to wake me up to help them each back to bed.
By the time the sun rose and my house was up and about, I shuffled to the kitchen in ratty old slippers and my favorite bathrobe and I announced to everyone that it was a "no bones day!"
I grabbed a cup of coffee and curled up on the couch where I barely kept score of the drama my kids launched on each other.
The housework took a backseat.
Honestly, so did cooking because when my husband heard me say that it was a "no bones day," he realized that I wasn't kidding and he stepped in to take over some of my basic house duties.
My tween who is struggling through year two of a pandemic (and all that that means) has adopted the bones/no bones metaphor to let us know how he is doing too.
When before he had trouble putting words to his emotions, now he can just give us a quick snapshot of what's up and it's making communication in our house so much smoother.
If Noodle has done nothing positive in the world, that sweet old dog gave my tween the ability to let me know he isn't handling things well without having to go through the hoops of talking.
So, the next time you hear someone talking about a bone/no bones day, you can thank an adorable, elderly pug named Noodle, who is owning TikTok with his morning metal health forecasts.
Even if you don't watch TikTok, now you know the secret behind the bones/no bones trend. May this trend never die.