When I think of grandparents, I think of warm hugs, never-ending love, and a support system that I can count on. (And yes, I know we're fortunate and not everyone has this.) So when it comes to celebrating Grandparents Day, I'm all for highlighting why they're awesome.
No matter if Grandma and Grandpa live near or far, there are ways to show them just how much they're appreciated!
When is Grandparents Day?
In order to celebrate properly, you've got to first know the date, right? Grandparents Day falls on the first Sunday after Labor Day. The special day will fall on September 11th in 2022.
How do you celebrate Grandparents Day?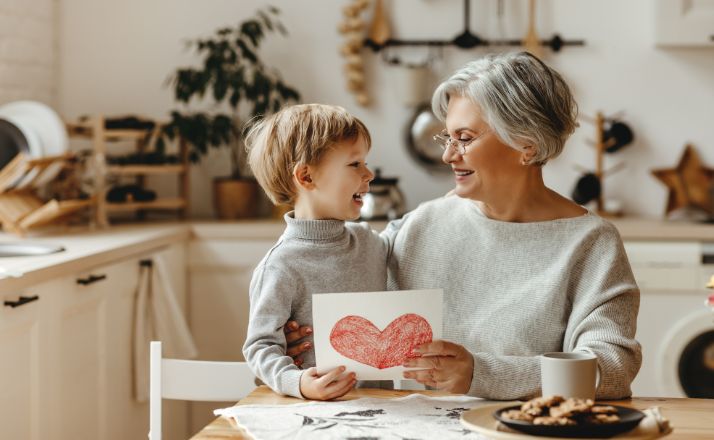 There are so many ways you can celebrate the grandparents in your life! The following suggestions are just ideas, so choose what you know would make them smile.
Here are some fun celebration ideas for Grandparents Day:
Take them out to dinner
Invite them over for a home-cooked meal
Splurge and get them a mini vacation for the weekend
Have the kids set up a fun interview and ask about their lives
Let the kids create homemade artwork and cards to gift
Bake a delicious dessert and drop it off for them to enjoy
Let the kids write songs or poems to read and perform for them
Pack a picnic and spend the afternoon at a park
Take some photos of the grandparents and grandchildren together and frame them
Any of these ideas are simple to put together and a great way to show the grandparents how much they're loved.
How do people celebrate this special day online?
Since we're still living in the time of quarantine, there may not be a chance to celebrate in person. For this reason, you can find ways to show grandparents they're on your mind through the internet and cell service.
Some fun ways to show online/cell phone love is:
Have a Zoom meeting and gather up all the family to chat
Send silly pictures and memes to them all day long
Have an online cooking class together and create new meals
Make a short video on your phone sharing all the reasons you love them
Go for a walk as they go for a walk and show each other what you see through a video call on your phones.
And those are just a few ideas!
If you're really wanting to see them on their day, plan a safe "distanced" visit where you sit outside on the driveway or just do a drive-by and wave from the car.
Them seeing your faces and showing your smiles are the perfect way to give them love on their special day.
Don't forget you can easily have ANYTHING you want delivered to them, too!
Food, groceries, chocolate, cookies, soup, candies — anything at all! If you wanted to go all out, you can have something delivered to them every few hours on their special day!
Make Grandparents Day a fun day to celebrate how much they're loved. Take the time to make it unique and special and spoil them the way they've spoiled you and the grandkids for all these years!
Since this is a once-yearly holiday, you can easily plan it out and make it special and unique every year. They're certain to love the thought and might even pass back the love to you at other random times. (Cough, cough — National Daughter's Day?!)