Wondering what National Daughter's Day is? It's totally a day, all about celebrating your baby girl. In a world where we take the time to celebrate literally everything and anything, making sure that we mark this day on our calendars is important!
Because let's face it…Having a daughter in your life is a special feeling. A special bond between a mom and a daughter or a dad and a daughter or a caregiver and a daughter that can never be broken.
Caring for a daughter is one of the best feeling in the world. (minus the teen tantrums, right?!)
When is National Daughter's Day?
This day only comes once a year so celebrate it loud and proud!
National Daughter's Day falls on September 25th!
When did this special day become a thing?
Good question. (And honestly, who comes up with these days?) National Daughter's Day started all the way back in 1936 when a child basically asked the simple question of "Why is there no day to celebrate kids?" and just like that, the kids got their own day.
Words to Share With Your Daughter on National Daughter's Day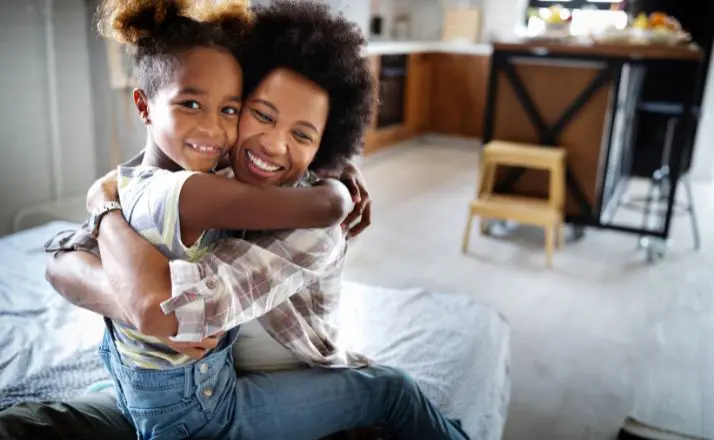 So, what does it mean exactly for there to be a National Daughter's Day and what is expected of you?
The biggest thing to keep in mind is you don't have to put a ton of pressure on yourself. Period.
You can easily make it a day to spoil them with kind words and actions and just remind them they're loved.
Some sweet, uplifting things to say to your daughter on Daughter's Day could be:
I'm so proud of you.
You're a great daughter.
You are so beautiful inside and out.
Your smile lights up the room.
You make me happy every day.
I love spending time with you.
You are so smart.
I'm so proud of the person you're becoming.
Simple words of affirmations to your daughter should be showing love, support, and confidence.
Gift Ideas for National Daughter's Day
If you love giving gifts to your daughter, you can do so! It's their day after all!
Some gift ideas for your daughter could be:
Books
Day trip
Shopping
Donuts and sweets
Music
Earrings
Homemade card
Makeup
Toy
Movie date
Depending on the age of your daughter, the type of gift you're going to give will vary. Since this is a special holiday, make sure you're remembering that and try not to go overboard.
Because you know the rule, right? Every year you'll feel like you have to one-up the year before. That can be a challenge if you're over the top right out of the gate!
Have fun celebrating your daughter. This is a day to see her smile, hear her laugh, and focus on what makes her a truly special and wonderful person.
Since Daughter's Day comes just one day a year, set aside some time to focus on just her. It's a simple way to create a special bond and special memories that can become a fun yearly tradition everyone will love.
From one girl mom to another, just make the time to celebrate how awesome they are!